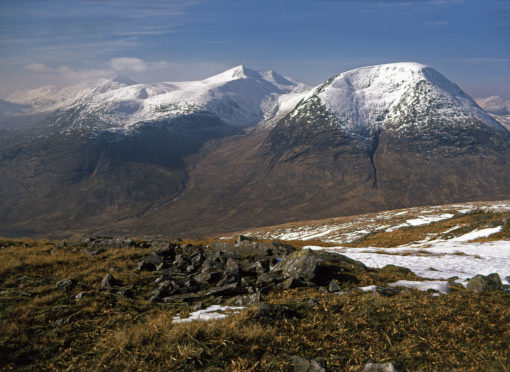 When Sir Hugh Munro created his list of Scotland's tallest mountains, he measured the height in feet and inches.
The smaller Corbetts are also categorised by the Imperial system – and continuing this tradition, so are the peaks known as the Grahams and Donalds.
Yet, for many decades, the Ordnance Survey maps that walkers use to summit these hills and mountains have been designed and annotated using metric measures.
That's why Scottish summit bagger Paul Fettes addressed this measurement anomaly with his classification of mountains called the Archies. The 130 Archies are defined as Scottish mainland peaks with a summit of at least 1,000 metres and with a drop on all sides of at least 100m.
Fettes, an anaesthetist at Ninewells Hospital in Dundee, said: "If Munro was alive today he wouldn't come up with a list of mountains over 3,000ft. What would be the point?
"There are no feet on the maps. Metrification of Ordnance Survey maps started in the 1960s and the contours and pot heights are now all in metres.
"Imperial measurements of mountains, such as the Munros, the 2,500ft Corbetts and the likes, simply seem old-fashioned to the 21st-Century map readers."
This is not to say that Fettes does not see the benefit of the "imperial" mountain lists. He said: "Over the years, the Munros, Corbetts and others have done wonders for hill walking and tourism in Scot-land by inspiring people to bag these summits.
"However, I felt there should be modern way to list some of Scotland's tallest mountains and the Archies are my way of doing so, according to the metric system."
It was in 2014, while walking with his wife Heidi that Paul first conceived his idea. He wanted a "wow factor" way to raise funds for a new charity, The ARCHIE Foundation, which was set up to support the Tayside Children's Hospital. He said: "I started to discuss the idea for a relay between the 1,000m Scottish mountains in Scotland and whether it could be possible – and that's how the Archies challenge was born."
Accompanied by almost 60 friends and colleagues, Fettes set out in June 2015 to complete the unique relay journey from coast to coast by walking, running, cycling and kayaking to each of the 1,000m high mountains in Scotland.
The adventure took 16 days and started at sea-level with a toe dip in the North Sea in the Cromarty Firth, by Dingwall on the Black Isle. It finished at sea-level again in the Atlantic Ocean in Loch Long at Arrochar in Argyll & Bute.Fettes said: "It was an incredible challenge with people from the group taking it in turns to run or fast-hike to the summits. Each day they ticked off an average of eight mountains, which is a lot of mountains.
"We were also faced with Scotland's typically rough mountain terrain and some monumentally fickle mid-summer Scottish weather, which ranged from absolutely woeful to superb".
A mascot, a cuddly toy rabbit named Rabbie, was the baton that was passed between the relay team.
In total, the group covered 1,700km as well as more that 85,000m of ascent to reach all 130 summits. Fettes said proudly: "That's equivalent to travelling from Edinburgh to Madrid and climbing 10 times the height of Everest. I think that is special."
They have raised more than £40,000 for The ARCHIE Foundation and following the challenge, Fettes wrote a book, entitled simply The ARCHIES, which was published late in 2017. The book offers an account of what he describes as a "bonkers and wonderful challenge" and includes a wealth of facts, personal accounts and stories.
While the book is not a guide to hiking the Archies it does include an accompanying map so baggers can keep track of any they walk. He said: "The first week proved to be extremely hard. While June would normally be a month of fairly warm and dry weather, many Scottish mountains were hit by strong winds, rain and even snow and blizzards."
On days three and four, two separate outings by relay runners were thwarted by the weather. Neither pair made it to their planned summits – and these summits had to be left for later on in the relay.
Day four also saw Fettes and Elspeth Berry, of Glasgow, battle wind, snow and white-outs on the Carn Eighe Horseshoe.
There were rainstorms, too, such as on day eight when a stormy crossing of Loch Quoich by kayak was combined with more wet and windy weather for three Archie summits in Glen Dessary.
On Day 11, an impressive 10 Archie summits were ticked off by the team including a night hike of Beinn Dearg (1,008m) near Blair Atholl, by Mike Donald, of Broughty Ferry, Dundee, and David Henderson, of Longforgan, Perth & Kinross, Donald said afterwards: "I felt lucky to be out in the wilderness and taking part in the extraordinary challenge."
In the second week, contrasting the team experienced hot weather with some relay participants suffering from heat exhaustion. A gloriously sunny 13th day was ideal for a hike of two famous mountains, Carn Mor Dearg and Ben Nevis, by Nicky Conway, of Forfar, also in Angus, and Fettes. Conway said afterwards: "I felt such pride to be able to contribute… and privilege to have been allowed to do so in such an iconic setting."
The last leg on day 16 included a cycle up the famous Rest and Be Thankful road in the south of Argyll & Bute and an ascent by a group of relay walkers of Ben Ime in the Arrochar Alps.
Paul said: "I can see the Archies becoming a popular new category for hill baggers."
---
The Archies is priced £19.99 and available online and in book shops