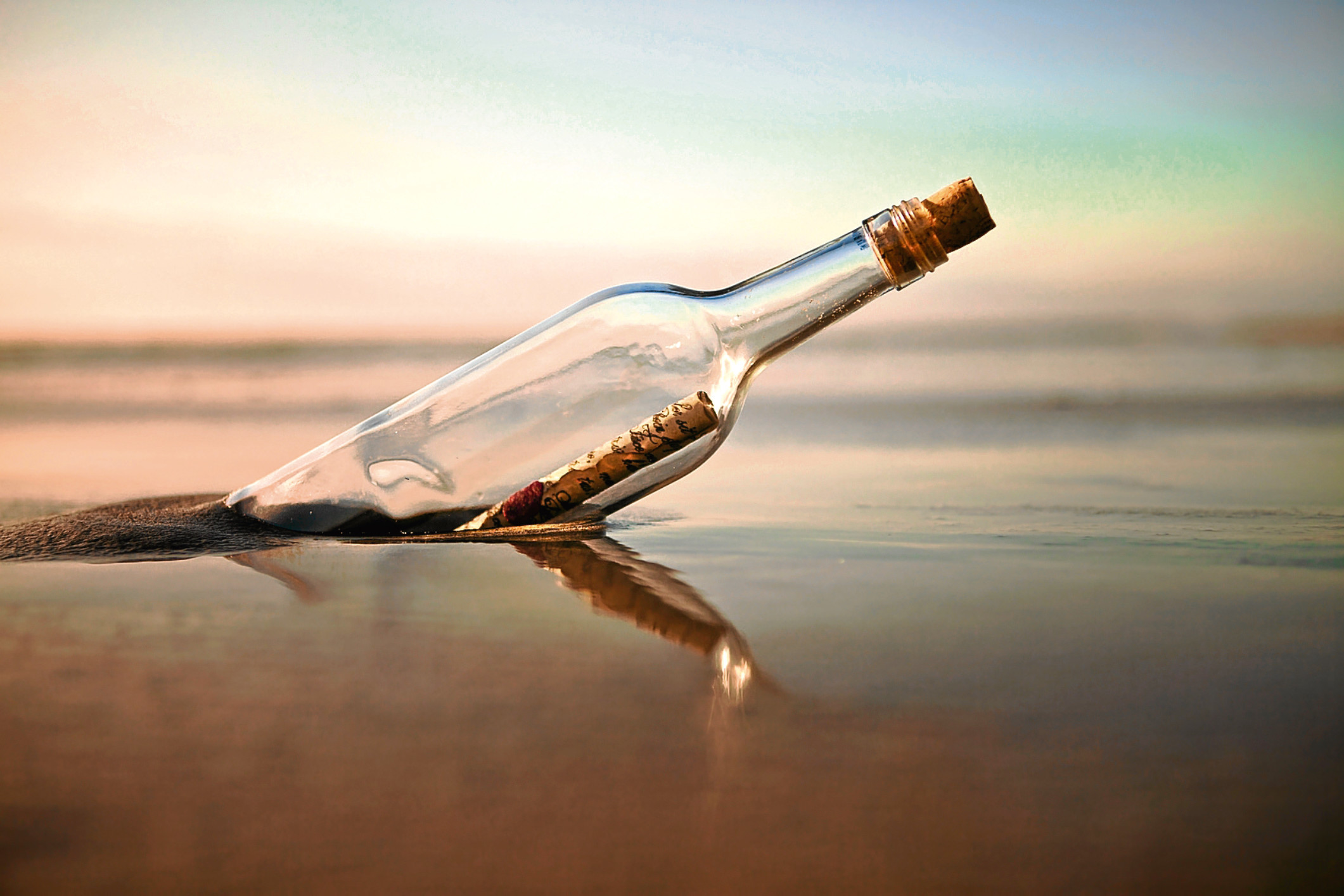 THE book Messages From The Sea collects notes found in bottles during a time when it was the only means of communication a ship might have with dry land.
Its author Paul Brown told Murray Scougall the Honest Truth about some of his favourite messages.
---
What is your background?
I'm a freelance writer who tends to spend a lot of time browsing through old newspaper archives.
That's where I stumbled upon the messages in bottles, quite by accident.
How did your interest develop?
I noticed newspapers from the Victorian and Edwardian periods often printed messages found washed up on beaches or floating in the water, sometimes in regular columns headlined "Messages from the Sea".
I began collecting them and posting on messagesfromthesea.com. They got a great reaction and I quickly realised they would make for a fascinating book.
How long did it take to gather?
I was initially collecting the messages whenever I came across them while doing other things, but once I knuckled down it probably took about six months.
I was also researching the stories behind the messages. They were so fascinating I ended up looking for details about the senders and their vessels.
Which do you feel is the most historically important?
It would be easy to say a message sent from the Titanic, but instead I'll say the one sent from another White Star liner, the Naronic, which disappeared without a trace in February 1893 while sailing from Liverpool to New York.
It was signed by a seaman named Young and it read: "Struck iceberg. Sinking fast in cold ocean."
Until the message in a bottle was found, at Hoylake, Merseyside, no one knew what had happened to the ship. It seems the Naronic met the same fate as the Titanic, only there were no survivors.
What's the saddest message?
Quite a few are sad, especially when you realise they often represent the last words of people in desperate situations.
One of the saddest is one of the simplest. It was found near Ulverston, Cumbria, in 1907 and just says: "Finder please give this to relatives of Bertha Magnussam, Wavertree, Liverpool, England. Love from Hubert, and goodbye."
And the happiest?
That's easy. It was found, bizarrely, inside an 11ft shark caught off the coast of Dundee in May 1873. The shark was gutted in front of a crowd and out fell a bottle containing a message that had been thrown overboard by a passenger on Beautiful Star, which was sailing to New Zealand.
The message read: "All's well. Last night the captain's lady had a pretty little boy."
Then the sender, Annette Gordon, had written a poem dedicated to the new-born baby.
When the Beautiful Star was located in New Zealand it was confirmed the captain's wife had indeed given birth on the voyage.
Other Scottish-based messages?
One of the most interesting was sent from Dundee whaling vessel Snowdrop, which went missing during a hunt in the Arctic Circle in 1908.
A year later a message in a bottle was found on the beach near Coldingham, Berwickshire.
It read: "Captain or anyone who receives this message shall receive the remains of the Dundee whaler Snowdrop, collided with iceberg. No hope."
That seemed to confirm the ship and crew were lost. However, there's actually a remarkable survival story with this one.
The ship had been lost but the crew made it to land, where they spent the winter in an Eskimo village. In the spring, one of the men, in an amazing feat of endurance, crossed a 100-mile frozen strait to get help.
All but one of the crew was rescued and returned safely to Dundee in October 1909, 18 months after they had left.
Messages From The Sea is out now from Superelastic Books.
---
READ MORE
From the archives: The lucky readers we sent on the Queen Mary's maiden voyage
Royal Mail's Letters of our Lives campaign pieces together hidden history