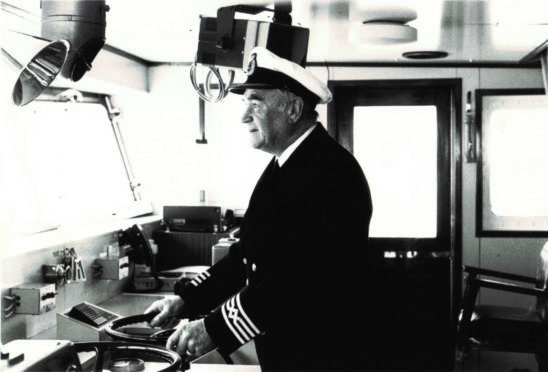 The famous paddle steamer may have had a difficult return to the waves but stories inspired by one of the Waverley's most famous skippers are about to sail onto the airwaves.
The world's last ocean-going paddle steamer, which hit a pier 10 days ago shortly after starting sailing again, is the inspiration for a children's radio series launching next week.
The Adventures Of Captain Bobo is adapted from the children's books written by Kay Hutchinson, whose dad, Captain Robin "Hurricane Hutch" Hutchison, was one of the youngest men to captain the Waverley at just 35 and spent decades sailing the Clyde, and co-author Richard Dikstra, and is based on stories inspired by her dad.
"It all began when we wrote and published my dad's memoirs. He was a great raconteur and had some brilliant tales," she continued.
"While we were researching, we spoke to someone on Bute who knew my dad well and they told us about the time the circus came to the island and the ship my dad was sailing had to be cleared of passengers to allow all the animals on deck, and that got us thinking about writing a children's book."
Two books have been published so far, with more on the way, including a Gaelic version. Robin, who passed away two years ago, was delighted with the books and Kay thinks he would be thrilled by the radio series.
"He would think it was unbelievable," she smiled. "When we first showed him the illustrations for the book, he laughed and laughed. I think he would be quite moved by it all. He had two nicknames – Hurricane Hutch, because he always seemed to attract stormy weather and was fabulous in storms, and Captain Bobo. That came about because another captain introduced my dad to his young son, but instead of saying Captain Robin, the wee boy could only manage Captain Bobo, and it stuck."
Robin, born in Greenock, left school at 15 and took up a six-month course at James Watt Nautical College. He worked deep-sea for many years, sailing around the world six times, until he returned home permanently to spend more time with his family. He took a job with the Caledonian Steam Packet Company, working summer seasons on the Clyde before being offered a role sailing their many ships, including the Waverley.
"It wasn't like now, where it's only the Waverley, he moved around all the time, once working on 19 different ships in almost as many days," Kay said.
"He had an affinity for the job, a natural flair for it, and people said he was a leader."
Kay and Richard received funding from the Audio Content Fund to make the series, which has been recorded in both English and Gaelic.
The 10-part series will go out on children's radio channel Fun Kids as well as a number of local and community-based stations around Scotland and also further afield, including Cape Breton Radio in Nova Scotia, Canada.
The English version will be voiced by Whose Line Is It Anyway and Victoria star John Sessions, while the Gaelic episodes are brought to life by Gillebride MacMillan, who appeared in Outlander as Gwyllyn the Bard.
The series also features genuine Waverley sounds.
"We went to a lot of trouble to get them, because we know there will be a lot of steamer fans listening in."
Kay added: "When I first spoke with John Sessions, he said he wished life could be more Captain Bobo, and I know what he means. It's kindly, humorous and wholesome, as well as friendly and welcoming.
"Obviously life isn't always like that but I think we need to remind ourselves there is a lovely side to people when they are faced with some kind of challenge.
"There's a challenge in every story and Captain Bobo always saves the day, so it's nice to share that thinking."
The Waverley collided with Brodick Pier in Arran earlier this month, having just begun sailing again after two years out of commission for repairs.
But Kay hopes the famous vessel will return after being recently renovated with the support of the public and a government grant.
"We will see her sailing again next summer, I have no doubts about that," she said. "I think she has to after the funding from the public donations and the government. She is such an important part of our history and our culture.
"She deserves to return. It was very brave to bring her back in the middle of coronavirus, but she was sold out and that shows people want positive things in their life that remind them of happy days."
---
Actor and secret steamer fan reveals why voicing Bobo is a labour of love
Actor John Sessions says voicing Captain Bobo took him back to his childhood.
Born in Largs, the actor, who has starred in a number of major productions on TV and the big screen, was a frequent traveller on the paddle steamers of the Clyde and has retained his passion for them.
"This series presses all my buttons, it's very sweet," John said. "I can remember the last stages of the old Clyde, when there were still quite a lot of steamers. This would be the late '50s and early '60s.
"We lived in England but came home every year to stay with my granny, aunt and uncle. It was a magical time and I get awfully nostalgic for those days.
"I was crazy about the steamers. I was like a kid whose dog had to be put down when I heard of one of them was going to the breakers – it broke my heart, I knew them all."
John, 67, says he landed the part after being recommended by Bill Paterson.
"Bill is a good friend of mine of many years and he generously said the man you want is John Sessions, who's an old steamer nut."
Kay Hutchison, Captain Bobo co-creator, said: "I've had a chance to listen to some of the first episodes and John's added such sparkle. He has such an affinity with this part of the world and that's why we wanted him to do it, because he loved the ships and knew some of the characters who would be on board."
John recorded the radio series during lockdown and is now back filming after restrictions eased.
"I'm doing a film with Kenneth Branagh, an old friend from my Royal Academy days, at the moment. He's written a new picture and Dame Judi Dench is also involved," he continued."I've done another audio book and also worked on a documentary with Lenny Henry."
John was most recently seen in ITV's Victoria, as politician Lord John Russell.
"I've done a few politicians – Geoffrey Howe, Edward Heath, Harold Wilson, Joe McCarthy, I even played Adolf Eichmann in a radio series. I don't know why I'm asked to play so many politicians. Maybe I'm slippery and unreliable – I hope not," he said with a laugh.
---
The Adventures Of Captain Bobo launches September 24 on Fun Kids and then on regional radio.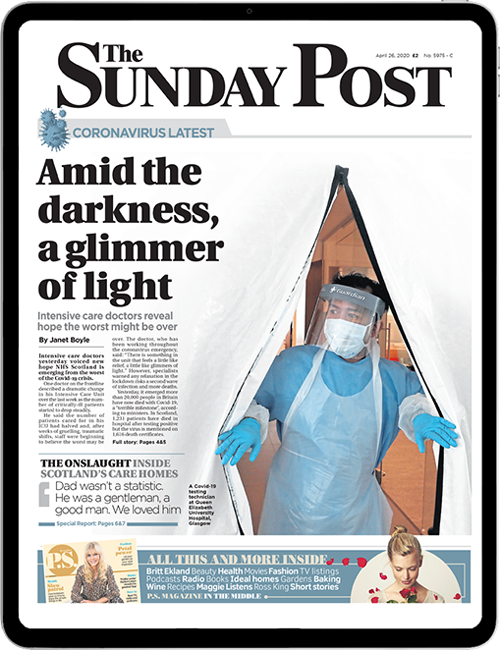 Enjoy the convenience of having The Sunday Post delivered as a digital ePaper straight to your smartphone, tablet or computer.
Subscribe for only £5.49 a month and enjoy all the benefits of the printed paper as a digital replica.
Subscribe