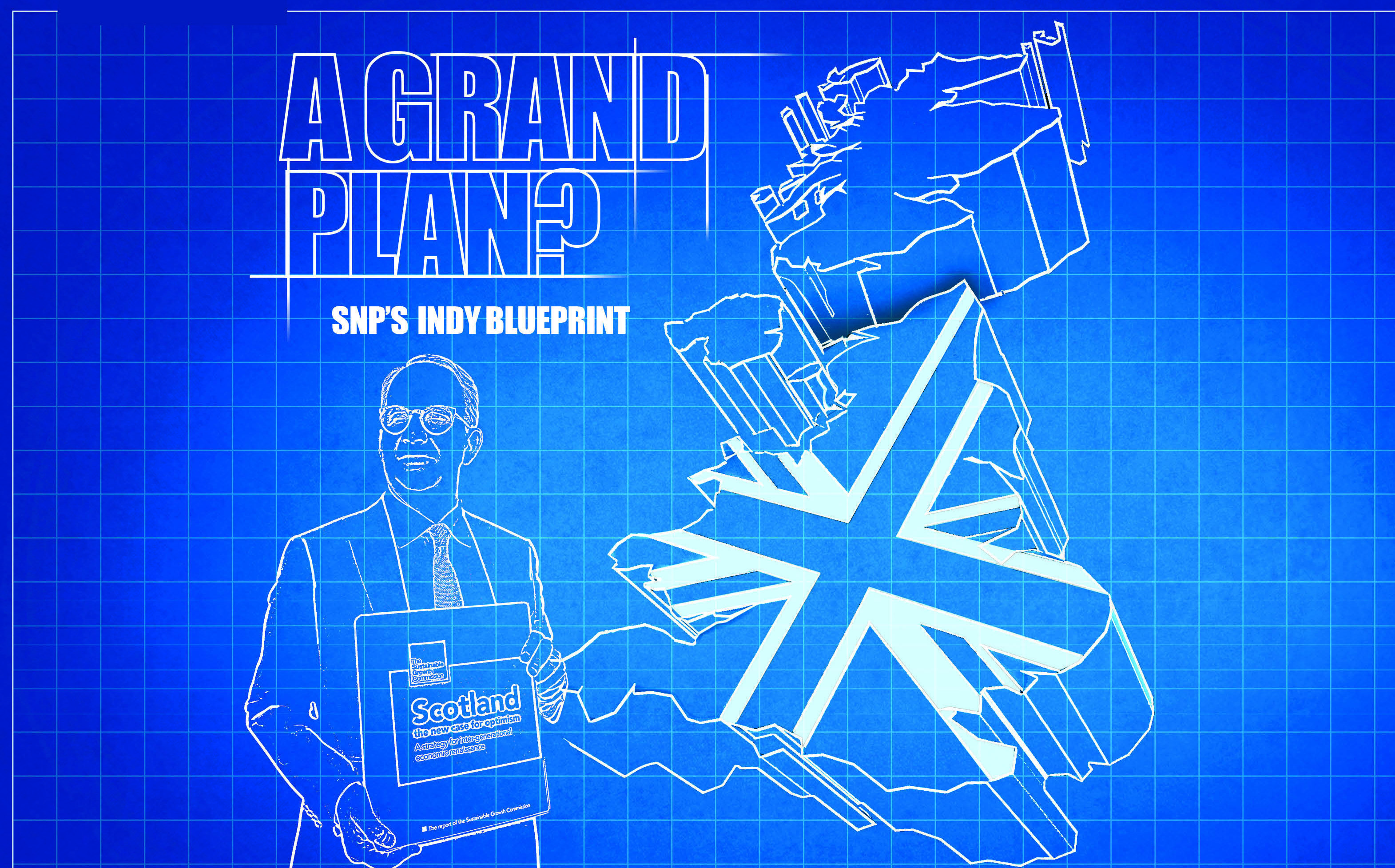 THE SNP's Sustainable Growth Commission's report was finally published on Friday to be hailed as a realistic and optimistic assessment of the economic prospects of an independent Scotland – and dismissed as worthless pie-in-the-sky projections built on guesswork and blind faith.
Here we ask a range of experts what they think of it.
---
THE GROWTH
Alice Enders Economist and Head of Research at Enders Analysis
The report identifies annual outward migration as the core symptom of the economy's malaise.
The brain drain of Scots to England has been on-going for decades, lowering Scotland's growth potential and further inciting migration.
The aging population then places growing demands on public services while the tax base shrinks.
Solving this has stumped every post-devolution Scottish government.
Many also believe such a high dependence on the UK makes independence unfeasible.
Not so, says the Commission, making two crucial assumptions: Scotland keeps Sterling (backed by the Bank of England), and starts life debt-free (as the debts belong to the UK, though there will be a £5bn annual "solidarity" payment to service the historic debts).
This gives Scotland an unprecedented ability to borrow to finance the set-up costs of a new state and also the ongoing budget deficit. The Commission pledges to eventually reduce the deficit to the 3% ceiling required of EU member states.
To achieve this, the Commission assumes Scotland averages growth of 2.5% in the first decade of independence.
While Scotland's growth averaged 2.3% in the decade prior to 2006, it has been under 1% for the past decade so it is a big ask and the report seems overly reliant on heroic assumptions.
THE COSTS
Dr Stuart McIntyre, Fraser of Allander Institute, University of Strathclyde
In 2014, all sides agreed Scotland "could be independent" but where opinion differed, and continues to diverge, is over the costs and benefits of independence.
The Growth Commission's report is a substantial work examining ways of boosting the performance of the Scottish economy, but also seeking to renew the economic case for independence.
The economy was seen as a key area of challenge for the Yes side in 2014. To counter this, the Scottish Government offered a vision of relative economic continuity post-independence that included a formal currency union with the rest of the UK.
This week's report offers a different proposition. Much attention will focus on the Commission recommendation Scotland retain the pound in the event of independence for the foreseeable future (with or without agreement from the UK).
Whilst theoretically possible, a so-called "Sterlingisation" strategy has never been tried in a country of Scotland's size or level of development.
The commission also open the door for the creation of a new Scottish currency.
On the spending and tax, the report accepts an independent Scotland would face a challenging fiscal settlement and sets out plans to reduce the deficit over a 10-year period. Oil revenues, it argues, should be invested for the long-term.
While highlighting opportunities under independence, the report also sets out some tough choices required to get there.
THE VOTERS
John Curtice, Professor of Politics, Strathclyde University
In 2014, the Yes side did not persuade people independence would be economically beneficial.
This report doesn't instantly give Nicola Sturgeon some easily and readily sellable lines about how independence will deliver that.
It is a long-term thing. It is about providing a framework for selling independence that would then have to be turned into rhetorical lines.
The report creates a picture of an independent Scotland that would achieve prosperity by being open to the world. It would welcome migrants and earn a living by selling to the rest of the world.
But what is missing are simple examples of just how this works in practice.
What it does is underpin its arguments with serious analysis. Now it's not so easy for opposition to ask: "Where's the substance?"
Meanwhile, there are certainly no promises that independence would deliver riches any time soon.
Rather, the report argues that a newly independent Scottish Government would need to manage its finances carefully, so that the rest of the world knew it could be trusted to repay its debts.
This might be a realistic message that will lend the report credibility in some quarters.
But it still leaves Nicola Sturgeon with her work cut out when it comes to selling the Commission's arguments to voters.
THE EUROPEAN UNION
Nicola McEwen, Professor of Territorial Politics at Edinburgh University and Associate Director of the Centre on Constitutional Change
If Brexit has taught us anything, it is when negotiating independence from a bigger political union, it is better to be prepared.
The report of the Sustainable Growth Commission is not a blueprint for independence, but represents an informed, credible attempt to address economic and fiscal challenges that would face Scotland as it transitioned to, and looked to prosper as, an independent country.
There are some departures from the 2014 campaign, including currency proposals. There is also an assessment of the fiscal gap between revenue and spending.
This is made more stark by the recommendation to save any revenues from oil for future generations, instead of using them for current spending. That would leave politicians with some difficult choices on tax and spend.
The Commission's future outlook could also face political hurdles. The report sees population growth as essential to economic prosperity, and supports increased immigration.
While ducking the question of EU membership, the report sees an independent Scotland in the EU single market, with "frictionless trade" and full access to markets in the UK and Europe.
Not impossible, but much depends on Brexit; a "hard Brexit" could leave an independent
Scotland facing a "hard border" either with UK or Europe.
Politically and economically, that's a difficult prospect.
THE BRAIN DRAIN
Roger Mullin, Member of the Growth Commission and former SNP MP
How we make Scotland the most talent-friendly country was key to my work on the Commission.
My brother and sister emigrated to use their abilities to the full. Many readers will have similar stories. But it goes beyond that. Our businesses, universities and public services need to attract talented people from overseas. Our working age population needs to grow.
Consider the example of investors and entrepreneurs. The UK discourages them. At present, if someone wants to come to Scotland for a few years, and they had "only" £1 million to invest in Scottish businesses, they would not get a UK visa. Similarly, entrepreneurs who have expertise and want to come here to start a business would have difficulty getting a visa.
We can change that. But only with independence will we have control of our own immigration policy.
With the economic powers of independence, we can grow our economy and make it fairer. To do so, we need to be ambitious. We must depart from the unsustainable "large country" UK economic model that is a permanent drag on every part of the UK bar London and the South East.
The 12 high performing small countries in the world perform better than the UK. They are open, trading, migration and business friendly societies , yet most have fewer natural assets than Scotland.
We can do so much better.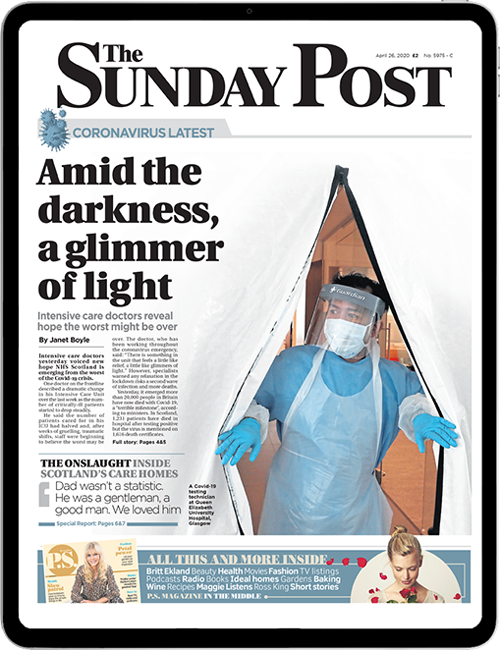 Enjoy the convenience of having The Sunday Post delivered as a digital ePaper straight to your smartphone, tablet or computer.
Subscribe for only £5.49 a month and enjoy all the benefits of the printed paper as a digital replica.
Subscribe