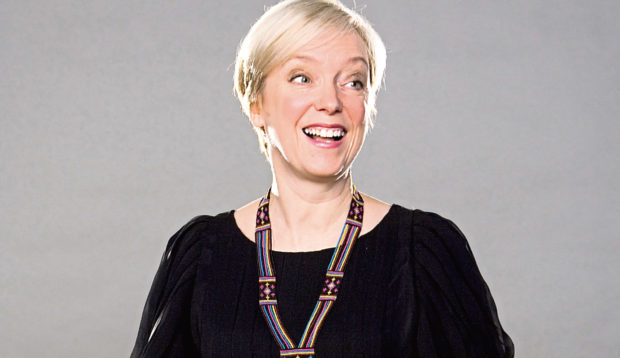 Janice Forsyth is almost as much a part of the Fringe as the street performers, piles of leaflets and stumbling into a show in a dingy basement somewhere.
The genial BBC Radio Scotland presenter is, along with Grant Stott, doing a TV version of her successful The Afternoon Show on BBC Scotland, called The Edinburgh Show.
And if you're curious to find out how the popular live magazine show – which will be broadcast from inside a big tent – makes the leap from radio to telly then you're not the only one.
"I'm doing it two days a week in rotation with Grant Stott," Janice said.
"It's got to work as a show in the tent to the listeners, it's got to work as a radio show about the festival, but it's also got to work as a television show to viewers.
"That's going to be quite interesting to pull off. It's quite something in that big, blue tent with the audience – there's a real vibe about it.
"Every year there are two guys who come from Hamburg, and they map out on a grid exactly who they're going to see across the festival. They're in the front row every year. I got to know them so much so they invited me to Hamburg. So I went over and they showed me around. They're lovely guys!"
Continental visits aside, Janice is proud of how the show has become a bellwether for the Fringe festival.
"For folk who come to the Fringe it is a bit of a hot ticket," she added. "People know if they come in the morning, they'll get to see a brilliant selection from all of the festivals, including the book festival, the international festival and the rest.
"People will then go off and see those shows. And sometimes audience members recommend shows to me, too. It's a really nice atmosphere.
"I love Edinburgh. I have friends from Glasgow who have a real chip on their shoulder about it and I get annoyed with them. What's wrong with them?
"We're so lucky to have two decent cities just 45 miles along the road from each other. And nobody can deny how absolutely physically stunning Edinburgh is, and it has amazing history."
Janice had her own experience of performing at the Fringe when she was a student – but the reaction to her performance wasn't hugely encouraging.
"When I was at university I appeared in a cabaret show at the Fringe, which looked as if it was going to go well," she explained. "We arrived and there were people queuing up.
"We finally got a review, but they said we were remarkable only in our ability to upstage each other!"
---
The Edinburgh Show is at the Blue Tent, George Heriot's School