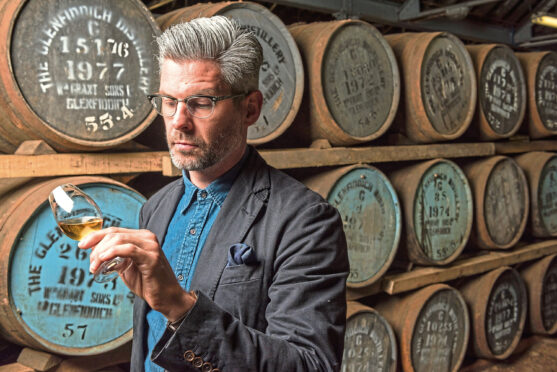 With spirit lovers celebrating World Whisky Month, all eyes are on Scotland's amber-hued tipple. Mark Thompson, dram lover and Glenfiddich ambassador to Scotland, answers Alice Hinds' burning questions about our national drink, the water of life.
What sparked your love of whisky?
My grandfather happened to always drink Glenfiddich – and the bottle itself caught my eye. The embossed black and gold label looked special and luxurious, and my grandfather drank it so it must have been cool.
Years later I started to drink whisky and discovered it could be enjoyed in so many ways – in a highball with cola or soda, in cocktails, or in neat drams. There's something for everyone.
What is the most expensive or rarest whisky you have ever tasted? Or, indeed, owned but kept sealed?
I am very fortunate to try many whiskies for my job. The most expensive was probably a 1958 Glenfiddich, which was absolutely amazing.
I also collect whiskies and most do get opened. Nothing beats discovering and trying something for the first time, evoking a past memory – it takes me back to where it was purchased, who I was with and so on. Whisky is all about memories for me.
Is it true blended whisky is more popular than single malts?
Blends have always outsold single malts. In fact, in the 1960s a bottle of what we now know as single malt was cheaper than a blend as it was viewed as an ingredient to better a whisky (the blend).
A blended whisky can be a recipe of different single malts and grain whisky, with each addition playing an part in the overall whisky character and flavour. A single malt is a malt whisky from a single distillery.
Due to various casks chosen to mature it in, it can vary in style and flavour, despite being from the same distillery. Both require a lot of skill to make. There are plenty of blends and single malts that rival one another – neither is better than the other.
Is there a minimum time whisky must be matured for?
Scotch whisky has to be matured for at least three years and one day to be legally considered Scotch whisky. That said, I've tried "spirit" which has matured for one year and tastes very good, but also tasted drams more than 30 years old which aren't to my taste.
This is because every cask will interact with the spirit uniquely – some delivering great flavour early in the maturation, while others hang around before imparting their flavours. It's all part of the magic of whisky.
What is the angel's share?
During the maturation process, when the whisky is maturing, evaporation occurs from the cask. This evaporation is the "angel's share". The amount can vary depending on many external factors. And the more time maturing, the less whisky left.
Why is a measure of whisky called a dram?
No one really knows the answer to that, though there have been many theories, from being used in the past as a money term or a way to measure. One of my favourite sayings is, "a dram is a measure of whisky acceptable in size to both the host and the guest".
What is the most interesting fact you've learned while working with whisky?
I learn a lot every single day. However, this fact really surprised me – single malt whisky didn't resonate in the UK and globally as it does today. In the 1960s it was Glenfiddich who decided to change that by launching a "straight malt" in America.
In Scotland, you could buy a whisky produced by one distillery but if you'd walked into a bar in New York in the 1950s and asked for a single malt Scotch, they wouldn't know what you were talking about.
How many casks are currently resting in the Glenfiddich distillery?
There are around two million casks maturing at Glenfiddich distillery, which is an incredible amount. Glenfiddich is still family owned, so the family decide when to sell casks and when to increase (or decrease) production. They have such confidence in the liquid and customers, which is unparalleled.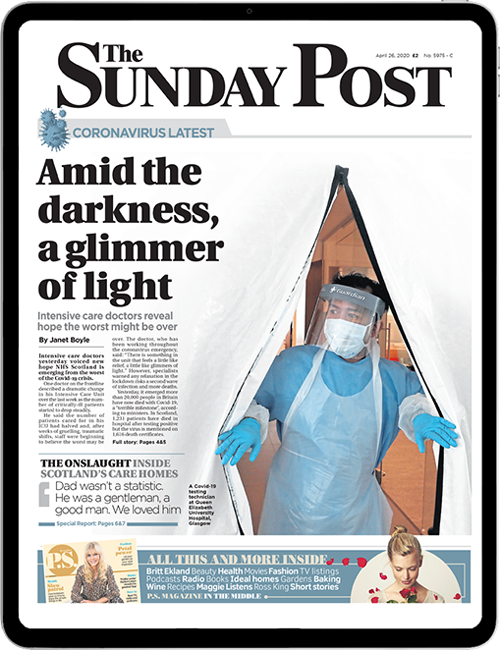 Enjoy the convenience of having The Sunday Post delivered as a digital ePaper straight to your smartphone, tablet or computer.
Subscribe for only £5.49 a month and enjoy all the benefits of the printed paper as a digital replica.
Subscribe