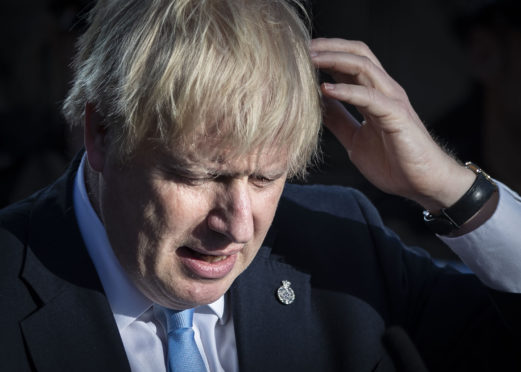 Sir Malcolm Rifkind, the Tory grandee, branded Boris Johnson's Brexit strategy a "disastrous failure of political judgment" yesterday.
Sir Malcolm described the Prime Minister's decision to sack 21 rebel Tory MPs as "one of the stupidest decisions for a very long time".
His intervention came as Mr Johnson flew back to London from visiting the Queen at Balmoral for crisis talks with his advisers.
PM Johnson looks increasingly hemmed in after losing his majority in Parliament where opponents passed a law forcing him to avoid a no-deal EU exit on October 31.
His much-criticised decision to suspend – or progogue – Parliament this week is said to have united his opponents and he has tried in vain to get Labour to agree to a snap General Election.
Meanwhile, he withdrew the whip from 21 Tory rebels, who voted with the opposition, including a raft of former cabinet ministers and Winston Churchill's grandson, Sir Nicholas Soames.
Sir Malcolm, who served as Scottish Secretary, Foreign Secretary and Defence Secretary in a 45-year Westminster career, told The Sunday Post: "What the last week has shown is a disastrous failure of political judgment, quite apart from his general views on Brexit.
"The prorogation of Parliament was a short-term tactic that he didn't need to do and which has produced no substantial benefit for him," he said.
"My first piece of advice to him would be to cancel that suspension of Parliament before it takes effect. My second piece of advice to him is that if you are about to fight a General Election, you do not begin that campaign by sacking 21 of your most-respected parliamentary colleagues and expect that will help you.
"It was one of the stupidest decisions I have heard for a very long time, all the more indefensible given that the Prime Minister was one of those who defied a three-line whip on Brexit on more than one occasion," added Sir Malcolm.
Mr Johnson's chief strategist Dominic Cummings, the former campaign director of the Vote Leave campaign, has been blamed for driving the hardline strategy, with several Cabinet ministers now said to be voicing concern and calling for a Plan B.
Sir Malcolm said: "Who advised who is frankly irrelevant. Advisers advise, the person who accepts responsibility is the minister who accepts that advice.
"The Prime Minister is ­perfectly capable of making up his own mind, so if he made a stupid decision sacking all these MPs then he must bear the responsibility and take the decision to reverse it in the next few days.
"It is doing him enormous harm, not just to his reputation with the country as a whole, which he may be relaxed about, but it threatens his position as leader of the Conservative Party.
"At least half the Conservative Party is very hostile towards what he has done, and indeed some of his closest advisers realise that it was a very foolish mistake."
Mr Johnson planned to hold an early general election on October 15, but opposition politicians want to make sure the UK leaves the EU with a deal first.
Sir Malcolm said: "I am critical of the Prime Minister but I am equally critical of the decision of Labour Party and other opposition parties to force a delay in the election from October to November.
"I know why they're doing it. It humiliates Johnson and makes him seem so weak. But what they have also done is damage the national interest.
"Businesses throughout Britain who have millions of employees are desperate for a final knowledge as to whether there is going to be deal or no deal. There are major investment decisions not being made by British companies and people thinking of investing in Britain.
"To prolong the delay from a maximum of five weeks to at least two months is disgraceful, particularly when it is being done essentially for party political reasons."
Mr Johnson, reeling from party defections and resignations including his own brother Jo, even threatened to ignore legislation delaying Brexit, according to reports yesterday, but a former director of public prosecutions warned he could go to prison if he broke the law.
The PM flew home from Aberdeen yesterday with partner Carrie Symonds after dinner with the Queen at Balmoral on Friday.
Prime ministers traditionally spend three days with the Queen at her estate on the first weekend in September. But Mr Johnson returned home to revise his Brexit strategy.
He wrote to Tory members on Friday evening, telling them: "They just passed a law that would force me to beg Brussels for an extension to the Brexit deadline. This is something I will never do."
But cross-party MPs have sought legal advice and are preparing to go to court.
A former director of public prosecutions has also warned the Prime Minister could go to prison if he refuses to delay Brexit.
Lord MacDonald said legal action would mean a court ordering "the law should be followed".
He said: "A refusal in the face of that would amount to contempt of court which could find that person in prison."
Tory MSP Adam Tomkins¸seen as a frontrunner to succeed Ruth Davidson as Scottish party leader, said Mr Johnson had to resign if he ignored the law.
Mr Tomkins, a former law professor, said: "Irrespective of what we think about Brexit, or the PM, surely we can all agree on one fundamental principle: the government is bound to obey the law.
"If the law compels the PM to act in a certain way, and if the PM refuses so to act, he has only one option: to resign his ministry."
SNP Westminster deputy leader Kirsty Blackman said: "Boris Johnson must make clear he will respect the law, respect democracy, and take the threat of a catastrophic no-deal Brexit off the table. If he cannot he must resign."
Sir Malcolm said Mr Johnson's threat to ignore the Bill reflected his "emotional frustration".
He said: "In reality, not only does he have no intention of breaking the law, but he wouldn't be able to even if he wanted to.
"He would be found in ­contempt of court, just like you, I or any other citizen would. He is no more able to break the law than the rest of us."
---
Brexit: What's next?
The PM is in talks with his advisers today as reviews his options after a week when his "do-or-die" drive to leave the EU was blown off course by a united opposition bolstered by Tory rebels.
His options now include:
Flout the law
Boris Johnson has indicated that he would rather disobey the law than ask Brussels for another election delay. Johnson would risk being taken to court but ex-Tory leader Iain Duncan Smith said that would make him a "martyr".
Resign
The PM could resign and ask the Queen to appoint Jeremy Corbyn as PM, who would agree a Brexit extension. The Tories could then propose a vote of no confidence in him, triggering a General Election.
Extend then hold poll
Johnson could admit to the electorate he cannot fulfil his promise and blame the opposition. He could then hold a General Election after October 31, campaigning on issues such as health, crime and education.
Brussels deal
Johnson could go to Brussels and secure a deal that might win the support of MPs. It would mean finding a solution to the Irish border backstop issue, and securing the backing of the DUP, which may win him Commons support.