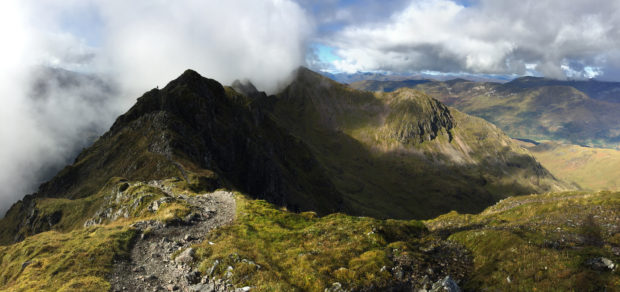 One of two Munros and four summits on the infamous Aonach Eagach, Meall Dearg offers one of the most thrilling ascents for hillwalkers in Scotland.
The Aonach Eagach is the saw-toothed ridge that savagely bites into the sky atop the massive wall of rock guarding the northern side of Glen Coe.
Meall Dearg sits at the heart of the ridge. The most common way of reaching it is from the east, after some exciting, exposed and challenging scrambling. Continuing west after the peak presents further scrambling – only this time more exciting, more exposed and more challenging. It's one of the finest mountain outings in all Scotland, certainly on the mainland.
Meall Dearg can also be climbed from the north, a route devoid of any scrambling difficulties – but where's the fun in that? It was via that route, however, that the first person to "compleat" the Munros, the Rev A E Robertson, climbed what was the final hill of his round in 1901. Famously, on reaching the summit, the reverend kissed first the cairn and then his wife.
Much has been written of how difficult and terrifying the traverse of the Aonach Eagach is. I think the hype's a bit overdone. It's a Grade 2 scramble, with excellent holds.
What makes Aonach Eagach a serious proposition is the exposure and commitment it demands. On the scrambling sections, there is no safe means of bypass or escape – you either go forwards or back.
There are considerable drops and sections where mistakes would be costly – indeed, there have been fatalities over the years. Some parties will use ropes, probably more to inspire confidence than out of any real need.
In poor weather, with wet rock and anything above a stiff breeze, the traverse isn't so much fun and is best avoided.
In winter it's a graded route (II/III) and depending on conditions can be a marvellous alpine-style ascent, or a treacherous nightmare. My toughest traverse of the route was one February, when inches of heavy, fresh snow lay on iced-up rock. I love this route – but I can't say that was fun.