Not so long ago we all went a bit mad, stockpiling things.
Hand sanitiser, bags of flour, reams of loo roll – most us were guilty of panic buying a little too much of something. And Jane Seymour was no different.
The former Bond girl and star of Dr Quinn, Medicine Woman joined in the stockpiling… in a very Hollywood way.
"I've been cooking during lockdown with my son Johnny who is 24 and is here with me," she said. "I never order anything online because I'm very bad with things like that. I pressed the wrong button and ended up with three times the quantity of white truffle oil.
"Everyone else ordered lots of toilet paper and we ended up with too much truffle oil. We came up with a dish called the coronavirus special – mushroom ravioli, which we cook with some garlic and breaded shrimp. You put it all together with some Parmesan and white truffle oil – delicious!"
I can't think of a more La La Land thing to accidentally order from the supermarket. This is like when I'm home in Glasgow and accidentally order too many banana fritters from the Chinese takeaway…
I was chatting to Jane – via Zoom, of course – for a wee catch-up.
The 69-year-old (can you believe she's 69?) has been keeping very busy during the past couple of months. She's been brushing up – literally – on her cleaning skills. And it's not the only brush she's been clutching.
"I have been so busy it's ridiculous – I have rediscovered my cleaning abilities," she said. "I rediscovered how to clean a sink and a toilet. I now know what products to use – I had a million of them in my cupboard and I had no idea what they did!
"Anyway, I've decided to dedicate my time to people living in old people's homes who were locked in and couldn't see their own families and who wanted to paint with me. So I thought I can do that – I painted with one woman in a hospice called Jeanie who has motor neurone disease and is on a ventilator with a speaking machine.
"She said she'd never painted in her life – she could just about move a pencil.
"So I showed her how to use watercolour brush pens. She didn't stop painting for three weeks.
"But sadly two days ago she died. But we've been left with this most unbelievable collection of beautiful paintings she created.
"That was the magic of Zoom – and they told me it completely changed this woman's life."
Jane is also embracing technology with a reunion from her popular TV show.
"I did a Zoom call with all of the Dr Quinn people – some of them didn't know how to use computers," she said. "We reminisced for two or three hours and we even did an original Dr Quinn piece that had been written for us.
There's a clip of it online and everyone's gone crazy for it – it was so much fun!"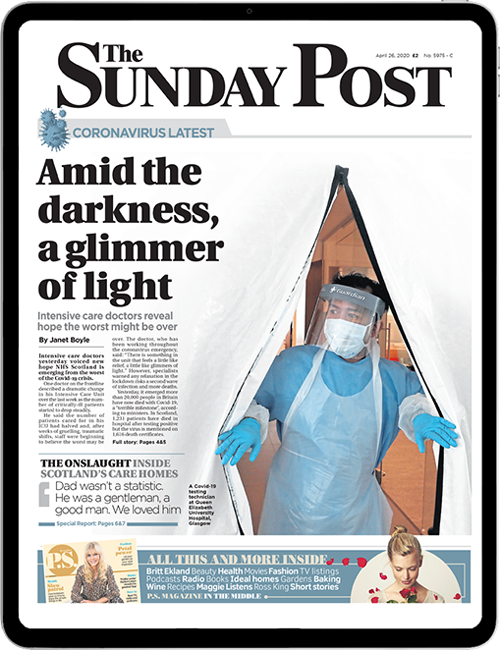 Enjoy the convenience of having The Sunday Post delivered as a digital ePaper straight to your smartphone, tablet or computer.
Subscribe for only £5.49 a month and enjoy all the benefits of the printed paper as a digital replica.
Subscribe