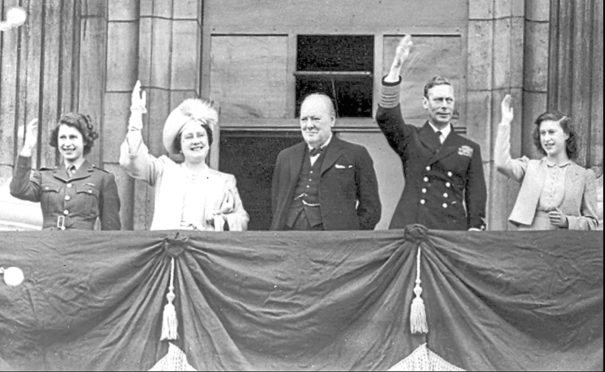 By the closing days of March 1945, Hitler and Germany were in turmoil and the Allies were preparing for a post-war world.
The Red Army, already on the doorstep of Berlin, had also entered Austria on March 29.
Frankfurt had been taken, too, and the Germans were retreating right across the centre of their country.
On the last day of March, General Eisenhower broadcast a demand that Germany surrender.
Hitler was preparing for a very strange 56th birthday, on April 20, and was also about to present Iron Crosses to young boy soldiers of the Hitler Youth.
Terrified children, given guns and told to protect Berlin against the remorseless Red Army, Hitler must have looked at them and surely known it was all over.
But it seems he was still persuading himself that somehow, against ridiculous odds, his depleted and defeated forces could turn things around.
On April Fools Day, American troops began Operation Iceberg, the Battle of Okinawa, hoping for an invasion of mainland Japan. In Germany's Ruhr region, Hitler's armies were surrounded.
The Japanese saw their battleship Yamato sunk, in what would be their final major naval battle.
The Battle of Konigsberg, which was Prussian but is Russia today and renamed Kaliningrad, saw the Soviets win yet again.
On the same day, April 9, the last couple of major German warships were destroyed by heavy RAF bombing at Kiel.
American soldiers, 24 hours later, saw for themselves the full horror of what had been happening when they liberated Buchenwald concentration camp.
The day after US ships suffered more hits from desperate Japanese kamikaze attacks, President Franklin D Roosevelt died suddenly, Harry S Truman replacing him.
Hitler would pin his hopes on the death of the president leading to a change in the Allies' resolve, and the chance of a peace deal being agreed, but it was not to be.
FDR, the only US president to serve more than two terms, had worked closely with Winston Churchill to get the right outcome in the war.
But his health issues and the stress of the conflict had finally caught up with him.
A chain smoker most of his life, his health had been getting poorer since 1940.
With high blood pressure, heart disease, angina and other serious conditions, Roosevelt hadn't looked well for years.
He had been ordered to take at least two hours' rest a day, and lunch was to be a time where business and political chat was forbidden.
Roosevelt had even told friends that he might just give up his role as President, walk away and take care of himself. But he left it too late.
Bergen-Belsen was liberated by British soldiers on April 15, another stark reminder of just how evil their enemy was.
Within a couple of days, Soviet troops and tanks were in the suburbs of Berlin, which might explain why Hitler was said to be nervous and depressed during his pathetic birthday celebrations on April 20.
Two days later, the führer was informed that the last of his forces had retreated, rather than take on vast numbers of determined Soviets.
Hitler ranted and raved against what he saw as incompetence and treachery, and then ordered forces outside Berlin to head to the capital and attack.
None of it would amount to much, and soon Hermann Goring sent a message to the Berlin bunker, asking to be declared Hitler's successor.
Even angrier, Hitler stripped Goring of all his titles and kicked him out of the Nazi Party.
Heinrich Himmler, meanwhile, secretly offered to surrender to the Allies, as long as it wasn't the Red Army – when Hitler heard about the offer and its rejection by the Allies, he ordered Himmler shot.
In Italy, Allied forces encircled the remaining German troops near Bologna, pretty much bringing the war in Italy to a close.
On April 25, when Soviet and American forces met up at the River Elbe, it was the first contact between them.
As if to underline that things had changed forever in Italy, Benito Mussolini was captured in the north of the country, despite a disguise.
Il Duce and his mistress, Clara Petacci, were shot and hanged in Milan, their bodies put on public display on April 28.
Another of the major concentration camps, Dachau, was liberated the next day, this time by the US 7th Army.
That same day, just after midnight, Hitler married Eva Braun, a marriage that would last one day.
Informed of the death of Mussolini, Hitler was even more convinced that he could not let himself be captured, especially by the Russians.
On April 30, Red Army troops just a block away, he shot himself in the head while his new wife bit a cyanide capsule.
The bodies were then carried out to the garden at the back of the Reich Chancellery, placed in a crater and doused with petrol, before being set alight.
Their remains, over the years, would be dug up and reburied more than once, until they were finally burned and scattered in a tributary of the River Elbe in 1970.
The first day of May saw General Hans Krebs negotiate the surrender of Berlin with Soviet General Vasily Chuikov.
Joseph Goebbels and his wife had murdered their children and then committed suicide.
It would still take until August before Japan, devastated by US atomic bombs and with the prospect of Russian invasion, also gave up.
But with the end of Hitler and Berlin, the world could finally heave a sigh of relief.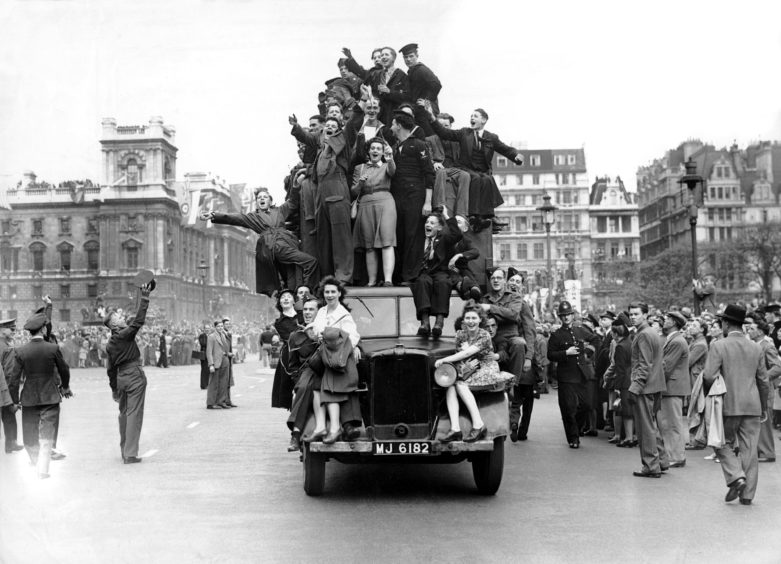 Victory in Europe Day, or VE Day, took place on May 8 1945, May 9 in some countries.
It was a day to celebrate the Allies' formal acceptance of Nazi Germany's unconditional surrender, and crowds gathered across the continent to witness the historic moment.
Russia, Belarus and Serbia, along with Israel and some other former Soviet bloc nations, celebrate it on May 9.
For Britain and everyone else it was May 8, and the idea of VE Day had been around since September of 1944, so confident were our leaders that the great day would come.
More than a million people flooded the streets of Britain, with huge crowds in Trafalgar Square and up the Mall to Buckingham Palace.
We didn't realise it at the time, but Princesses Elizabeth and Margaret were allowed to go out incognito and wander among the crowds.
To the Queen today, it's still a vivid memory from a remarkable life – she has never seen another time like it, all these years later.
Across the Atlantic, new President Truman dedicated the victory to Franklin D Roosevelt, flags remaining at half-staff for the remainder of his mourning period.
Winston Churchill, who waved from the balcony of the palace, told the British people: "We may allow ourselves a brief period of rejoicing," referring to the fact that Japan still had to be forced to surrender.
Today, the date is marked even in Germany, with many heading to Berlin on May 8 to remember relatives and friends who fought against the Nazis.
For all mankind, it is a date to remember the past, even if we don't know anyone who was involved, and hope we never see its like again.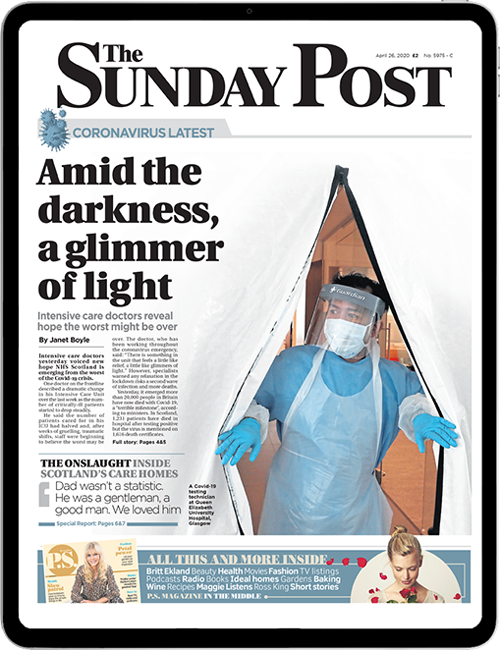 Enjoy the convenience of having The Sunday Post delivered as a digital ePaper straight to your smartphone, tablet or computer.
Subscribe for only £5.49 a month and enjoy all the benefits of the printed paper as a digital replica.
Subscribe