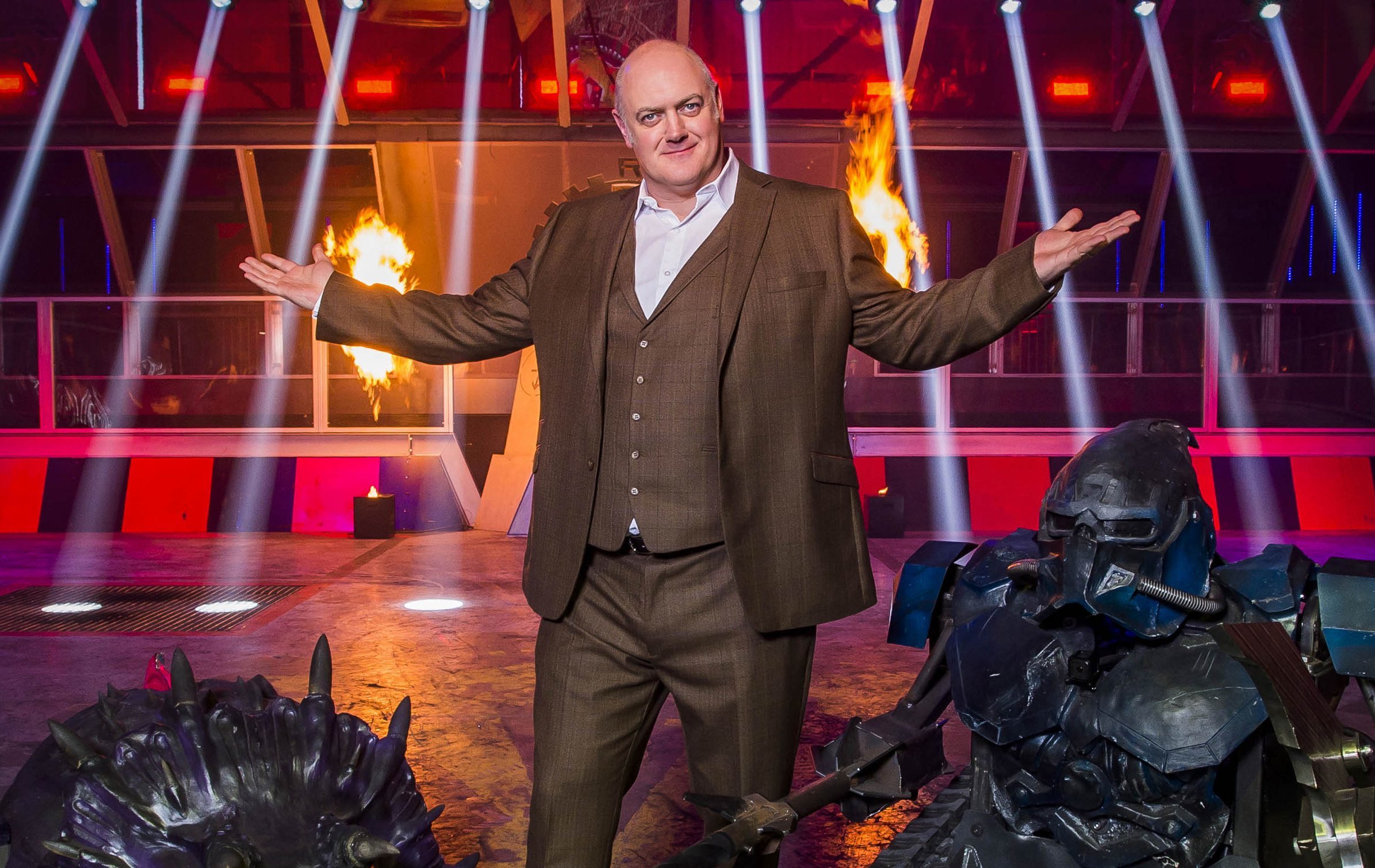 THERE he was, out drinking margaritas with Stephen Hawking and Benedict Cumberbatch…
It's the sort of tale you can almost hear Dara Ó Briain starting to tell as he restlessly prowls the stage on one of his sell-out global tours.
But when iN10 sits down with the larger-than-life Irish comedian – at 6ft 4in the larger bit was always going to be true – he insists his reality is a lot less showbiz fun than you'd imagine.
"If you meet me in real life I'm boring, really quite dull," says Dara, 45.
"Would I be good company at a dinner party? Probably not. I don't know what people expect, but I don't feel the urge to impress.
"I'm not the life and soul of the party. People think comedians are constantly cracking jokes but, really, we're grand. We get it all out of our system on stage.
"One of the reasons comedians enjoy each other's company is that we know we don't have to be funny all the time."
It's just one of the surprising facets of the man who's one of telly's best-known faces through shows like Mock The Week and The Apprentice: You're Fired!
He's also performed in front of millions in stage shows where the audience's participation and his razor-sharp reactions make for a rib-achingly good night out.
As a lad growing up on the outskirts of the Irish capital prior to going to University College Dublin, though, life was very different.
"I was quite shy as a kid," confides Dara, who is back with a new series of BBC hit Robot Wars next month.
"I was on the path to becoming a mathematician, which I think bewildered my mum and dad a bit.
"I hated not having confidence as a young teen. It was horrible.
"It was only when I was about 18 or 19 that I discovered the need to stand up in front of a crowd.
"Doing that was a joy in itself, but also just feeling that I wasn't imprisoned or crippled by silence any more."
Although mathematics and theoretical physics were on the curriculum at UCD, it was words, not numbers, that put him on the road to fame and fortune.
But all things scientific still interest deeply and he's hosted Stargazing Live and, memorably, interviewed Hawkins for a BBC documentary.
Not the sort of things most comics would do, I venture.
"Well, I'd met him once or twice, specifically on a night out. There was a launch for a TV series we'd made for an American channel and he said we must go out for a drink afterwards.
"Benedict Cumberbatch was there, too, and we drank margaritas because that's what Stephen wanted.
"It was at a cocktail bar in Mayfair and it was an interesting night."
What followed, in the fullness of time, was the fascinating, lengthy, interview with the author of A Brief History Of Time.
It was certainly a lengthy process as Dara had to ask his questions and then wait, often uncomfortably, for the reply to be typed out.
"We deliberately left that in, all that fumbling awkwardly," he confides. "You don't know what to say when you're waiting for him to respond.
"I met someone with motor neurone disease afterwards and they said thanks for doing that. They said it's a natural thing and people should know that's what happens and just be patient."
It was a departure from the norm for Dara, and departures are something he's been shrewd about throughout his career.
He says he walked away from a hit Irish TV show because, having moved to England, he was too far removed from what was going on and felt he was bluffing it. And he quit The Apprentice after five series when he felt it'd run its course for him.
"It's a format where people come through with similar stories and I was in danger of repeating myself."
But he was happy to step up for the BBC's revival of Robot Wars last summer. It was such a success that Christmas celebrity specials followed, and now comes a new series.
It's shot in a giant – freezing cold – old factory hangar on the outskirts of Renfrew.
Everywhere workbenches are full of mangled robots being pieced back together and a wildly enthusiastic audience keeps warm by roaring at battles in the arena.
"I hope the next series will be filmed in warmer weather," smiles Dara.
"Everything seemed to crank up a power level for this series with bigger, faster robots. They really tore in to one another. We had to stop four times at least to repair the studio.
"Our spinner would fling them against the side wall and the panels would come off. And things would sheer through one of the layers of bulletproof glass.
"There was actually one piece of destruction that we all stopped and took photographs of. The level of violence was poetic."
Trips to Scotland are far from alien to Dara who was an Edinburgh Fringe sensation before, like his later TV shows, he felt it was time to walk away.
"Edinburgh was so important. I came over from Dublin with my ragbag of jokes and got a real shock at how good you have to be. It's the first time you'll do 27 shows in a row and you can't help but get better.
"I stopped playing the Festival when I got to a certain level on TV. I felt it was for new acts and when I could fill the Playhouse I thought I shouldn't be doing the Festival any longer."
But the good – and not so good – times are fondly remembered.
"I've always had the rule that if it's not enough people to hang a man, then it's not an audience.
"But I've been in rooms in Edinburgh where no one showed up. And I did perform in a lift in the city which was a quirky 'venue'.
"That was 10 minutes of standing really close to six people and then, luckily for them, the doors opened."
The audience will be just a bit – well a lot – bigger at the start of April when he heads for Australia. He's playing two nights at the iconic Sydney Opera House before moving on to Melbourne and Perth.
And last month he was in Zurich, Basel and Geneva, with Switzerland being just another country where he's in big demand.
With tours that can stretch to more than 150 gigs, it means a lot of time away from the plush home in west London he shares with his surgeon wife Susan and their two kids.
He admits he misses them and talks about bigger gaps and potentially fewer dates on future tours.
"The family are the thing that makes you go away and do the job," he adds.
"When I'm away I miss them – but when I'm not touring I miss that a lot.
"A comedian doesn't exist unless he's on stage. You feel yourself slowly fading away until you can go and tell some jokes somewhere.
"That's what I do and who I am.
"If I haven't been doing it for a while I'm sitting at home drumming the table."
 Robot Wars is on BBC2 in March.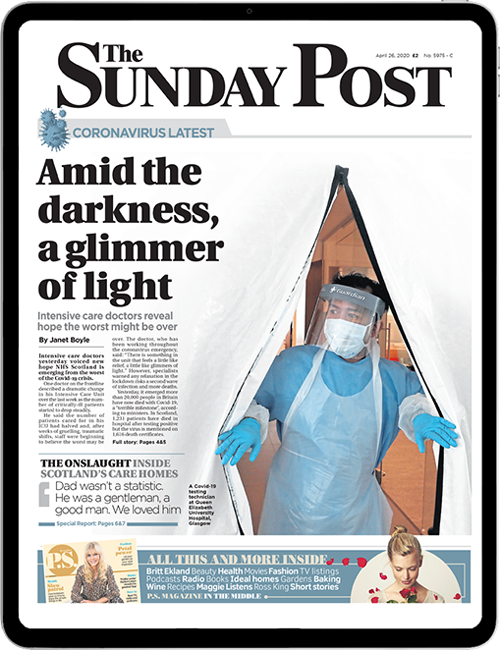 Enjoy the convenience of having The Sunday Post delivered as a digital ePaper straight to your smartphone, tablet or computer.
Subscribe for only £5.49 a month and enjoy all the benefits of the printed paper as a digital replica.
Subscribe