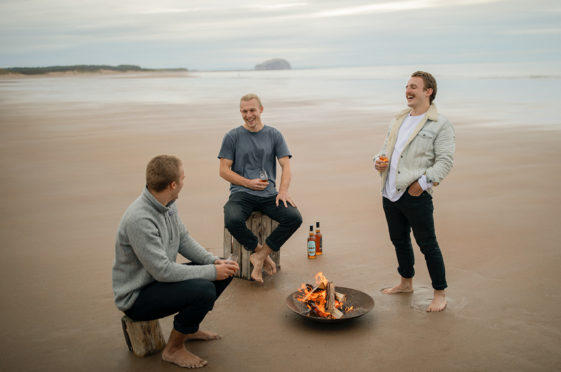 Jamie MacLean and his brothers are used to taking on the kind of insurmountable challenge most ordinary folk wouldn't even dream about – let alone beat.
In January, competing in the Talisker Whisky Atlantic Challenge, Jamie, 26, Lachlan, 22, and Ewan, 28, became not only the first three brothers to row any ocean, but also the youngest and fastest trio to ever row the Atlantic.
But when it came to their next seemingly impossible task, the brothers needed to enlist the help of another MacLean – their dad, Charles.
As part of initial training for their now record-breaking row, the brothers completed a route along the west coast of Scotland, during which time they stopped off at 16 iconic whisky distilleries, where they collected generously donated bottles of each location's signature dram.
Far from simply keeping the bottles to crack open on their return from battling the Atlantic, the trio planned to combine all the whiskies together, creating one signature limited-edition blend to raise money for Feedback Madagascar, one of two charities they had already boosted with fundraising from the row.
Blending 16 distinctive whiskies to create one pour was a challenge almost as daunting as spending more than 35 days at sea – but, luckily, Charles, a world-leading expert on Scotland's national drink, was up to the task.
"We wanted to involve the whisky industry in the challenge, and so we came up with the idea to do a training row up the west coast, from Arran to Skye, during which time we would visit as many of the local distilleries as possible," explained Jamie, who grew up in Edinburgh.
"With the help of friends in the industry and our dad, we approached distillery managers and master blenders, and 16 distilleries generously got on board with our plan. On average, each distillery donated 24 bottles of whisky."
Led by Charles MacLean, the team of experts who blended the whisky included Whyte & Mackay's master blender Richard Paterson, and resulted in two unique bottles – MacLean's Pillage, a blended malt, and MacLean's Spillage, a blended scotch. Each bottle also contains a small amount of whisky which accompanied the MacLean brothers on their row, and the brothers' Whisky For Water project is the first time so many distilleries have come together in one glass.
Jamie continued: "We've been spoiled all our lives with our dad – there was always samples of whisky around the house. You sort of begin to take it for granted. So, it was quite special to see him in his natural habitat, working away with all these whiskies and producing a blend.
"It was quite an interesting but difficult process because west coast whiskies, primarily Isla, are incredibly peaty and smoky, so we didn't want the taste to be too over-powering. The Pillage is more sort of classic west coast. Quite salty, quite smoky and quite rugged. The Spillage is a slightly lighter blended scotch and slightly sweeter.
"They both turned out fantastic – I think dad was the most surprised out of anyone."
Charles added: "What a blender is trying to do is make something that is more than the sum of its parts. To my knowledge, this is the first time that all the distilleries on the west coast have collaborated and we've tried to balance the personalities of the different whiskies to create two unique, attractive and very rare blends."
After going on sale in July, six months to the day after the brothers completed their row, all 168 bottles of MacLean Pillage sold out in less than a week, and there's just one or two of the 299 Spillage bottles left for would-be collectors.
The bottles raised £80,000 for Feedback Madagascar, allowing the Argyll-based charity to build at least 18 boreholes which provide clean water for more than 3,000 people.
The 16 distilleries the brothers visited were Ardbeg, Ardnamurchan, Arran, Bruichladdich, Bunnahabhain, Caol Ila, Girvan, Glen Scotia, Jura, Kilchoman, Lagavulin, Laphroaig, Oban, Springbank, Tobermory and Talisker.
Jamie said: "Our plan is to keep the ball rolling with the whisky, and we're trying to figure out how we can turn the idea into a longer-term social enterprise business. It wouldn't just be the west coast, it could be distilleries all over Scotland.
"The row and the whisky, all came from the fact that we thoroughly enjoyed doing all these projects together as a family, so it's been a really special journey."
Visit broar.co.uk
---
Powered by porridge
Tackling seasickness, storms and 40ft waves, the brothers rowed 3,000 miles in just 35 days nine hours and nine minutes, to complete the Talisker Whisky Atlantic Challenge. And each of the estimated 1.5million oar strokes required were fuelled by what any Scots granny would recommend – porridge.
Jamie explained: "For the Atlantic crossing, the majority of our meals were freeze-dried rations, as well as snack bars and lots of nuts, dried fruit and energy bars – not the most exciting options for a foodie like me.
"But we always started the day with a big bowl of communal porridge.
"Before we left, I sort of played about with it in the kitchen, and managed to make a mix that was oats and freeze-dried coconut milk powder, with chia, pumpkin and sunflower seeds, which we just added hot water to while on the boat."
He added with a laugh: "We actually had a load of freeze-dried berries and honey on top so it was pretty gourmet porridge! We were all concerned we would get sick of it after a few days, but it was the one thing that all three of us looked forward to every day."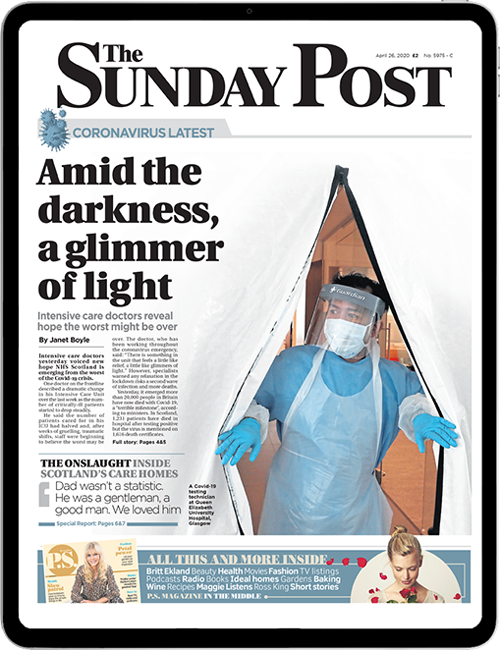 Enjoy the convenience of having The Sunday Post delivered as a digital ePaper straight to your smartphone, tablet or computer.
Subscribe for only £5.49 a month and enjoy all the benefits of the printed paper as a digital replica.
Subscribe