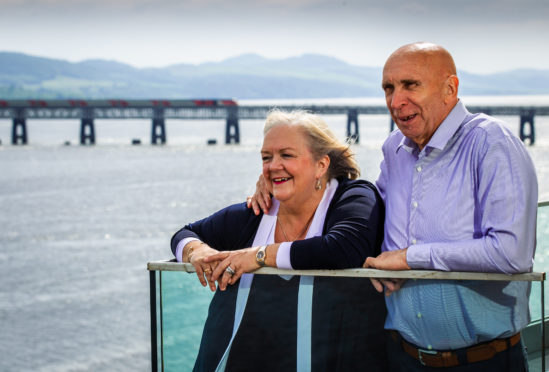 A couple who won almost £58 million in a spectacular lottery win have revealed how some things never change, despite their lives being transformed by their good fortune a year ago.
And, as he prepares to mark the first anniversary of the life-changing EuroMillions win with his wife Lesley, Fred Higgins, 68, revealed he was always convinced his ticket was coming up.
Looking over the Tay from their stunning £430,000 apartment, he said: "I was confident I would win. I always did believe that. I didn't think I would win as much as I did, though."
"I told my colleagues, 'Someday I am going to win the lottery' and they pulled my leg about it, but he who laughs last, laughs loudest!"
The former warranty administrator for Audi in Aberdeen – who had retired 18 months before the win – grinned: "When I used to tell Lesley I would win, she'd say, 'Don't be daft'.
"On the night I went out to buy what was the winning ticket she asked, 'Why do you bother, you're never going to win.'"
"I am eating my words now," laughed Lesley, a former account manager with the Montrose Port Authority, adding: "I still can't believe our luck. I keep thinking something will happen and it will disappear. We are very careful."
And she admitted her old money-saving habits are hard to park. She baulked at paying £1,000 for a handbag in Harrods, for example.
She said: "I did have to have a big swallow before I decided to buy it. I was always the type of person who stalked a thing before I bought it in the sale," she said.
"I am a wee bit more relaxed now, but I still look at things and think, 'I can't justify spending that'.
"I can't resist a bargain. I bought a jacket recently that was down to £50 but I wouldn't have paid the original price, which was nearer £300."
The couple also said they have ditched thoughts of buying a Caribbean or French holiday home and have so far turned their backs on luxury overseas holidays, preferring mini breaks in Scotland instead.
"We don't really need to buy a property abroad," said Lesley.
"We can live in relative luxury by just going on holiday. Putting down roots somewhere would mean you want to go there every year when there is so much of the world we can explore.
"We did go to Malta for a family wedding but that was organised before we won the lottery.
"We haven't been anywhere else – just a few luxury hotels in Scotland.
"We stay in the Balmoral in Edinburgh quite a lot, and we have stayed at a few Hiltons.
"We have our 36th wedding anniversary coming up but we don't know what we are doing for it. We have never been ones to plan lavish affairs.
"I would have liked to go to India to the Taj Mahal but it would have been well outside our price range before the lottery win.
"But maybe this year or next.
"Our daughter is a bit overwhelmed with it as well. We bought her a flat – that's about it really. We were pleased to be able to it. It is something she would probably never have had."
The couple have also splashed out on a £705,000 detached villa in Broughty Ferry, in addition to their riverside pad, a new Audi A5 and a top-end BMW.
Fred said: "We did look at the plans for the waterfront development years earlier, but found them out of our price range. That was until our good fortune changed things. We have always liked Dundee."
But they have not forgotten the people they care about and have used their winnings to "look after" family and friends – including providing backing for a children's mental health book Lucy's Blue Day written by their pal Chris Duke and generously supporting The Clarsach Society in Aberdeen.
They are also in the final stages of setting up a charitable trust.
"We are finalising the wording of the contract before we register it," Lesley explained. "And we are getting an idea of the sort of organisations we are prepared to help and what the process will be to apply to the trust for help.
"It's true what they say, the pleasure is in the giving, and if you can put a smile on someone's face, then so be it."
But she said they had been sickened by cyber scammers who posed as the couple in emails to dupe victims into revealing their personal information to gain a share of the jackpot.
Lesley said: "There are vulnerable people out there who will believe what they are told and it is tarnishing our reputation. We don't like that. We are positive, open, friendly people."
The couple also praised Camelot, who they said continue to support them with the challenges of the win – like the many written pleas for help they receive.
"We have had begging letters," Lesley confirmed. "Camelot look after that because I would probably spend my life with a box of Kleenex. You have to grow a shell."
Fred added: "I can sympathise with all the people who send begging letters. They are heart-breaking. But we can't fix everyone's problems all of the time – the government can't do it so I am damn sure I can't.
"And we will not be making any donations to any political parties. We wish to help younger people who cannot get funding for things."
Fred had been buying tickets for the National Lottery since it started in 1994 and took 17th place on the National Lottery's UK rich list following the EuroMillions jackpot on July 10.
He didn't know he had won until a week later when he went to his local shop in Laurencekirk to buy a new lottery ticket and have the previous week's one checked.
The shop assistant initially told him the ticket wasn't a winner. He ripped it up and threw it away before the ticket machine indicated Camelot should be contacted because the winning sum was more than the store could pay out. The ticket was quickly retrieved from the bin.
The Higgins – who have forgiven the shop assistant – then endured a tense two-week wait for confirmation the £57,975,367 win was his.
Fred said: "I had carried the winning ticket in my pocket for a week without knowing we had won.
"Then it was torn-up and put in the bin. If the machine hadn't alerted us I would have walked out of there without the money and would never had known.
"There were just seconds in it. It was surreal when you think about it."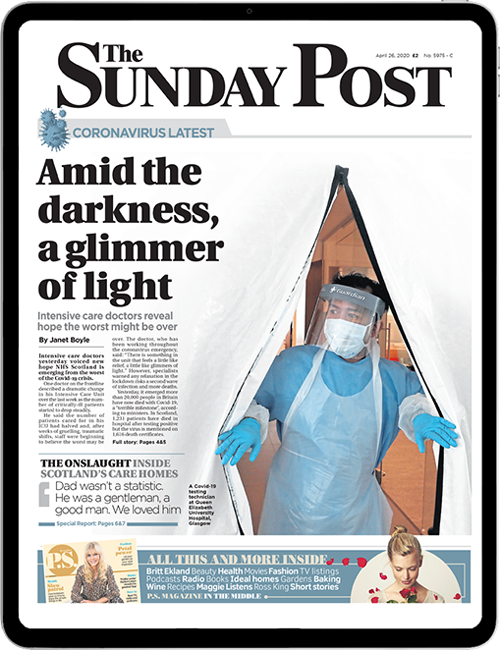 Enjoy the convenience of having The Sunday Post delivered as a digital ePaper straight to your smartphone, tablet or computer.
Subscribe for only £5.49 a month and enjoy all the benefits of the printed paper as a digital replica.
Subscribe