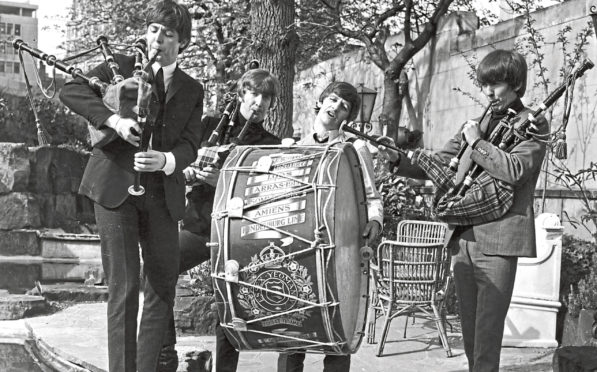 It was the one-word, two-letter answer heard around the world.
"No", replied Paul McCartney, after being asked if he would ever write songs with John Lennon again.
The question and his terse, incendiary reply, included in a press statement issued 50 years ago, would spell the end of the Fab Four, the biggest band in the world. As fans lamented, The Beatles split.
But, if half a century ago, on April 10, 1970, the band ended, their influence and legacy was only just beginning.
"Their enduring popularity is almost mystifying," said Beatles expert Ken McNab. "They are one of those bands who cross all generational barriers. They still have millions of downloads and streams every year and the biggest selling vinyl album in 2019 was Abbey Road, which was incredible.
"For cultural influence and longevity of song, they are out on their own. They changed the world for the better, a world where the Second World War was still on people's minds.
"They transformed the '60s from monochrome to colour, making the world a happier place for everyone."
It was while promoting his solo album that Paul McCartney revealed he was no longer working with the group.
In reality, the Fab Four had fractured some months earlier, after recording the Abbey Road album, when John Lennon said he was out but there had been no definitive, irrevocable announcement.
With hindsight, the interview issued by McCartney in a press release was not absolutely, conclusively ruling out a reformation, but that is how it was reported.
The band who hurtled out of Liverpool via Hamburg to conquer the world, had taken Scotland early in their career. For The Beatles, especially Lennon and McCartney, the 1960s began here and ended here.
"The band toured here in 1960 and it was the first time they had been away from Liverpool," explained Ken, who has written two bestselling books, And In The End, about the group's final year, and The Beatles In Scotland.
"They toured with Johnny Gentle, essentially as his backing band, playing places like Alloa, Keith and Forres. It gave them a taste for being on the road and being asked for autographs for the first time. Gentle saw their potential.
"They mingled with locals and people have never forgotten meeting them, even it was a couple of years before they knew who they were. They played about 30 concerts in Scotland between 1960 and 1965."
Lennon, raised in Woolton, a suburb of Liverpool, by his maternal aunt Mimi Smith, was no stranger to the Highlands. Every summer as a child, he had holidayed in Durness with his cousin Stan Parkes and his family.
"He loved it, because Liverpool was a grimy, post-war industrial city at the time and here he had unending views of fields and mountains," said Ken. "It helped fire his imagination and he often spoke warmly about it. He and Yoko had a holiday here in 1969. He wanted to show her all his old haunts but he was a horrendous driver and ended up in Lawson Memorial Hospital in Golspie, after crashing his car near Tongue.
"Stan and John were very close, like brothers, and Stan was under strict instruction to send John certain Scottish things after he'd moved to New York, including The Broons annuals. He loved their surreal humour.
"Paul, of course, bought a farm on the Mull of Kintyre and relocating there saved him from a nervous breakdown when The Beatles ended."
Ken doesn't apportion blame to anyone in particular for the band's demise which so devastated fans.
"They had been mushroom-grown in a hothouse for 10 years and, by 1969, still in their 20s, they had gone through all of this change," he continued.
"It's natural that people's lives change. Trying to survive and endure the maelstrom would have been difficult for all of them. They had business difficulties with their company, Apple, and had already lost their manager,Brian Epstein, so from a business and management sense, they were a rudderless ship.
"Lennon wanted Allen Klein, who was a fearsome individual in rock and roll circles, as manager, while McCartney favoured his father-in-law Lee Eastman, an entertainment lawyer, to represent them. Over the months, the breach became a chasm and allayed to this, their personal lives were becoming estranged, too.
"The wheels were coming off and the Let It Be recording in January, 1969, was a miserable experience. Amazingly, they regrouped to record Abbey Road, a last love letter to the world and a brilliant swansong, especially considering what was happening on the sidelines. But by the time it was completed, Lennon had had enough."
Five decades after John, Paul, George and Ringo went their separate ways, Ken expects music lovers' fascination with the Fab Four to last long into this century. He said: "I think it's more than possible we will still be talking about The Beatles in another 50 years, and how many other bands can you say that about?"
---
Scotland was very primitive, but that was OK…so were we
– Paul McCartney
After playing to 13,000 ecstatic fans in one of the most iconic concert halls in 2018, Sir Paul McCartney remembered another gig, 58 years before, in Alloa Town Hall. Then known as The Silver Beetles, the band played there on May 20, 1960.
After his gig at the Hydro in Glasgow, Macca told The Sunday Post how the group split their £60 fee with then-bass guitarist Stuart Sutcliffe and drummer Tommy Moore as they took on the job of backing band for Liverpool heartthrob singer, Johnny Gentle.
Macca said: "We'd never really travelled anywhere. We'd pretty much always been in Liverpool, maybe only ever taking a little trip to Southport, half an hour away.
"So coming up to Scotland was like travelling to a foreign country.
"It was very primitive. But it was OK because we were primitive – we didn't have any equipment apart from guitars and a couple of amps.
"The audiences didn't know who we were, nobody did. We were just Johnny Gentle's backing band. They didn't even know who he was.
"But it was good fun, and as we'd never done it before, we were thrilled that anyone wanted to treat us like we were stars."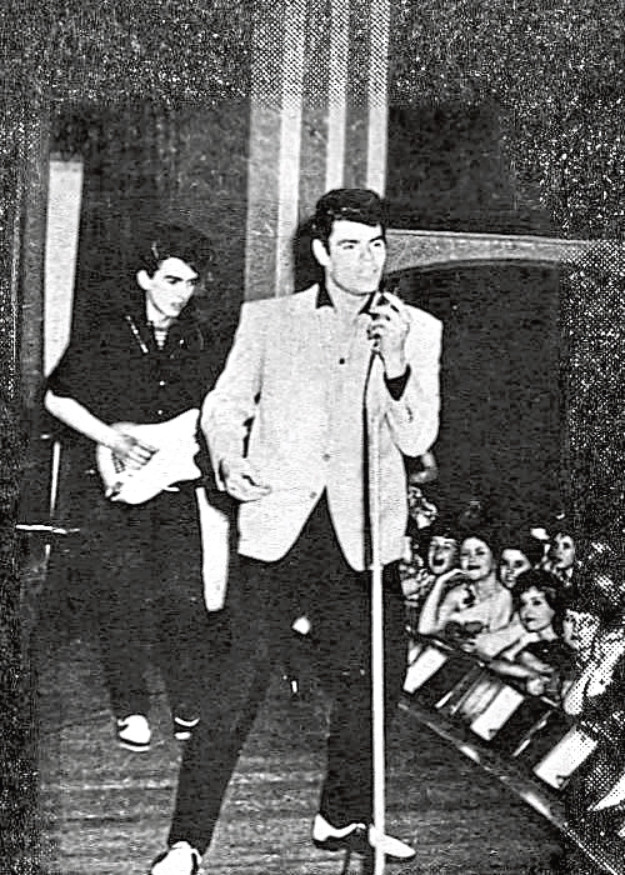 For the seven-date tour – which included gigs in Inverness, Fraserburgh and Nairn – two of the band even changed their names to make them sound more glamorous.
George was known as Carl Harrison, as a tribute to his hero, US rocker Carl Perkins, while Paul adopted a more exotic alter ego.
"I remember some Scottish girl saying: 'What's your name?' And I said Paul…Paul Ramon," he recalled. "She replied: 'Ooh, that sounds very good'. It was exciting to change your name and it made us look like London showbiz guys."
But The Silver Beetles nearly came a cropper when their van was involved in a collision near Banff.
Even so, the tour proved pivotal in the development of the group soon to be The Fab Four, when Ringo Starr joined two years later.
Lennon once said: "That tour was the first time we had actually seen what it was like to be on the road.
"Scotland gave us a taste for whatever it was we were looking for. It was a turning point."
---
"People ask if I'm disappointed I didn't get off with a Beatle"
Here, some of the Scots who encountered The Beatles in Scotland share their memories of a missed romance, old pals and lost autographs
The fan: Margaret Paterson
The 17-year-old was one of the few at a Beatles gig on January 4, 1963, at Dingwall Town Hall.
She was there for a first date with future husband Tommy, but believed she had been stood up when he didn't show.
"I sat on the edge of the stage, having a wee cry, and Paul was so nice, telling me there were more fish in the sea," Margaret smiled.
"I counted no more than 19 in the hall. Paul said it was a dead place and I explained there was a band playing down the road at the Strathpeffer Pavilion."
During The Beatles' set, a friend approached Margaret and told her Tommy was waiting for her at the Pavilion, so she thanked Paul and ran off.
"People ask if I'm disappointed I didn't get off with one of The Beatles, but I say not at all, Tommy and I were married for 30 years before he died and we had nine children, so it was a very happy marriage."
The TV presenter: Paul Young
Actor and presenter Paul Young met The Beatles on three occasions as host of STV show, Round Up, recorded at the Theatre Royal, Glasgow.
"The first time they were on they performed Love Me Do," recalled Paul.
"The second time they were on with Gerry And The Pacemakers, and while Gerry was performing, John was standing by the camera trying to make him laugh.
"The floor manager told him he would never get anywhere in the business if he didn't improve his attitude!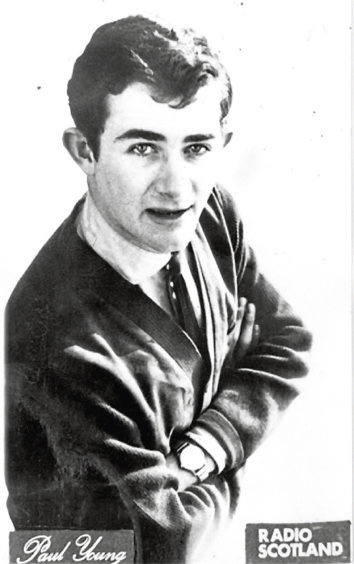 "The third occasion was in 1964.We were like old pals by then.
"I had a conversation with Paul about our shared name, as it was quite unusual then and he said he was always being told it was posh.
"A year later, I was down in London, Dennis Waterman, two ladies and I were in a taxi when I noticed Paul and Ringo standing on a doorstep.
"We jumped out and had a chat. Dennis and the two ladies were very impressed they knew me."
The reporter: Sandy McGregor
In 1964, Sandy was a young reporter in Dundee when a call came from the private secretary of the Countess of Strathmore.
The Beatles were due to play the city's Caird Hall and the Countess wished to meet them.
Sandy got in touch with the band's road crew and it was agreed they could meet at the venue.
"We spent a fair bit of time with them," Sandy recalled. "They signed plenty of autographs – I got two sets.
"I kept one in my wallet, but I got talking to an American couple one day and gave the signatures to them. I lost the other set over the years – I didn't think they'd ever be valuable."
After the concert, one of The Beatles' road crew approached him.
"There were a few girls from my work down the front and this guy asked if I'd let them know about a party the band was having at their hotel in St Fillans, so I did and off the girls went."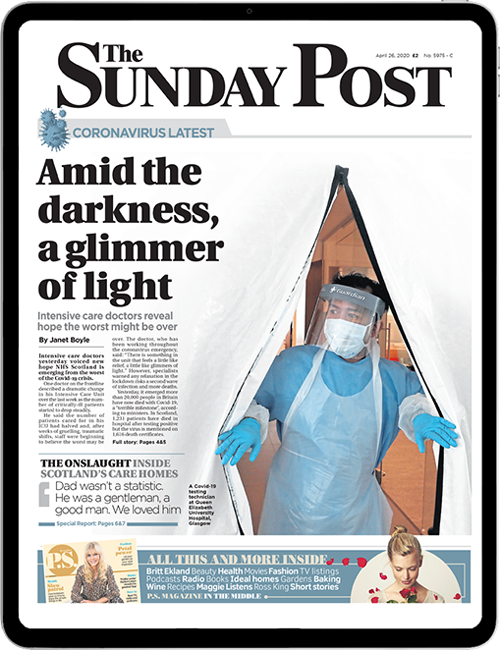 Enjoy the convenience of having The Sunday Post delivered as a digital ePaper straight to your smartphone, tablet or computer.
Subscribe for only £5.49 a month and enjoy all the benefits of the printed paper as a digital replica.
Subscribe