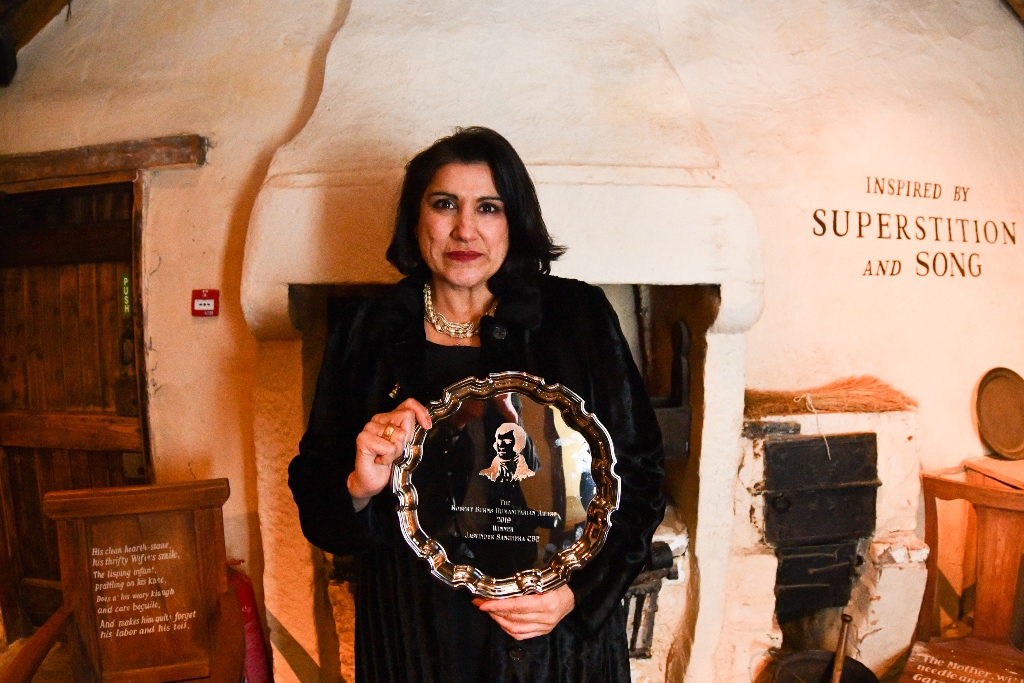 A BRITISH human rights activist was named winner of a prestigious global award created in honour of Robert Burns last night. 
Campaigner Jasvinder Sanghera CBE was presented with the Robert Burns Humanitarian Award at an intimate ceremony in Burns Cottage in Alloway, where Robert Burns was born almost exactly 260 years ago.
Jasvinder escaped a forced marriage, set up a dedicated charity to help victims of honour-based abuse and forced marriage, and helped change the law to make forced marriage a crime.
Her story was deemed by the award judges to exemplify the values that Burns himself stood for in terms of humanity, equality and freedom for all.
Part of the Burns an'a'that! Festival 2019 and Burns 260 celebrations, the Robert Burns Humanitarian Award (RBHA) recognises courage, commitment, inspiration and hands-on humanitarian efforts from people of any nationality, race, age or gender.
Born in Derby, Jasvinder's humanitarian journey began when she escaped a forced marriage by running away from home at the age of 16 – only to find herself disowned by her family.
Her four older sisters were taken individually to India to enter forced marriages. It was after one of her sisters committed suicide to escape the domestic abuse of her marriage that Jasvinder decided to found Karma Nirvana – an award-winning charity that supports victims of honour-based abuse and forced marriage.
Jasvinder's efforts over a decade of lobbying government and campaigning were pivotal in creating a new law that made forced marriage a criminal offence in the UK. The legislation has now been in place for five years and this had led the way for the present consultation into the mandatory reporting of forced marriages.
Most recently, Jasvinder raised significant debates in The House of Lords by sharing her personal experience and being the first complainant of sexual harassment and bullying. This has led to numerous individuals reporting and an independent inquiry that will create greater future changes.
Receiving her award, Jasvinder said: "I am overwhelmed to be awarded the Robert Burns Humanitarian Award 2019. To be associated with such an iconic figure is an honour.
"Robert Burns was, and continues to be, an inspiration to many. As an activist, I've followed the work of many social reformers and read about the many influenced by Robert Burns, including Frederick Douglas – a slave who went on to be one of the world's most famous abolitionist. The first book he read was by Robert Burns.
"Burns' ability to empathise with the human condition makes him universally loved and his legacy is something I will ensure remains alive within my own work."
Chair of the RBHA Judging Panel and Leader of South Ayrshire Council, Councillor Douglas Campbell, said Jasvinder stood out as an exemplar humanitarian, putting others first and making a difference.
He added: "Jasvinder has spent more than 25 years standing up for others and making sure they don't have to go through what she and her family did. She has taken what was a hugely traumatic experience and turned it into a real force for good and a force for change."
Minister for Europe, Migration and International Development, Ben Macpherson MSP, presented Jasvinder with her award.
Also recognised at the award ceremony were fellow RBHA finalists and runners-up Umra Omar and Dr Denis Rutovitz MBE.
---