23 pupils have been formally removed from two Coatbridge high schools following fears for health and safety.
Buchanan High and St Ambrose High, which share a campus on a previous toxic landfill site, have been at the centre of a health and safety debate after the Sunday Post revealed four teachers working in the same school had contracted bladder cancer.
North Lanarkshire Council have confirmed that they received 12 formal requests to remove children from Buchanan High School and  11 requests to take pupils out of St Ambrose High.
The two schools were built on the a former landfill site of Gartsherrie Steel and Ironworks which contained a number of toxic chemicals including lead, arsenic and nickel.
A petition created by parents calling for all pupils and staff at both schools to be tested for toxins in their systems reached 15,000 signatures.
Parents say their children have been complaining of a number of health issues, from fatigue, to headaches, to nausea.
There are also reports of four children testing positive for high levels of arsenic in their system.
Last week we revealed mum Josie Clark had removed her son Tommi from Buchanan High after he went blind after attending the school for a number of months.
He had three times the normal levels of arsenic in his system, which is linked to blindness.
Another mum has removed her 15-year-old daughter from St Ambrose after specialists found she had more than six times the normal levels in her system.
The mum said: "For months I had been dismissing my daughter's constant illnesses.
"But when I saw a post in Facebook in February highlighting the 'blue water' issue, I immediately took my girl to see her specialist at the Sick Kids hospital where she has been treated since birth for reflux.
"Our consultant did tests in March looking for arsenic,
and the results came back at 185, more than six times the normal level."
Environment group Scottish Hazards says it is aware of two other families whose children have shown unusually high levels of arsenic in tests.
Staff at Buchanan High School began seven days of strike action on Thursday, June 20, while teachers have walked out of St Ambrose High from today until Friday, June 28.
An NASUWT spokesperson said last week: "Whilst the NASUWT is in dispute over the situation at the school we have taken the unprecedented step of removing our members from the school site because of the serious health and safety concerns.
"The failure of the employer to act to address these concerns is unacceptable and our legal advisers are also taking appropriate action.
"No stone should be left unturned when the health of staff and pupils is at risk.
"The NASUWT should not be in a position where we have to take such action, but if an employer fails to act appropriately we will.
"Teachers are deeply anxious about whether there is any link between conditions at the school, including the blue water, and a range of health issues among staff."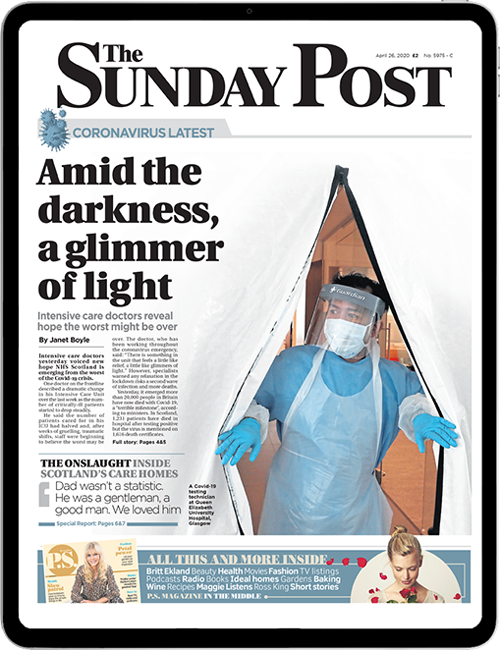 Enjoy the convenience of having The Sunday Post delivered as a digital ePaper straight to your smartphone, tablet or computer.
Subscribe for only £5.49 a month and enjoy all the benefits of the printed paper as a digital replica.
Subscribe