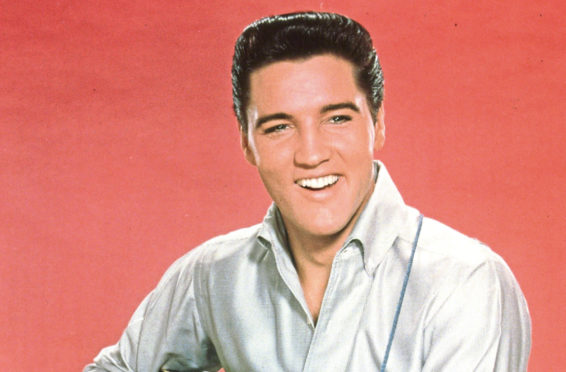 Elvis Presley would have turned 85 on Wednesday, but his music remains as fresh and exciting as ever.
The King has been dead longer than he lived, having died at just 42 in 1977, but his music never seems to fade away.
This week, to honour his special birthday, we highlight 20 of his greatest songs, highlighting what made them so special.
The amazing thing about Elvis, of course, is that we could have selected a different 20 and they would still all have been belters!
JAILHOUSE ROCK (1957)
Presley fanatics may have two versions of this one, as the film version and the single version have different vocal takes and even different instrumental backing.
Both, however, are classics, written and produced by the great songwriting duo of Jerry Leiber and Mike Stoller.
Some of the characters mentioned in the lyrics were real jailbirds, and there's a theory that the whole thing was meant as a tongue-in-cheek joke, but Elvis took it deadly seriously and sang it with typical gusto.
HEARTBREAK HOTEL (1956)
The King's first single on RCA, the label that would bring him most of his mega-hits, it's barely past the two-minute mark before it's over.
That brevity was irrelevant when it came out, though, as fans would put the record player on repeat and listen to it over and over.
Keith Richards and Led Zeppelin singer Robert Plant both said it changed their lives, while the 13-year-old George Harrison first heard it while on his bike and nearly fell off.
CAN'T HELP FALLING IN LOVE (1961)
The very last song he ever performed in concert, the Presley version got to No 2 in the USA.
More than 30 years later, British stars UB40 took their reggae version one spot higher.
CRYING IN THE CHAPEL (1965)
Elvis's success with this one came in a strangely roundabout way.
He recorded three versions of it for his 1960 gospel record, His Hand In Mine, but none of them pleased him enough and the tapes were shelved.
Five years later, the dust was blown off them, the recording was put out at last and it gave him his biggest hit since Return To Sender three years earlier.
It went to No 1 in Britain twice.
A LITTLE LESS CONVERSATION (1968)
Originally a B-side to US single Almost In Love, this was only a minor hit in 1968.
A remix version by Dutch artist Junkie XL, a full 35 years later, shot to the top of the charts in multiple countries.
If he'd still been with us, Elvis would doubtless have shook his head in pleased bemusement.
MARIE'S THE NAME (HIS LATEST FLAME) (1961)
With its trademark tempo borrowed from the great Bo Diddley, only those without a heartbeat could stop their toes tapping when this song plays.
It was one of an astonishing nine chart-toppers Presley had in the UK between 1960 and 1962.
Penned by the amazing Doc Pomus and Mort Shuman, who also wrote other hits for Presley, it still sounds as if it was recorded yesterday.
HOUND DOG (1956)
Another Leiber & Stoller number, you could make a strong case for calling this the ultimate, classic Elvis Presley song.
Personally, the two guitar solos by the legendary Scotty Moore, the second one especially, never fail to thrill even more than Presley's roaring vocal.
A lot of rockers must have heard this and retired on the spot, knowing they couldn't hope to match its intensity.
BLUE SUEDE SHOES (1956)
Then again, this ain't bad either.
This came out the same year as Hound Dog and fared almost as well in the charts.
Written by Carl Perkins, he did his own great version, as did Buddy Holly and Eddie Cochran.
But Elvis gave it his own distinctive flavour, and it remains close to the top.
SUSPICIOUS MINDS (1969)
Presley's 18th and final US No 1, this single revived his career there on the back of the glorious Comeback Special TV show.
It was written by Mark James, who was with his wife but still had deep feelings for a childhood sweetheart, a fact that hadn't escaped his wife's notice.
A big production number with lots of musicians and many backing singers, plus a nifty tempo change in the middle, it's a real cracker.
ALWAYS ON MY MIND (1972)
As is this!
Released weeks after his separation from Priscilla, this song had extra meaning to fans and Presley himself.
Anyone who records it seems to do pretty well out of it, but nobody did it quite like the great man himself.
IN THE GHETTO (1969)
From The Cranberries to Dolly Parton, Nick Cave to Sammy Davis, Jr, everybody has covered this. Nobody did it better than Elvis.
A tale of poverty and strife from one generation to the next, it was unlike anything else he ever did.
THE WONDER OF YOU (1970)
Ray Peterson, who had the US hit Tell Laura I Love Her while Ricky Valance had it in the UK, had done this one shortly before it.
Elvis admired him and asked if he would mind him trying it, too. He was told that, as Elvis Presley, he was free to record anything he liked.
The King's version became one of his most popular British hits ever, and was massive everywhere else, too.
As with various other Elvis hits, a sensational guitar solo lifted it to new heights.
LOVE ME TENDER (1956)
Forget guitar solos – this one was all about The Voice.
Presley sounds like he's right up breathing into the microphone, crooner-style, and it went gold before it even came out.
ALL SHOOK UP (1957)
Elvis got a credit for writing this one, having claimed he had a dream and woke "All shook up."
An alternative tale reckoned Otis Blackwell, the main writer, was challenged to write about the first thing he saw, which happened to be a bottle of Pepsi, all shook up to bubble forth.
Ah, coming up with classic hits was so easy back then.
ARE YOU LONESOME TONIGHT? (1960)
RCA didn't think this suited Elvis's image, but his manager Colonel Tom Parker said it was his wife's favourite song.
Not long out the US Army, Elvis did it, they persuaded the label to release it, and it was another massive hit.
RETURN TO SENDER (1962)
Personally, I don't remember Big Girls Don't Cry by The Four Seasons, but it was the single that kept this off the top of the US charts.
Not so in Britain, where Elvis's latest record shot to No 1.
In Ireland, they had just started having charts, so it became the Emerald Isle's first-ever Christmas No 1.
DON'T BE CRUEL (1956)
Elvis wasn't just a voice and a pair of outrageous hips.
He produced this one, sitting down at the studio piano to knock the arrangement into shape, and then insisting on almost 30 takes before being satisfied with the finished product.
It also became one of the 30 songs that he never left out of concert setlists.
ONE NIGHT (1958)
Originally written as One Night Of Sin, Elvis did record it with the early lyrics, but they were deemed too suggestive.
So that recording remained on the shelf for many years, while his new version with more acceptable words went down a storm.
Let's be honest – the way he sings it, you are left in no doubt how he feels, saucy lyrics or not.
IT'S NOW OR NEVER (1960)
Based on O Sole Mio – written in 1898 – the world knew how this one went when it came out.
When Elvis had heard it, he ordered new lyrics, which took 20 minutes, and went on to sell 20 million copies, his best-seller ever.
(YOU'RE THE) DEVIL IN DISGUISE (1963)
Last, but in my house definitely not least, this is my all-time favourite Elvis Presley song.
Slowed-down, tongue-in-cheek verses, a rip-roaring pace for the choruses brought in by a thump on the snare drum, an awesome guitar solo and a ferocious vocal – what's not to like?
Grady Martin is on lead guitar, he also graced records by Johnny Cash, Patsy Cline, even Bing Crosby and Loretta Lynn.
By the way, it's Jordanaires singer Ray Walker, from the group who were often Presley's backing vocalists, who does the bassy, boomy "Oh, yes, you are" throughout.
Yes, we saved the best for last!