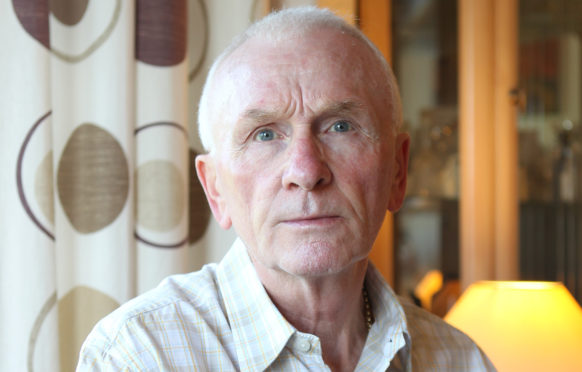 A pensioner who sued the NHS when his partner died after being twice sent home from hospital has been awarded more than £180,000 in compensation.
George Andrews' partner Jean Graham died six years ago after a medical misdiagnosis.
He launched a compensation claim at the Court of Session and this week Judge Lord Pentland ruled in his favour.
The ruling comes after the 74-year-old said he felt doctors at Glasgow Royal Infirmary failed his partner Jean, 77, after they mis­diagnosed her with the sickness and diarrhoea bug norovirus.
The Sunday Post first revealed Jean was twice sent home from the hospital's A&E in January 2013 despite suffering the effects of a blood clot.
AN NHS 24 doctor sent out after George called the service ordered Jean back to hospital.
The doctor was concerned her symptoms could indicate ­something more serious than the winter vomiting bug.
When she was admitted to the hospital for a third time, doctors found she had a blood clot in her abdomen and were unable to save her life.
The retired engineer previously told The Sunday Post the hospital put Jean in a trolley instead of a ward when she was diagnosed with the blood clot after a scan. He said: "She was too weak to even sign the consent form. She never made it out of surgery and died.
"Now I want justice for Jean. A dog wouldn't have treated her so badly."
In his ruling, Lord Pentland said that if doctors managed to successfully operate on Jean, she would have been likely to have lived for another seven and a half years.
George, who lives in Glasgow's east end, previously said: "They never should have sent her home. We both felt utterly abandoned.
"We put our trust in the NHS and they let us down. No one should go through what happened to Jean."
Lawyers acting on behalf of the grieving pensioner argued that Dr Mohamed Izzath, a junior doctor who assessed Jean, was negligent in his dealings with her. They claimed he failed to tell Jean she needed to be admitted to hospital and they also argued he did not perform a check on her that may have helped staff diagnose her actual condition.
The court heard that Dr Izzath got permission from a consultant, Dr Stephen Cleland, to discharge Jean – but the information given to the senior doctor was incorrect.
The court also heard that the GP who attended the couple's house thought George was struggling to look after his partner.
Lord Pentland, who ordered the health board to pay compensation of £184,613.83, said in his judgment: "I concluded that the right inference to draw from the totality of the evidence is that Dr Izzath did not advise the deceased that she should have been admitted to hospital.
"In my opinion he was negligent in having to give the deceased that advice."
He continued: "The fact Dr Izzath discussed the deceased's case with Dr Cleland cannot in my opinion serve to absolve Dr Izzath of liability for having failed to advise the deceased that she should be admitted.
"Dr Izzath's note tends to indicate that he told Dr Cleland the deceased could cope at home.
"Dr Cleland's approval of that decision to discharge the deceased must have been conditional on that being the position.
"There is strong evidence that the deceased and the pursuer were not coping at home.
"It follows that Dr Cleland's approval of the proposed discharge was based on inaccurate information. For that inaccuracy Dr Izzath must, in my view, be held liable."
At the time, NHS Greater Glasgow and Clyde issued an apology to the dad-of-two. They previously said there were lessons to be learned from the case.
The couple had lived together for 20 years. Lord Pentland said George described how he and Jean had spent almost all their time together.
He added: "They were extremely close to one another."
Lord Pentland also said George described how he was shocked and became angry after his partner's death.
He said: "He still has flashbacks to events in the hospital and nightmares of hearing the deceased screaming in pain.
"He continues to be troubled and distressed by the fact the deceased lost her dignity. He misses her companionship and their life together. He can no longer bear to receive Christmas cards. He is lonely."