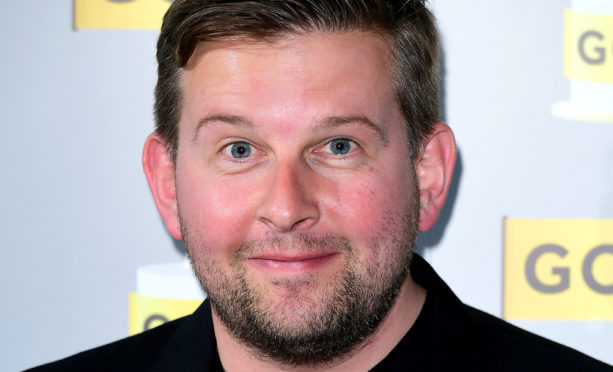 Edinburgh born actor Greg is known for his comedy character Gary: Tank Commander, as well as for roles in TV's Fresh Meat and The A Word.
His latest portrayal is as civil servant David Hennessey in Channel Four drama Traitors, which ends this evening.
A spy drama set at the end of the Second World War, it's released on DVD and digital from next week.
---
Surprised to be playing an English civil servant?
Amazed. I'd prepared the script and accent for the audition, and I got background from my dad who was in the civil service, but I never thought I'd get the part.
You've a middle class, English accent in this. Easy?
It takes work, but I've been interested in accents since childhood. I did a lot in my stand-up act, and someone said: "Accents are easy for you. You're Scottish." Eh? What?
Are people thrown by your real accent?
Sometimes. A guy told me: "You don't sound like Gary: Tank Commander." Well, of course I don't. He's not a real person!
What attracted you to the traitors role?
I'm a bit obsessed about going for something that's different from my last part. It was also great to shoot again in Wales where I'd done A Discovery Of Witches for Sky.
You had to sing Gilbert and Sullivan. Fun?
Completely, but no one had mentioned it at the audition. The costume lady measured me and said my gondolier's outfit could wait. I laughed, thinking she was kidding. First I knew was at rehearsals listening to Keeley Hawes singing.
Are you open to learning from other actors?
Yes. I worked with the actor Toby Jones and he had a marvellous way of being still and using silence. I asked how he did it and he said he'd trained as a clown. I'm always learning.
A famous director thought you'd be weird. Why?
That was Richard Curtis. It was a kind of compliment, I suppose, based on parts I've played. Some actors only choose roles close to their own personalities, but I like being different.
Why did you perform at a stranger's wedding?
It was for a soldier who'd done seven tours of Iraq and Afghanistan. His best man was a tank commander, so it was great to be Gary: Tank Commander for them for a night. A privilege, but a one off.
What's your next project?
I've done lots of acting recently so I'm back to writing. I have an idea for a drama set in Edinburgh. We'll be showing it to broadcasters when it's ready. Fingers crossed.
You have 24 hours to live. How do you spend it?
I once walked out of a job in an Edinburgh bar after they changed my break time. I went to the Cameo cinema at Tollcross and watched Apocalypse Now Redux with three bottles of Furstenberg. I'd buy more beer, go back to the Cameo, and spend the whole day watching whatever was on.