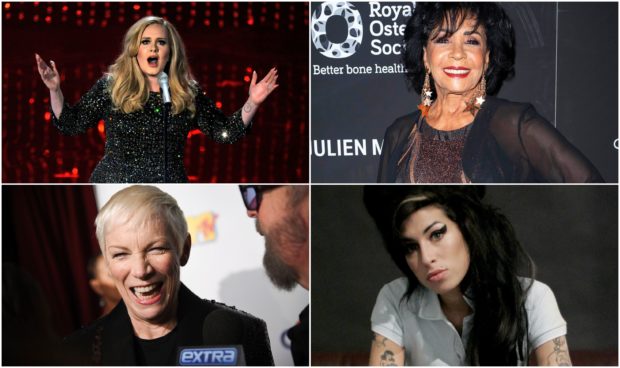 For a small island, Britain has always punched above its weight, not least by producing some of the all-time music greats in every era.
It is astonishing that the UK has given the planet The Beatles, Stones, Bowie, Elton, Cliff and hundreds more incredible male artists.
And when it comes to the greatest female singers around, we haven't done too badly, either!
Here, Craig Campbell turns the spotlight on the Top Ten British Female Singers of all time.
---
Adele
Loved in the UK, USA and just about everywhere else, part of Adele's charm is that she seems utterly unfazed by her fame and fortune.
She calls a spade a spade, she brings kids up onstage (and even female impersonators "doing Adele"!), and she naturally knows how to have mass audiences eating out her hands.
Adele seems to prefer downbeat, sad songs, all broken hearts and damaged relationships, and has even apologised lately because her concerts were full of such sad numbers.
She needn't worry, as nobody does heartbreakers quite like her, and she has a voice that any woman, of any era, would have been delighted to have.
Sade
For someone who walked away from music for a decade, to raise her child, and now lives quietly in a tiny English village, Sade is still incredibly successful.
When she returned after her kid was 10, Sade — pronounced Shar-day —  immediately produced yet another huge-selling album, although many of her biggest sales have been in the USA rather than Britain.
Raised in Essex, she burst onto the scene with the Diamond Life album and Smooth Operator single, kicked off her acting career in Absolute Beginners, and could just as easily have become a supermodel.
The Americans adore her in huge numbers, and she has seriously rivalled even Adele – at one time leaving her in the shade – with well over 70 million sales in total.
Petula Clark
The 83-year-old from Epsom has sold 70 million records, having sung in not just English, but a bit of French, German, Italian and Spanish, too.
An actress, composer and fashion icon in her time, Our Pet has long been one of Britain's favourite daughters.
Not a lot of people know that she apparently also has another most unusual claim to fame.
When she sang with Harry Belafonte in 1968, arm-in-arm, it is believed to have been the very first time physical contact between a black man and white woman was seen on American telly.
Yet another fascinating fact from an incredibly varied and successful career!
Annie Lennox
Born in Aberdeen on Christmas Day, 1954, Annie Lennox is one of Scotland's finest musical exports.
With The Tourists, she had a hit with their version of I Only Want To Be With You, before going on to mass success with Eurythmics.
The full range of notes she can hit are astonishing, all the more so as the years go by and, while many an older voice takes a bashing, Lennox keeps on belting them out, still in their original key.
And all from a wee Aberdeen lassie!
Amy Winehouse
Even the greats, like Tony Curtis, remark on how Amy was "an original," meaning she had the same qualities as the late, great women singers they once knew.
Tragically, as has happened with many geniuses, Amy died far too early and we will never know what else she might have got up to.
In her short time with us, though, she delivered some stunning music, with a personality to match, and was a girl in a hurry to the very top.
She had a contralto, the lowest female singing voice, and boy, did she know how to make the world shake with it.
Shirley Bassey
The girl from Tiger Bay made her name partly with not one, but three, James Bond themes.
Goldfinger, Diamonds Are Forever and Moonraker just wouldn't be the same without their Shirley themes, and she has a voice that is hard to forget.
Like Sade, she has a family background in Nigeria, and as a youngster a singing career didn't look her best bet.
While other girls recalled her singing so passionately that the teachers felt uncomfortable, Shirley herself recalled: "Everyone told me to shut up. Even in the school choir the teacher kept telling me to back off till I was singing in the corridor!"
Kate Bush
When Kate Bush appeared on the scene, she may as well have come from another planet, so different was her whole approach.
At times kooky, at others downright bizarre, and then again utterly brilliant with songs that drove us mad because we couldn't stop whistling them, Bush is a true legend.
Wuthering Heights and The Man With The Child In His Eyes still take millions of us back to the first time we heard them, and she really was something completely new.
Kent-born Kate taught herself piano at 11, but nobody could teach you how to sing the way she does. A true one-off!
Dusty Springfield
The girl born Mary Isobel Catherine Bernadette O'Brien had six Top 20 singles in American's Billboard Hot 100, and 16 in the UK equivalent.
Not bad going at all, and if she took something of Britain to the Yanks, they also returned the favour.
Dusty's versions of many songs would get her hits while gaining attention for little-known Motown stars here in the UK.
When she went to the USA to record the Dusty In Memphis album, it worked the other way round, as she showed America how soulful a Brit could be!
To this day, most American critics rate that landmark album as one of the greatest all-time records, by man or woman, from any era.
Sharleen Spiteri
With a guitar-playing merchant seaman dad and singing window-dresser mum, Sharleen would try her hand in both music and fashion.
She started her professional life as a hairdresser at Glasgow's trendy Irvine Rusk salon, met a couple of blokes and started a band.
Texas have gone on to enjoy massively popular hits right around the world, and with Sharleen, Lulu and Annie Lennox, you could argue that Scotland's women have produced more singing superstars than the men.
She's a good friend of former Arsenal and France football star Thierry Henry, who once revealed the message For The New Born Kyd on a vest under his shirt, to celebrate a goal and the birth of Sharleen's daughter, Misty Kyd!
Olivia Newton-John
Born in Cambridge, Olivia has enjoyed hits in pop, country, and soft rock, along with movie success and fighting for animal rights.
By the age of just 14, she was already performing in cafes in Australia, where her family had emigrated to when she was six.
Olivia won a trip back to the UK, recorded her first single there, and felt homesick for it when she went back Down Under.
Later, she would be engaged to The Shadows' Bruce Welsh, have her first hit with a Bob Dylan song, If Not For You, and go on to huge success worldwide.
Like all these women, she continues to have devoted fans enjoying her hits to this day.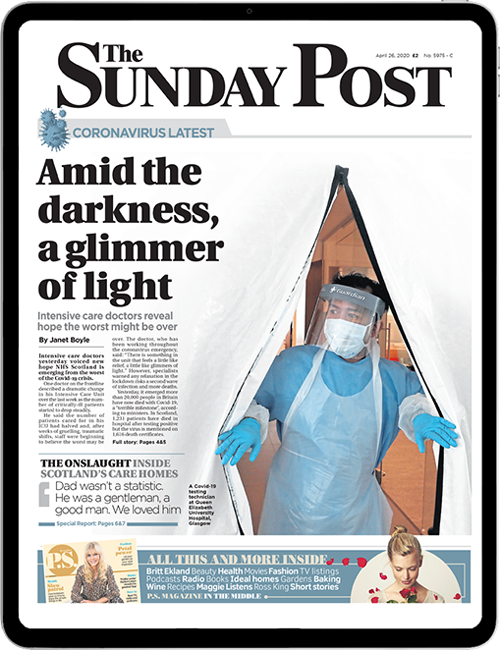 Enjoy the convenience of having The Sunday Post delivered as a digital ePaper straight to your smartphone, tablet or computer.
Subscribe for only £5.49 a month and enjoy all the benefits of the printed paper as a digital replica.
Subscribe