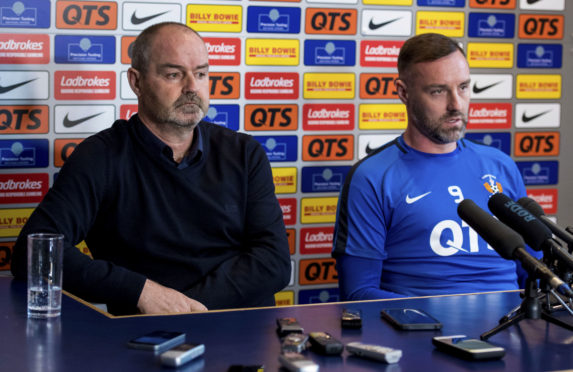 Kilmarnock manager Steve Clarke says he is encouraged by the support he has received after speaking out against sectarianism.
Clarke was subjected to abusive chants from Rangers fans during his side's defeat at Ibrox on Wednesday night.
After the match, a visibly upset Clarke slammed the sectarian abuse he had received, saying it belonged in the 'dark ages'.
Today, he said: "I've had a fantastic reaction to what I said. Great support from everybody, a lot of good people, a lot of good messages, all very supportive.
"A good message from Rangers, a good message from the SFA, a good message from the Scottish Government, so everybody is speaking well.
"I think things can be done. 'Will be done' is probably much more difficult to address. I'm not a politician, I'm not a policeman, I'm a football manager."
Clarke confirmed on Wednesday that he had asked Rangers about the sectarian issue when he turned down an approach from them last year.
And he revealed a potential move to Rangers failed to materialise more than three decades earlier because he was brought up a Catholic.
"When I was a player going back to 1984, '85, '86, Rangers didn't sign Catholic players," he said. "When I was at St Mirren there was an enquiry when Graeme Souness took over about me going to Rangers.
"I remember at the time the manager, Alex Smith, said: 'No, you couldn't do that son.' And it wasn't because there was any racism or sectarianism from Alex, he was just protecting me as a person.
"Not long afterwards Maurice Johnston went there as the first headline Catholic to sign for Rangers, so there's been massive advances."
You can watch Steve Clarke and Kris Boyd's media conference in full now on Killie TV.

? https://t.co/DeTT1ct0ux pic.twitter.com/PXR8fgWeqp

— Kilmarnock FC (@KilmarnockFC) February 22, 2019
Clarke spoke alongside club captain Kris Boyd, who himself was subject to sectarian abuse and was hit by a coin as he warmed up in front of Celtic fans in their weekend defeat at Rugby Park.
Boyd said that the chanting was 'water off a duck's back' to him, but insisted that didn't make it right.
He said: "I have grown up with it. I think the manager's touched on it. He went away and came back and it was the same. I have lived through it and don't know any different.
"I try and bring my kids up in a different way. It's not everyone in the West of Scotland. The big thing is that there is a small group of people still willing to chant and say whatever they want. My issue is that I'm used to the chants, but my gripe was the coin throwing – that's a step too far for me."
He added: "I had a two year spell away from the country, but I was here every month during that time, so I've always been here. It's part and parcel of being an Old Firm player. I can't sit here and have any problems with the teams, because that's why you get paid so much. But there is a price to pay for playing with either side.
"We will wait until something serious happens, we have a chance now so let's act on it."
This morning, Rangers chairman Dave King issued a statement condemning the fans who aimed chants at Clarke at Ibrox on Wednesday night.
King said: "Myself and every single person at the Rangers Football Club abhors the sectarian element that continues to be so prevalent in Scottish Football.
"We will continue to do everything we can at our Club to root sectarianism out and to deal in the strongest manner possible with any individuals that are found to have engaged in such practices.
"We are also deeply distressed that Steve Clarke has been subjected to this unwarranted abuse and, on behalf of myself and the Club, I offer our most sincere apology and hope that it does not deflect him from the wonderful job he has done at Kilmarnock.
"He ¡s a top manager and it would be a great loss to Scottish football if incidents like this forced him away from our game."