Marlon Brando would resurrect his flagging career as a Mob boss in 1972 with The Godfather, widely reckoned to be one of the greatest films ever made.
Eighteen years earlier, as a man who took on the Mob and won, he had been just as sensational in On The Waterfront.
When it was released in 1954, Brando was already an established star at 30, having given the world such crackers as A Streetcar Named Desire, The Wild One and Viva Zapata!.
Even compared to those, however, he and everyone involved with On The Waterfront summoned up a true all-time classic.
Brando himself won a Best Actor Oscar, while Eva Marie Saint won Best Supporting Actress for her first-ever acting job.
Elia Kazan won Best Director, Budd Schulberg Best Screenplay, Sam Spiegel Best Motion Picture. And it won another four, with Leonard Bernstein's score being nominated, too.
Not one but three other stars of the movie, Lee J Cobb, Karl Malden and Rod Steiger, were nominated for Best Supporting Actor – the film simply took the world, and the Academy Awards, by storm.
All of which may have come as a pleasant surprise to some, less so to Frank Sinatra.
Ol' Blue Eyes had been very keen to land the main role, and when he couldn't get it he pursued another prominent part but got neither.
Brando himself hadn't fancied the film, while the makers had also fancied Grace Kelly and then future Bewitched star Elizabeth Montgomery as Edie Doyle.
In the end, Kelly said no, thanks, and did Rear Window instead, while Montgomery was deemed a bit too refined to be convincing as Edie.
Raised on the tough waterfront of Hoboken, New Jersey, the Edie character was perfect for Eva Marie Saint, and it would not have worked so well with the rather proper Montgomery.
The whole story revolves around that waterfront, and its longshoremen, manual labourers loading ships and doing other sweaty work at the river.
These particular longshoremen were kept in line by a union that was being controlled by the Mob, and one word out of turn could cost you your job or your life.
Brando's character, Terry Malloy, is a dockworker who had been a very promising boxer, and during the movie utters the famous phrase about how he "Coulda been a contender, could've been somebody."
His brother, Steiger's character Charley "The Gent" is right-hand man to the despicable Johnny Friendly, played just right by Lee J Cobb.
He's officially the union boss, but with his Mob links is able to brag about how he runs the waterfront through fear and threats.
Friendly has had people murdered left, right and centre, but any witnesses play D and D – deaf and dumb, as it is just suicidal to question things or inform the cops.
Terry's thriving career comes to an end after he is told by his brother, on behalf of Friendly, to lose a fight he has a lot of money on.
Next, Terry persuades another dockworker into an ambush, believing the man who is about to testify against Friendly will get a beating.
He dies, however, and Terry begins to question what on Earth he is getting involved in. When the dead man's sister, Edie, shames the local priest, Father Barry – Malden – into confronting the union, things get even trickier for Terry.
For one thing, he falls in love with Edie, but is also full of guilt about inadvertently having her brother led to his death.
At a meeting with the workers and the priest, the Mob break in and hit anyone there, while Terry somehow helps Edie escape.
Another worker then agrees to testify, only to be crushed by a load of whiskey in an "accident".
Brando's inner torment through all this is a large part of what makes the movie so engrossing even after all these years.
Cinema experts reckon the way Brando played it changed how all actors made movies, and there were few stars as sublime on the big screen as Brando.
By the time of The Godfather, he had such an aura he barely had to mumble something and it was powerful, but in On The Waterfront he played out of his skin.
Eva Marie Saint, who turns 96 this summer and also starred in Hitchcock's North By Northwest, must have impressed Grace Kelly.
For Sinatra, who had been utterly focused on the Terry Malloy job and then would have killed for the priest role, well, they say he was furious. Actually from the real Hoboken, Frank might have been pretty good in either role. They say that he had shook hands on the job, too, so it must have irked him.
But they got Paul Newman and Joanne Woodward, who would marry in 1958, to do a screen test that convinced them only a man like Brando could do it, and he eventually agreed. Thankfully!
On The Waterfront (1954) – Sony Movies Classic, Saturday April 25, 6.45pm.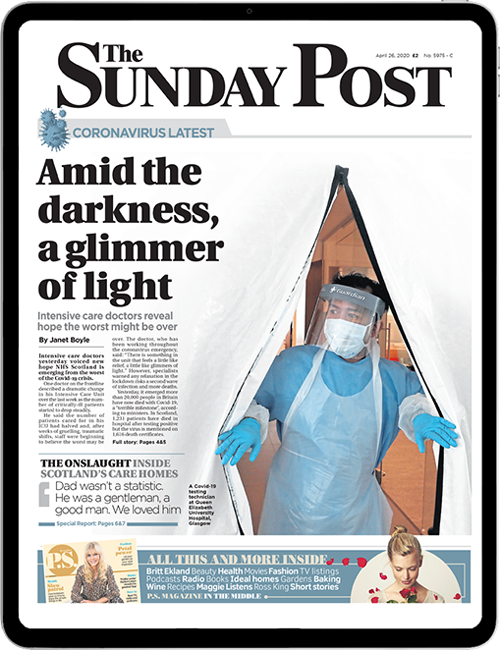 Enjoy the convenience of having The Sunday Post delivered as a digital ePaper straight to your smartphone, tablet or computer.
Subscribe for only £5.49 a month and enjoy all the benefits of the printed paper as a digital replica.
Subscribe