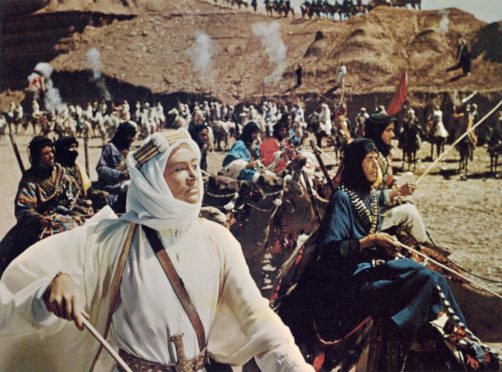 Lawrence Of Arabia was the role that made a star of Peter O'Toole.
His first major motion picture, O'Toole was nominated for the Best Actor Oscar for the sweeping, historical epic and never looked back – but it could have been very different.
Albert Finney, O'Toole's former RADA classmate, was a virtual unknown at the time, but was director David Lean's first choice to play Captain T E Lawrence, the British Army officer famed for uniting disparate Aran tribes to fight the Turks during the First World War.
Finney was cast and actually began principal photography but was fired after two days for reasons that remain unclear to this day.
Marlon Brando was then offered the part of this singularly English chap, with his fellow Americans Antony Perkins and Montgomery Clift also considered before O'Toole was cast.
Alec Guinness had played Lawrence on stage and was briefly considered but Lean and producer Sam Spiegel felt he was too old.
Lean saw O'Toole in The Day They Robbed The Bank Of England and was bowled over, exclaiming "This is Lawrence!", but while photographs suggest O'Toole bore a resemblance to Lawrence, there was a considerable height difference between the 5ft 5in officer and the 6ft 2in actor.
Noel Coward had a different reaction to O'Toole's looks, quipping after seeing the premiere: "If you had been any prettier, the film would have been called Florence Of Arabia."
Speaking of Guinness, who played Prince Faisal, the future king of Syria and Iraq, he only got the gig when Laurence Olivier dropped out, but it seemed the producers won a watch as he was uncannily like Faisal and while shooting in Jordan was often mistaken for the late prince.
Guinness based his Arab accent on Omar Sharif, who was playing the fictional Arab leader Sherif Ali, but I'm surprised Sharif had anything to do with the film.
Already a major star in the Middle East, he was cast as Lawrence's local guide but was shifted up the cast list when Horst Buchholz – the German star of The Magnificent Seven – and Frenchman Alain Delon both declined.
Jose Ferrer fared better as, initially unsatisfied with his small part, he agreed to do it for $25,000 – more than O'Toole and Sharif combined – plus a Porsche.
Afterwards, he considered this his finest role, saying: "If I were to be judged on any one film performance, it would be my five minutes in Lawrence."
Futhermore, O'Toole said that he learned more about screen acting from Ferrer than he could in any acting class.
But for all the horse trading as regards the cast, the final product is an absolute masterpiece.
Lawrence Of Arabia is often cited as one of the greatest and most influential films in cinema history and in 2004 was voted best British movie of all time in a poll of Britain's leading filmmakers.
Legendary Hollywood director Steven Spielberg says it's his favourite action film and the one that inspired him to become a filmmaker.
Cinema audiences loved it, too, the film taking $70 million compared to its $15m budget, and so did the Academy Awards.
It was nominated for no fewer than 10 Oscars, winning seven, including Best Picture and Best Director, but O'Toole lost out to Gregory Peck in To Kill A Mockingbird.
This was to set an unfortunate pattern for O'Toole, who would be nominated for Best Actor a further seven times without ever winning, setting the record for the most Academy Award nominations for acting without a win, though in 2002, he was awarded the Academy Honorary Award for his career achievements.
O'Toole's portrayal is not without its controversies, however. The screenwriters depict Lawrence as an egotist, but others claim he shunned attention, pointing to his post-war use of aliases, and one photographer said he could only take his picture by tricking him.
As well as the disagreement over whether Lawrence was "a pathological liar and exhibitionist" or "physically and spiritually recluse", his sexual orientation remains debated, fuelled by O'Toole's performance.
Descendants of the men Sherif Ali was based on went further, suing despite him being a fictional composite character, a case that went on for a scarcely creditable 10 years before being dropped.
One incident in the film echoed real life when O'Toole fell from his mount but the camel stood over him, preventing him being trampled by the extras' horses, a very similar mishap befalling Lawrence at the Battle of Abu El Lissal in 1917.
O'Toole didn't enjoy the filming, saying of the desert: "I loathe it."
He found the camel saddles uncomfortable and so bought a piece of foam rubber at a market and added it.
Many of the extras did likewise and the result can be seen in the film, with the Bedouin nicknaming the actor Ab al-Isfanjah – Father of the Sponge!
Lawrence of Arabia (1962) – Sony Classics, Saturday April 18, 3.35pm.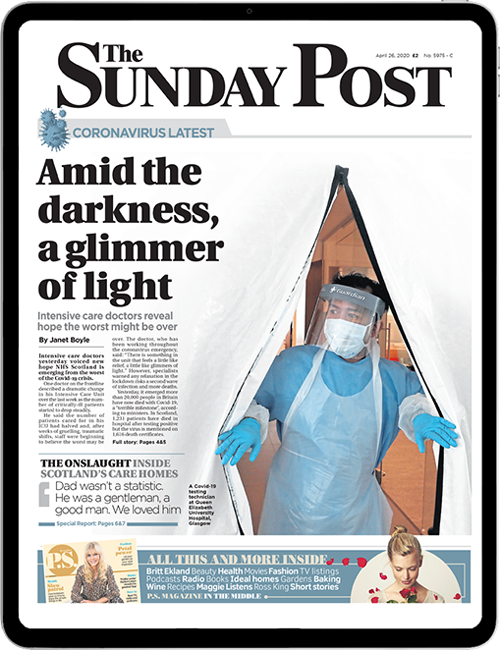 Enjoy the convenience of having The Sunday Post delivered as a digital ePaper straight to your smartphone, tablet or computer.
Subscribe for only £5.49 a month and enjoy all the benefits of the printed paper as a digital replica.
Subscribe