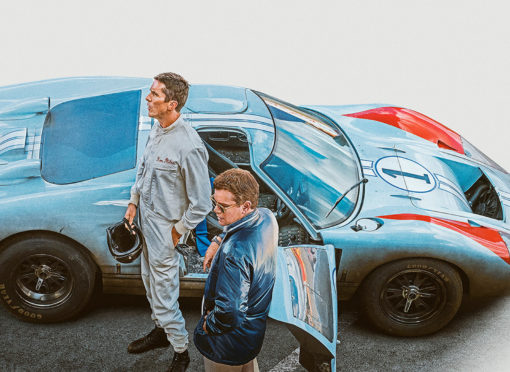 Even if you are not a petrolhead, chances are Le Mans '66 will leave you impressed.
Or, if you're on the other side of the Atlantic, Ford v Ferrari, as they are calling it in the United States.
Whichever version you find yourself watching, it's the gripping tale of two car giants going head-to-head at the classic ultimate test of driving endurance.
If watching fast cars roar around a track for hours on end is not your idea of fun, well, Christian Bale, Matt Damon and some brilliant writers and crew have produced the kind of movie that will attract even those like myself who don't have a driving licence.
Damon plays Carroll Shelby, the Texan racing car driver, designer and businessman, who had a heart problem by the age of seven but lived to 89 and became a car giant, working on the awesome Cobra and Mustang among other vehicular delights.
Shelby works alongside Ken Miles, a British World War Two veteran and brilliant racing driver, played by Bale.
They come together to represent the Ford car giant in taking on the Italian legends of Ferrari.
Three years earlier, Enzo Ferrari had been approached by the Ford Motor Company, which fancied buying Ferrari.
Discussions broke down when Ferrari realised this would include selling Scuderia Ferrari, the racing arm that had won the 24 Hours of Le Mans in 1958 and then each year from 1960 through to 1965.
As the oldest active sports car endurance race in the world and held each year since 1923, it was a matter of great pride for Ferrari, obviously and he was not for selling.
An irate Henry Ford II, another car man with more than a little sense of his own company's worth, got instantly obsessed with taking on and beating Scuderia Ferrari with his own cars and Shelby and Miles were at the head of the team who might do it in 1966.
The real Le Mans of that year, the 34th Grand Prix of Endurance, took place six weeks before a certain team beat West Germany in a football match at Wembley.
At that time, however, all sport-loving eyes were on Le Mans, where one notable debut was by Jacky Ickx, who would go on to set a record of six wins that stood until 2005.
So it was a special year anyway, even by Le Mans standards.
In the movie, Shelby realises the best way to truly take on Ferrari is to introduce his often awkward and outspoken driver Miles, even if his demeanour annoys the Ford top brass.
It's fascinating to see Damon and Bale play characters that are a bit like we imagine them in real life.
Damon's Shelby is more measured, taking a step back and considering things, while Bale's Miles leaps in rashly and worries about the consequences later.
So, even for those who aren't that interested in the finer details of racing cars, there's a lot more to it than just stamping your foot down on the accelerator!
"I only sound intelligent when there's a good scriptwriter around," jokes the 45-year-old Bale.
"I tend to think you're fearless when you recognise why you should be scared of things, but you do them anyway."
Speaking of which, if they keep putting out car films like this, I may try once more for that driving licence.
---
Le Mans '66 is in cinemas from Friday November 15.