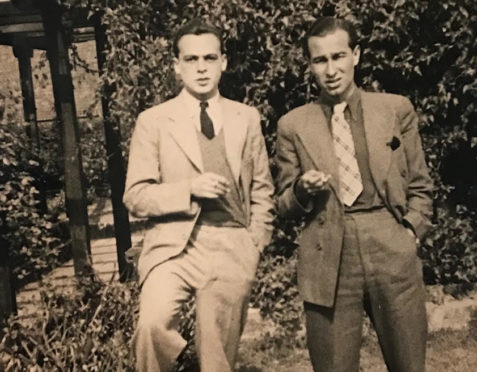 Walter and Herbert were Czechoslovakian Jews who fled their homeland in 1938.
The closest of friends, they were desperate to escape the Nazi occupation and the horrors to come.
And, after making their way safely to London, each became famous in their chosen field – Walter Bor as a town planner who was influential in the development of Britain's new towns, and Herbert Lom as the gifted actor, best known for the Pink Panther films and The Ladykillers.
Now, Walter's grandson Joe Bor is bringing their incredible tale to life at the Edinburgh Fringe.
"Walter left Prague when the Nazi occupation began," explains comedian Joe. "I'm told he bumped into a friend from school who'd joined the Nazi Party and then the Gestapo, and he warned him that he'd better get out."
You wouldn't have thought tipping off Jews to escape would endear this chap to his new employers?
"It was a bit of a risk he took, that's true. Sadly, the rest of Walter's family didn't heed the warning and many died in Auschwitz and Birkenau.
"Basically his family thought it was going to be OK but obviously it wasn't and they ended up in the camps.
"My grandad wrote an unpublished autobiography which I found, and because people who went through the war rarely spoke about what they saw, I think we need to keep these stories alive.
"There's a bit when he says goodbye to his dad on the Charles Bridge which I struggle to read out, it's very powerful and very moving.
"Herbert Lom helped him get to the UK but I don't believe he really wanted to leave Prague. He had to.
"Herbert had made it out to London earlier and was working and pursuing his film career, and he raised money to get my grandad a visa and basically got him a place at Cambridge University.
"He arranged that while my grandad made a treacherous journey through fascist Italy. Reading about it, he was very upbeat. He says how good the food was – 'Yes, it's fascist Italy but the pasta is brilliant!'"
Walter was a huge cinema fan, and Joe says: "He also used to go to the theatre a lot and he actually directed Herbert in one play.
"They survived that relationship which can be a bit of a test!
"They fell out later on, though, when according to some letters I found between the two, my grandad felt Herbert was getting a bit too big for his boots!
"I think that happens when a friend becomes a bit successful. I've had that and it can wind you up a little, and I think it wound up my grandad but they made up and everything was fine in the end."
Lom must be the best-known Czech actor and Joe grins: "The Pink Panther films and The Ladykillers are great movies, some classic comedy moments – they're some of my favourites and it's a bit odd having had him in my life.
"But according to my dad Herbert never saw himself as a comedy actor. It took Blake Edwards, the director of the Pink Panther films, to say to him, 'You're funny when you're angry and serious!'.
"He had that scowl and he did play it straight which is what makes it funny. Sometimes it does take someone else to tell you, 'That's actually quite funny.'"
As for Walter, Joe explains: "He was one of THE town planners and had quite a formidable career. He was known all round the world but obviously being a town planner he's not quite as famous as Herbert!
"He was very concerned with future-proofing the places he planned such as Milton Keynes which was very much ahead of its time.
"People criticise it but he made sure it would be ready for the 21st Century and was very proud of it, saying the people that live there always felt like they were on holiday."
Walter taught at several universities including the prestigious Princeton in the United States. He was made a CBE, receiving his honour from the Queen.
"He went all round the word and was very much well-renowned in the architecture and town planning community," says Joe.
"And he ended his career back in Prague, where they'd gown up, so it was fitting his career went full circle."
Another thing the pals shared was that they both changed their name.
Lom was christened Herbert Kuchacevic ze Schluderpacheru – he claimed his family came from nobility – and picked Lom, which means quarry in Czech, out of the local phonebook because it was the shortest name in it.
"That's what I heard!" says Joe.
"I have to practise saying that name for the show, it's a tough one. My grandad was Bukbinder which he shortened to 'Bor'. When I send a text or email my phone autocorrects Bor to 'not' which is the worst way to end an email – 'See you soon, not', 'Take care, not'!"
---
Joe Bor: The Story Of Walter And Herbert is a free show at the Edinburgh Fringe from August 1-25.
For tickets, www.edfringe.com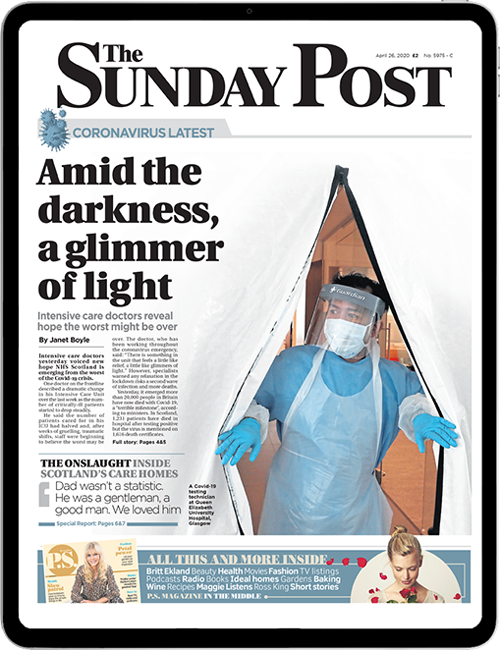 Enjoy the convenience of having The Sunday Post delivered as a digital ePaper straight to your smartphone, tablet or computer.
Subscribe for only £5.49 a month and enjoy all the benefits of the printed paper as a digital replica.
Subscribe