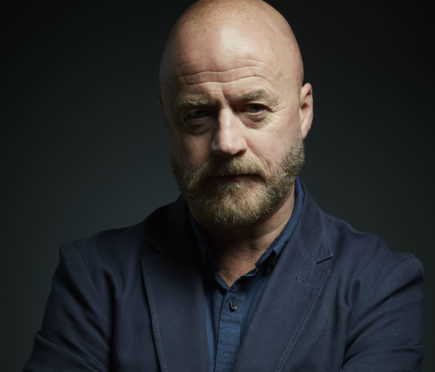 Craig Robertson has the late, great Johnny Cash to thank for his ninth novel. A line from his hit, Folsom Prison Blues, inspired the book's title and its plot. And he jokes that pals from the band Fun Lovin' Crime Writers had a hand in it, too.
Stirling-based Craig says: "The whole idea for the book came from the title. The line from Johnny Cash's Folsom City Blues that says, 'I shot a man in Reno, just to watch him die' has stuck with me for a while.
"Friends in the Fun Lovin' Crime Writers play the song quite a bit. Mark Billingham sings it. I hear it more often than I want to," he laughs. "I wondered where I could go with that idea of watching someone die."
The best-selling crime author has set his latest offering not only in his customary Glasgow but also in Los Angeles where the LAPD discover a man dead at home.
Meanwhile back in Scotland, D.I. Rachel Narey is searching for a missing woman and the man she suspects of killing her. When an online feed broadcasting the slow and agonising death of a final victim is discovered – this one male – the two cases become linked.
Craig, a former Sunday Post journalist, explains: "The cops are trying to save this young man. They don't know who he is or where he is but they can see him. The only person who might be able to tell them where he is is another killer – and he wants to watch him die."
The 58-year-old added: "Technology has made the world much smaller, for good and for bad – it allows the possibility of a book that would straddle both sides of the Atlantic."
His Californian wife Alex – also an author – helped with the book's authenticity. Craig, who met Alex at a crime-writing festival in Colorado Springs in 2013 where she was delivering a class, explains: "Alex was involved later in the novel's production to make sure I got things right.
"The language of the American detectives had to be spot on. While we think we know, we don't. There are a number of small differences that together don't add up and an American would know they were not right."
The biggest problem in having a book set on both sides of the pond was the time difference. He confesses: "I would wake up in the middle of the night and think, 'Hang on, she can't be doing that, it's the middle of the night in Glasgow.'"
Despite sharing a profession with his partner, the writer says they never write together, each preferring their own space. His only company in the process is Clooney the cat (named after movie star George). "Clooney is often my writing partner and will lie just next to the laptop," says Craig. "He was a rescue cat. Alex found him not far from feral on the streets of California. He went from living rough to a life in the relative lap of luxury in Scotland."
The author was a full-time journalist when Random, his first book, was published in April 2010. He finished book two in June of that year and left journalism to write full-time in the October.
Craig, who has also been on the board of the Bloody Scotland crime writing festival, says: "Becoming a full-time novelist happened quickly. It is pretty great that writing crime fiction has brought me a whole new career and my wife. When we're not in lockdown we can travel to festivals together across the world.
"The cat doesn't like it much though."
Craig Robertson, Watch Him Die, Simon & Schuster, £8.99.