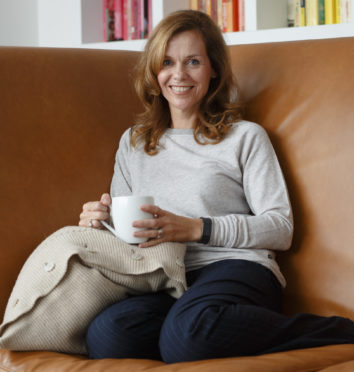 Adele Parks was just seven years old when she announced to her family that she was going to become an author.
But after graduating from university she went on to become a high-flyer in the world of advertising. It wasn't until tragedy hit that she finally followed her passion.
Twenty years and 20 books on, Adele, 51, is a best-selling author with millions of copies of her work sold worldwide and translated into 26 languages.
We catch up with Teeside-born Parks as her 20th novel, Just My Luck, is released. And its significance is not lost on her. Speaking from the Surrey home she shares with her husband Jim and son Conrad, she says: "Twenty books in 20 years, the twentieth in 2020 – and my son is turning 20 this year. I have the champagne chilling in the fridge!"
Adele's elation is hard-earned. She reveals: "We were an ordinary family. My mum packed tea bags for Tetley and my dad was an engineer, but we were always encouraged to read. There were always a lot of books in the house, not Dickens or Chaucer, more Jilly Cooper and Catherine Cookson.
"I was seven when a librarian asked if I wanted to be an author when I was grown-up. I didn't know what an author was until she handed me an Enid Blyton book with her signature on the cover, and said, 'The lady who has written this for you has signed it.'
"She put the idea in my head. I told everyone was I going to be an author. It became a family joke."
After graduating in English Language and Literature, she went off to Italy with romantic notions of penning her first novel while she paid her way teaching English.
Now she laughs: "I doubled my body weight because the food was amazing but I didn't crack the literary scene. What did I know about life? Nothing."
The world of advertising beckoned and by the time she was 26, Adele was heading the operation of a management consultancy in Europe, the Middle East and Africa.
"It was glamorous and exciting but, sadly, towards the end of my 20s we suffered a number of losses in my family at home and among friends," she reveals.
"It all happened in one year. It shifted the ground under my feet. I went to see a grief counsellor. She said I should find something that makes me happy; something I could control. I said, 'I used to think I was going to be a writer.'
"I started writing as therapy. My first novel, Playing Away, was the opposite from my own story, away from the grief. I loved the escapism of it."
She sent it to her now agent, Jonny Geller who took it to six publishing houses, sparking a bidding war. The rest is history.
She says: "I like to examine the thorny issues of the lives people lead with an upfront, tell-it-as-it-is style."
Clearly it's a winning formula that has made her one of the best-loved and best-selling women's writers in Britain.
And her latest offering is no exception. Cue Lexi and Jake who, for 15 years, have been putting the same six numbers on the lottery with their pals the Pearsons and the Heathcotes. But they fall out leaving only Lexi and Jake to play. But when their numbers come up on a ticket worth £18 million, their estranged 'friends' want their share."
The writer is grateful for her own stroke of good fortune. "I feel lucky I am doing the thing I want to do.
"My readers have grown up with me…"
Adele Parks, Just My Luck, HarperCollins, £12.99.