Hall in good time.
Forgive me, but I just wanted a night of relaxation and a little bit of luxury.
I have enjoyed an unforgettable, but frantic, last 12 months in which I've got engaged, married and bought a house.
They say that organising a wedding and buying a house are two of the most stressful things you can do in your life. Well, I did them both in the space of four months!
So, my wife Louise and I jumped at the opportunity to head off into the countryside for a quiet and romantic night away.
Any thoughts of mortgage forms, table decorations and trips to the local DIY store were soon forgotten as we turned up at Hipping Hall.
This country retreat is situated in an ideal spot, within easy reach of both the Lake District and the Yorkshire Dales.
It's no more than two hours' drive from any of the major cities in Northern England and just a bit further from Glasgow and Edinburgh.
The venue dates back to the 15th century, when it was owned by a family of blacksmiths called the Tathams.
They catered for all those travellers who needed a place to stay while making the journey from Yorkshire to what is now Cumbria.
But Hipping Hall, in its modern guise with a restaurant with a three AA rosette, was only opened in 2005.
Within minutes of our arrival, the delivery of a pot of tea and a delicious slice of homemade lemon drizzle cake immediately made us feel at home.
Reading a book in the snug lounge with the big open fire roaring was the perfect start. I certainly knew we were far from the rat race when there was no signal on my mobile phone to allow me to check the football scores!
If the name Hipping Hall sounds familiar, that's because it was one of the six venues visited by Steve Coogan and Rob Brydon on their BBC series The Trip.
As fans of that show, we were keen to taste some of the amazing food enjoyed by Steve and Rob, while trying very hard not to break out into our own impressions of Sir Michael Caine, which that pair had done!
For dinner, we opted for the seven-course taster menu which was taken in the Great Hall, a room which dates back to Tudor times.
During the past year, making dinner has often had to revolve around countless other house and wedding tasks, so the thought of sitting back and enjoying such a menu was rather exciting.
It felt like we had landed on the set of MasterChef for the evening as each carefully-made dish was brought to the table.
An elaborate list of ingredients was used to create these taste sensations, which were explained to us to by the attentive and well-informed staff.
For every course, there was a separate wine to go with it as the perfect compliment. But the trick was to sip these wines slowly to enhance the flavour of the food and also avoid a sore head the next morning!
So, after a fine dinner and a hearty breakfast the next morning, it was time to explore some of the local surroundings.
The picturesque village of Ingleton in the Yorkshire Dales was an excellent first stop, just 10 minutes from Hipping Hall.
Walkers can throw their boots on and head for the Waterfalls Trail and the White Scar Cave, two examples of nature at its finest.
From there it was back in the car, through Lancashire once again and just over the border into Cumbria for the small town of Kirkby Lonsdale.
Here, it's a must to amble from Devil's Bridge, along the River Lune, to the "Radical Steps". Then it's the 86 steps up to the top and "Ruskin's View".
This was described by John Ruskin in 1875 as one of the loveliest views in the world, while the artist Turner had felt compelled to paint the scene more than 50 years earlier.
They weren't wrong, as we stood and admired the blend of river, hills, woods and meadow stretching towards the Dales.
The town has a selection of quaint shops and homely-looking pubs, but for those looking for something slightly bigger, Kendal is only 20 minutes down the road.
Known as the Gateway to the Lakes, it has a good mix of town and country as familiar shops and restaurants are interspersed with lots of local independent outlets.
Yet, the number of people wearing waterproof clothing and walking boots reminds you that Windermere and the other lakes are not too far away.
We found a lovely quiet caf called Emma's Yard 46, enticed by the sign leading us down a narrow cobbled courtyard.
And what better way to finish our own "Trip" than how we started it with a pot of tea and a homemade cake before heading home feeling well and truly refreshed.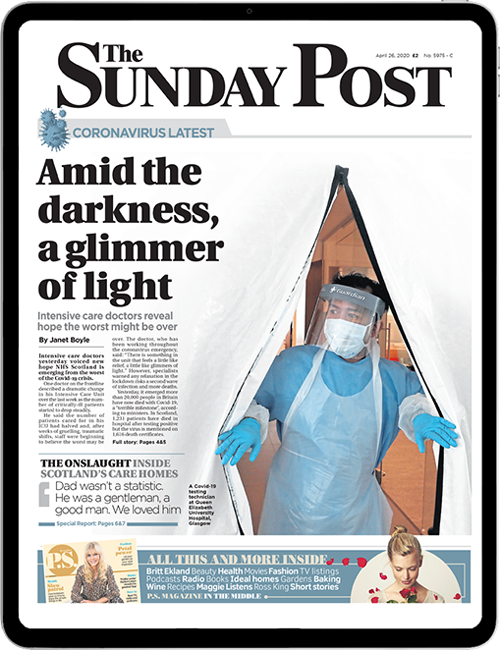 Enjoy the convenience of having The Sunday Post delivered as a digital ePaper straight to your smartphone, tablet or computer.
Subscribe for only £5.49 a month and enjoy all the benefits of the printed paper as a digital replica.
Subscribe