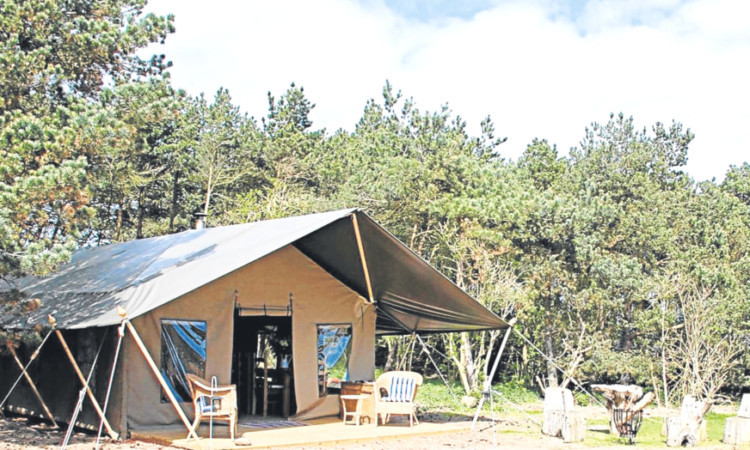 The days of sleeping under canvas with no home comforts are long gone. Glamping offers all mod cons in a variety of yurts, tipis and wigwams.
If you're looking for the simple life, there are few better places to find it than in a tent but camping no longer has to be uncomfortable.
In new-style "glamping" (glamorous camping) sites such as Harvest Moon on the East Lothian coast, you can enjoy a few nights under canvas with most of the comforts of home including hot showers, en-suite loo, and fully equipped kitchen.
No microwaves or electric kettles here, but once you've got the hang of stoking the wood-burning stove that also keeps your canvas-walled home toasty warm, the living is easy.
And you'll enjoy the best night's sleep you've had in ages. No traffic noise just the faint chirruping of crickets at twilight, and the occasional tu-whit, too-whoo of a midnight owl.
Instead of an alarm clock, you'll be wakened by the gentle clucking of your very own chicken, proudly announcing delivery of your morning egg.
The stove comes as standard, and firewood is free, which is just as well, because you'll go through a few wheelbarrow loads over a long weekend.
Renting the chicken (complete with coop) costs £10 for the weekend, which means that at one egg per day, you'll be enjoying the most expensive free range eggs you've ever eaten, but you can save a few pennies by buying half a dozen, equally freshly laid eggs from the quaint "honour shop" on site.
Inside an old wooden fishing boat which will never go to sea again, the shop has all the essentials, plus luxuries including bottled beer and wine (though given the mark-up, you'd be better stocking up at the supermarket in North Berwick before you arrive).
Harvest Moon, between Dunbar and North Berwick, is no ordinary campsite. Tents here are more like rooms with canvas walls, wooden floors, hot-water showers and and box-beds.
Each has a well-equipped kitchen and, once you've acquired the knack of stoking it, the wood-burning stove keeps everything cosy. Tents sleep up to five people and cost from £550 for three nights.
A fabulous sandy beach is just yards away, complete with rock pools where kids can hunt for miniature crabs and tiddlers at low tide.
Just off shore, the rusting ribs and plates of a shipwreck jut out of the waving kelp, adding a touch of drama. Spend your days beachcombing, paddling and exploring the dunes and sands along the John Muir Way and nearby Belhaven Bay, and watching flocks of gannets dive-bombing into the waves you can see their home, the Bass Rock, on the horizon. Then spend the evening round the barbecue, grilling bangers, chops, steaks and chicken from the outstanding butcher in East Linton, and watching wild hares lolloping in the nearby field while wood pigeons burble in the pines.
This place is perfect for families. It's wild but in a tame sort of way. There's no traffic, unless you count the tractor chugging away in the distance. For tots, there are ducks, chickens and bunnies to feed, as well as lambs and ponies.
For older kids and teens, there are activities ranging from sea-kayaking and surfing to mountain-biking, riding, fishing and karting, all within a few minutes drive.
But make sure your phones and other devices are fully powered up as there's no electricity on-site (rechargeable battery lanterns are provided, fully charged, every day).
You can charge batteries at the farmhouse which doubles as site reception, but it's a mile away.
Glamping sites such as Harvest Moon are all the rage. Harvest Moon's tents are inspired by those used at posh safari camps in African nature reserves, but you can stay in Tonto-style tepees, wooden wigwams, hi-tech camping pods or Mongolian yurts fit for Kublai Khan himself, all Britain.
If you just can't live without frills such as WiFi access, TV and a dock for your iPod, you might like the Rambleshack, 10 minutes walk from Coldingham Bay.
With smart bed linens and an en-suite shower room complete with fluffy towels, this compact, cosy wee shell is a perfect, romantic getaway for couples (from £55 per night).
On the shores of the loch, Loch Tay Highland Lodges has colourful Mongolian-style yurts big, round wooden tents made of thick, cosy felt, warmed by wood-burning stoves from £25 per night for two, and wooden wigwams with well-equipped kitchenettes and en-suite shower and WC from £60 a night.
Down in East Anglia, Magical Camping has canvas tipis and bell tents on peaceful farms in Norfolk and Suffolk, complete with cookers, kitchenware and an outdoor "fire bowl" for summer evenings, priced from £85 a night (with solar-heated showers and loos in a shared block). And in a flowery meadow valley up in the Brecon Beacons National Park in Wales, Black Mountain Tipis (www.blackmountaintipis.com, from £330 for a three-night stay two people) offers an authentic Native American experience under canvas, with comfy futons. There's no electricity or mobile phone coverage here, though, and with composting toilets in an old-fashioned cludgy shed and showers heated by solar power this is really for campers who like to be close to nature.
To compensate, there's a hot tub, and you might even see otters in the river that runs through the valley.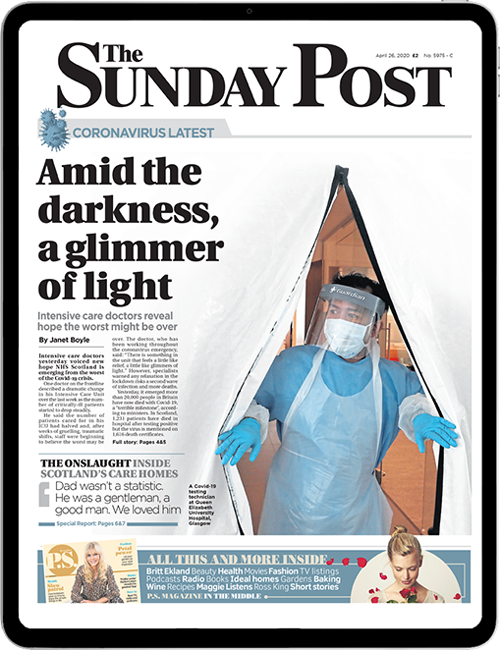 Enjoy the convenience of having The Sunday Post delivered as a digital ePaper straight to your smartphone, tablet or computer.
Subscribe for only £5.49 a month and enjoy all the benefits of the printed paper as a digital replica.
Subscribe