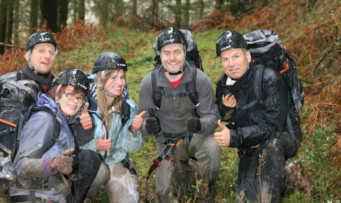 Fearless reporter Robert Wight goes native with only his wits (and the help of trained instructors) to keep him alive.
I was unwell recently. Violently so. For 12 hours. It wasn't pleasant. I assume it must have been something I ate.
Like worms and crickets. Or perhaps it was the rancid river water I drank. It certainly didn't help.
I'd just taken part in a 24-hour Bear Grylls SAS-style survival course.
On paper, it sounded like cracking fun campfire cooking, sleeping under the stars and mucking about with big knives. A real "boys' own" adventure.
But this was the coldest, most miserable spring in 50 years. And, of course, there was the bug munching.
Then there were the instructors three grizzled Forces' veterans. Laid-back BB leaders they were not.
Head instructor was Scott Heffield. When he was a Royal Marine Commando, it was his job to knock other commandoes into shape. Great.
These days he's a professional climber and all round hard nut. He's a nice enough chap but he doesn't really go in for taking it easy.
Five of us journalists signed up for the intensive 24-hour course. Intended as a "family" version of the longer courses, most have brought along children and to be fair the youngsters take to the bug munching and the mud far better than the adults.
At academy HQ, a country estate near Brook, Surrey, we're welcomed by Scott and colleagues Bruce Shields and Jonathan Faulkner.
Emblazoned on banners alongside its name is the school's motto "It May Hurt A Little". Not exactly reassuring.
We're issued with a knife, empty water bottle and a rucksack, into which we're told to pack just clean underwear, socks, a chocolate bar and bag of nuts. I'm not even allowed to pack my toothbrush.
Now, I know this is a "survival" course, but I mean really there ought to be some minimum standard of civilisation surely?
After a quick video message from Bear himself he couldn't be there in person as he's filming in New Zealand we're off straight into the "field".
Incidentally, Bear's real name is actually Edward. Do you see what he did there? Edward, Teddy, Bear. Smooth.
Also, it's not an actual field we're in. That's just a general term army-types use when they mean outside.
"Right," yells Scott. "Camouflage!"
He then begins smudging foul-smelling mud from a ditch all over his face. I and everyone else appear somewhat reluctant.
"Come on!" Scott encourages. "Number one survival rule is to avoid being seen," he continues before smearing mud over his teeth.
Now I love the outdoors Munro-bagging, wild camping, I can't get enough of it. But this all seems a tad unnecessary. We're in Surrey for heaven's sake.
Anyway, that's me caked in mud for the next 24 hours. The rest of the afternoon is all about learning apparently, the next morning, about application.
We do a river crossing in our bare feet to keep our boots dry. Nippy.
"Get all the mud off with moss," says Scott. "Especially from between the toes otherwise you'll get blisters that'll get infected."
Tip make sure there are no jaggies in the moss. I didn't. It's surprising how sensitive between-toe skin is. Not a good start. Well, they did say it'd hurt a little.
Next up is a lesson in foraging with Bruce. He tries his best but seems a bit stumped.
"It'd be different in summer," he says. "We'd have loads to eat."
At this time of year it seems we're limited to boiling pine needles a great source of vitamin C apparently and eating leaves.
Until he produces a Chinese takeaway tub. And no, it doesn't contain Chinese food.
"They're mealworms," he explains, even though you wouldn't find mealworms in a cold, damp woodland. These are from a pet shop.
"They're a great form of protein," continues Bruce.
We're actually expected to eat these unfortunate creatures. I don't know who to feel more sorry for them or us.
After being advised to pick the most vigorously wriggling critters they're healthier we tuck in.
But you can't just swallow them whole apparently they'd crawl back up or something. Instead, you have to make sure they're dead by giving them a good chew.
A woman who goes ahead of me chucks a couple in her mouth and declares they taste like pistachio nuts. They don't they taste like mealworms.
They look small and dry but burst when bitten and coat the inside of your mouth with a surprising amount of oily fluid.
The skins are pretty dry and hard and hours later you're still picking the odd piece from between your teeth. Not my favourite meal ever. We also eat crickets which are supposed to taste like chicken. Again, they don't.
Later, after dark with campfire lit and a brew made from muddy river water, a dead rabbit is produced for dinner.
Instructor Jonathan shows us how to skin it. He then places the gory pelt on his head and proceeds to dance around the fire.
The thought that I'm in the woods miles from anywhere with three trained killers one of whom thinks it's a jolly jape to parade with a dead rabbit on his bonce is a wee bit disturbing.
We spend the night in a lean-to shelter built using branches and logs. We light fires using flint and steel. We're told about night-time navigation.
The next day we go for a "yomp" through woods, crossing rivers and abseiling down embankments.
It's mostly good fun and the kids love it, as would "survivalist" types, but the price tag sticks in the mind the 24-hour family course is £398 for an adult and child. The adult-only course costs £649 per person. And the five-night Scottish adventure is a whopping £1,899 per person.
It's an awful lot of money to live rough for a few days. I mean, you can actually sleep in the woods for free if you really want to. Worms are free too.
And, truth be told, I haven't really learned anything you don't learn for free in the Scouts.
Na, for the best part of two grand you could get a couple of weeks in the Caribbean and I for one would much rather rough it in a sunny hammock.
Bear Grylls Survival Academy, tel: 01483424438; www.beargryllssurvivalacademy.com or email enquiries@beargryllssurvivalacademy.com
TV action man Bear Grylls has founded a survival academy in the north of Scotland to teach "wilderness survival", including self-defence, building shelters and foraging for grubs and rodents.
Despite the eye-watering price £1,899 per place courses are already fully booked.
Reporter Robert Wight went along to Bear's academy HQ in Surrey for a 24-hour taster of what adventurers can expect.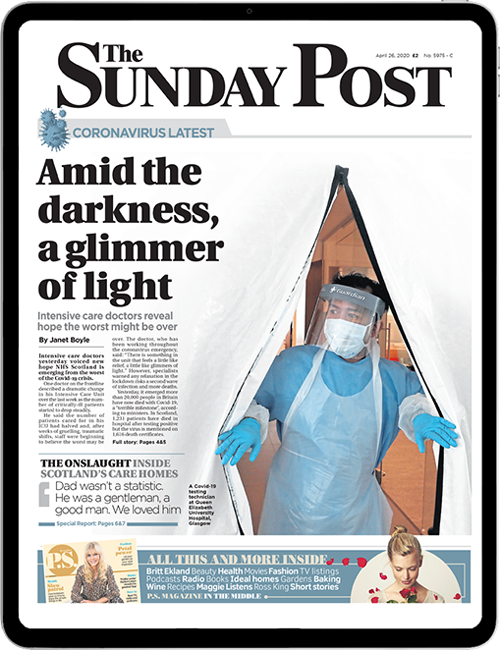 Enjoy the convenience of having The Sunday Post delivered as a digital ePaper straight to your smartphone, tablet or computer.
Subscribe for only £5.49 a month and enjoy all the benefits of the printed paper as a digital replica.
Subscribe