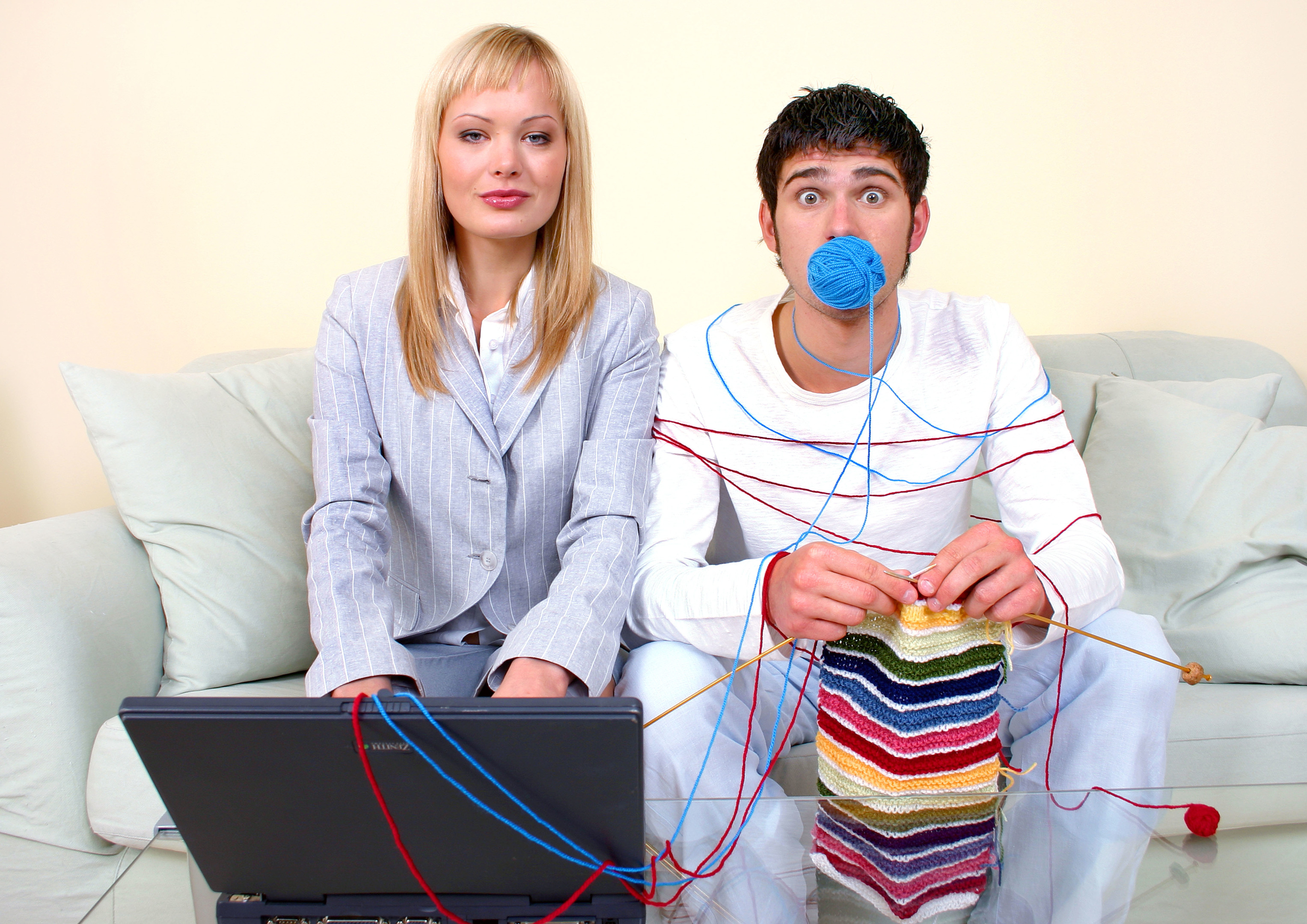 A survey out last week claimed that women look for many qualities in men today – even being able to sew and knit.
If that is the case, surely only one man is to blame.
It must surely be down to David Beckham.
A picture of him embroidering a dress for daughter Harper's doll recently appeared online.
Maybe when you are a global icon you know you can get away with absolutely anything and the whole world will nod along in approval.
Or maybe wife Victoria had prodded him with a knitting needle and told him to get on with it.
So do real men knit and sew?
And would women really want a man who knows his way around a dressmaking pattern?
Or do they still prefer roughty-toughty types who think knitting is for ninnies?
Two writers argue it out.
Ali Kirker: It's a useful skill to learn but knit a reason to get excited
It's time for men to develop a new skill.
According to a recent survey, women think it's an important quality for men to be able to knit and sew.
Yes. We want men to be able to knit one, purl one, and to run us up a designer-standard dress in their spare time.
Well, that seems fair enough. Come on, we know that women still do way more of their share of the boring domestic drudge than men do.
Deny it all you want, blokes, but when was the last time you stuck your hand down the toilet – to clean it, it's not a hobby of mine – or filled in one of the never-ending forms that come out of schools these days?
So I'm all for this knitting and sewing for men malarkey.
It's a useful new skill they should learn, to make up for their otherwise rubbish domestic skills. It's great. It's the way forward.
Just imagine it. You need something to wear for a night out. And everything in the shops is making you look like a lumpy sack of spuds with bad hair sprouting out the top of it.
So you go home, instruct your man to work his magic with his sewing kit and a couple of hours later, he runs you up a dream of a design that turns you from that sack of spuds into a goddess.
What's not to love? These women in that survey weren't stupid. They were on to something.
Men, if you don't like it, there's only one person to blame.
Lovely David Beckham. When a picture appeared of him sewing a dress for daughter Harper's doll, all of the women who saw it went…awww. That's the future!
Needless to say, men don't seem that keen on this idea.
In fact, when they were asked what attributes they thought women would want them to have, top of the list was being able to show their emotional side.
Look men, it's fine.
If you're going to start running us up a whole new wardrobe while watching the football, we're cool with that. We don't really need you to start cooing over pictures of cute kittens on the internet and hugging each other when you're having a bad day.
If you didn't sob when you watched last week's EastEnders, when Peggy Mitchell passed away and son Grant left after not making up with bruvver Phil, it doesn't make you a cold shell of a human being.
You're just a good judge of bad acting.
Stevie Gallacher : Sausage fingers don't belong in dainty world of needlework
KNITTING? Sewing? Cooking? You ladies must be having a laugh.
Maybe after the footie finishes – right, lads?
I'm a roughty-toughty man who likes slide tackling, borrowing power tools and grimacing in a bookies.
When I read women wanted men to be able to do embroidering I almost spilt a pint of ale all over my copy of Cage Fighter's Digest.
I'm so manly the only stitching I'd consider would be to field-dress a bullet wound sustained while storming an Isis base in a mission to rescue some kidnapped babes. Eh, lads?
No, sorry. I can't keep this up any longer.
I'd like to say my masculinity is preventing me from wanting to take up cross-stitching, but it's simply not true.
That's because I'm not exactly Bruce Willis when it comes to manliness.
In many ways I'm not even Bruce Forsyth.
When my missus buys a round she often has to explain how the white wine or Pina Colada is for me.
I'm more into ABBA than Aerosmith.
But while I'm not exactly Tyson Fury you still won't ever catch me down the crochet club.
First of all, like most men, I've got big, blunt fingers.
Trying to daintily manipulate a length of thread into the eye of a needle is like attempting to post a wet strand of spaghetti through a keyhole using only a pair of Richmond sausages.
If by some miracle I get past that stage then the resulting darn-job is likely to make my favourite pair of trousers look like Victor Frankenstein has been in the lab trying to create a new garment-based monster.
But it's not just a lack of aptitude that should see men kept well away from all kinds of needlepoint, women.
Like most other things men dip their oar into, we're also highly likely to turn it towards our own nefarious ends.
You might be fantasising about David Beckham sweetly creating a lovely fabric dolly for his daughter, or a lovely new dress.
In reality the rest of us men would be using our new-found craft skills to extend the life of that minging old cardigan you keep nagging us to throw out – by another decade at least.
So if you fancy that then by all means – let's cast on, lads.
Just make sure those flailing needles don't spill your pint.
---
READ MORE
Do you think it's reasonable for women to be required to wear high heels to work?
Would charging for food and drink be a bad move for British Airways?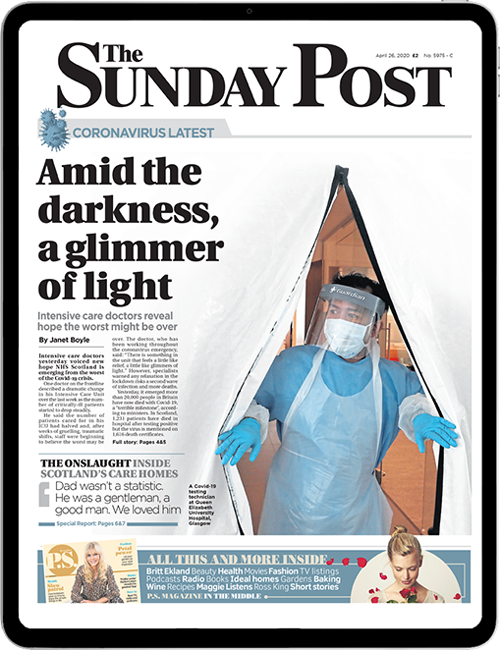 Enjoy the convenience of having The Sunday Post delivered as a digital ePaper straight to your smartphone, tablet or computer.
Subscribe for only £5.49 a month and enjoy all the benefits of the printed paper as a digital replica.
Subscribe