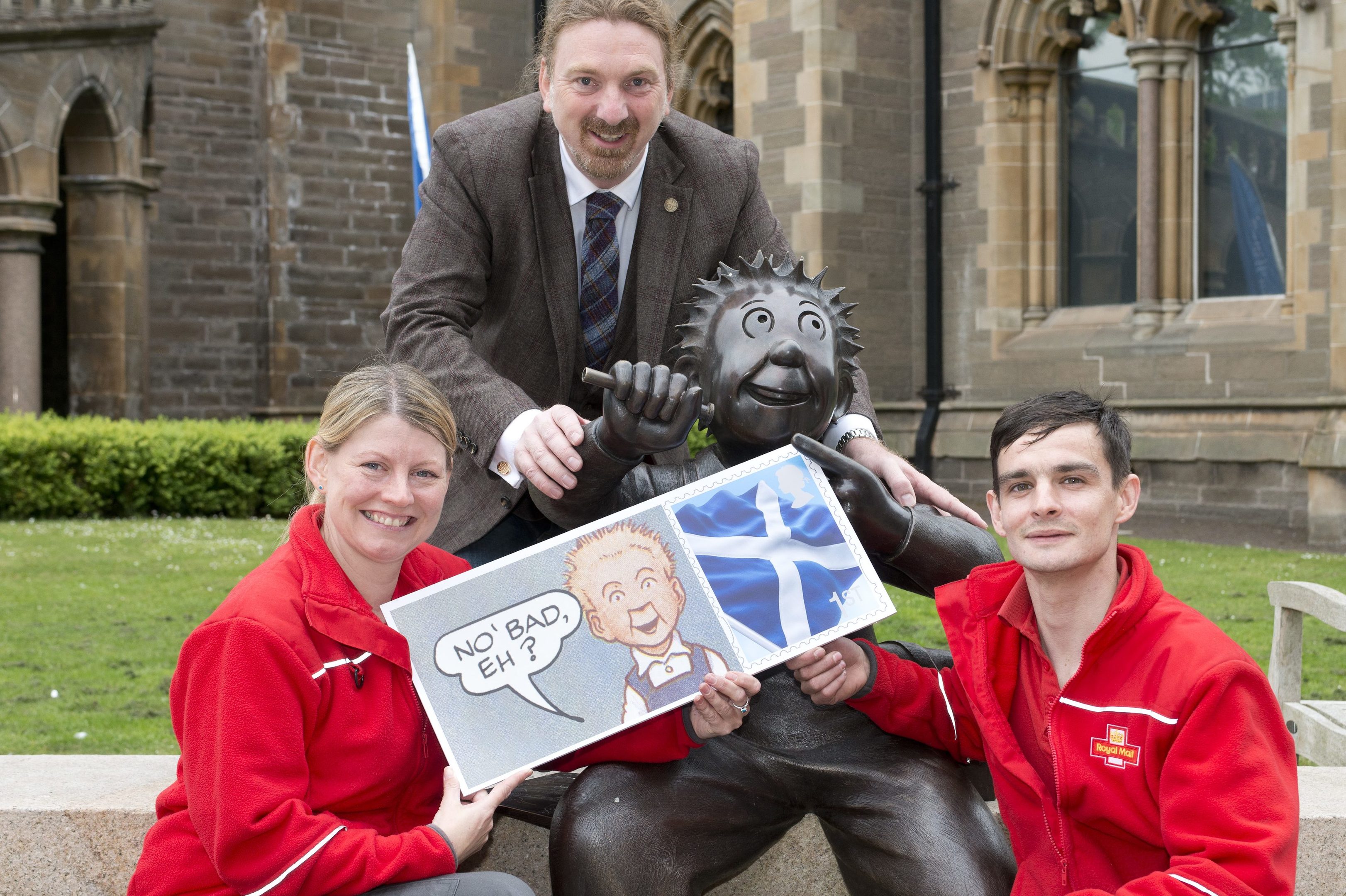 OOR WULLIE and The Broons have spent a historic 80 years in the Sunday Post – but now they're about to appear in a different type of post.
Don't worry, you'll still be able to read their adventures in these pages every week, but from tomorrow these two Scottish icons are to replace Her Majesty by appearing on a limited- edition range of stamps.
Only the most important people are chosen to have their faces stuck on envelopes, and who fits the bill better than the famous residents of Auchentogle and Auchenshoogle?
Only 10,000 of the sheets will be made and each set features classic images of the characters and their renowned sayings, alongside 10 first class Scottish Saltire stamps.
The Queen approves all UK stamp designs before they are printed.
As you would imagine, Maw Broon is fair delighted.
"Michty, whit an honour it is tae be the face o' a special set o' Royal Mail stamps!" she smiled.
"We've seen a richt amount o' change in the world during oor 80 years in The Sunday Post, but the joy o' receivin' a letter frae a loved one still brings a smile tae your face.
"We're lookin' forward tae delivering happiness through the letterboxes o' friends an' family across the country."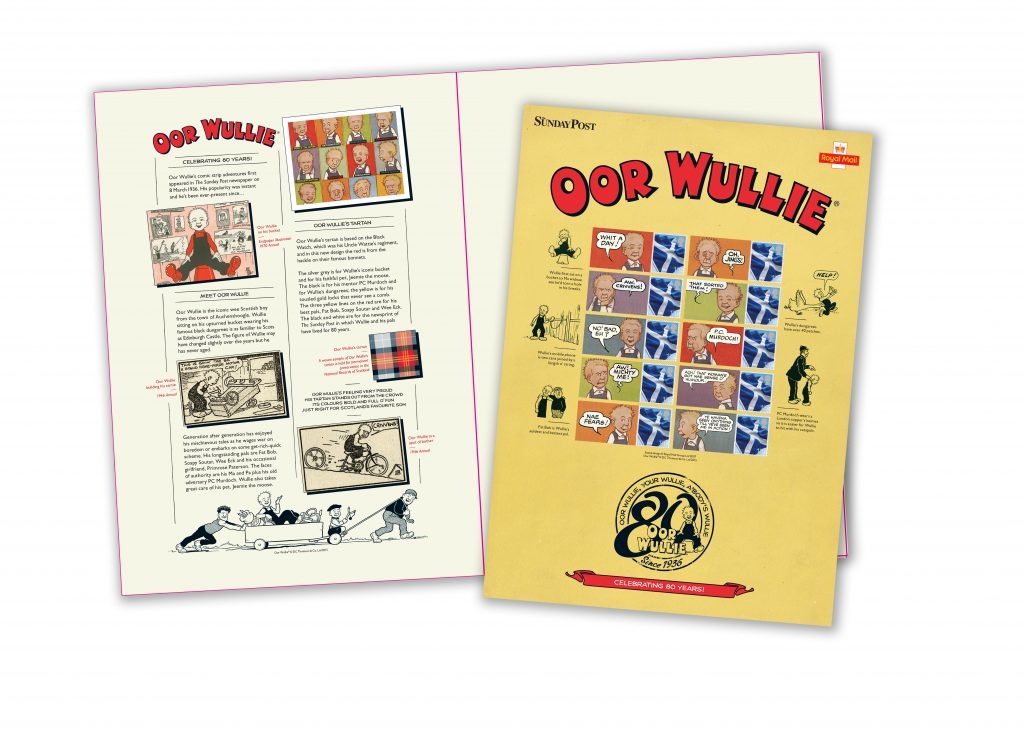 Paw is equally pleased but warned: "As long as they're no' used tae post bills."
Oor Wullie's press officer Fat Boab spoke yesterday from their HQ in Wullie's shed.
"Oor Wullie is delighted with being on sic a braw set of stamps, especially them being in colour – a' the fowk that read The Sunday Post think Wullie is jist black and white and awfy peely-wally," he said.
"His Ma says it shows up the dirt on his face but what would she ken, she's only his Ma.
"The Auchenshoogle polisman, PC Murdoch, said it is very fitting as somebody has been needing tae stamp on Wullie's bad behaviour for years. Wullie's poems aboot the officer's size 22 feet are legendary aroond here.
"If ye are wanting a set of the stamps ye'll hae tae be quick – Primrose Paterson, who fancies Wullie like mad, is planning tae buy them all and stick them on her wall. That's lassies for ye."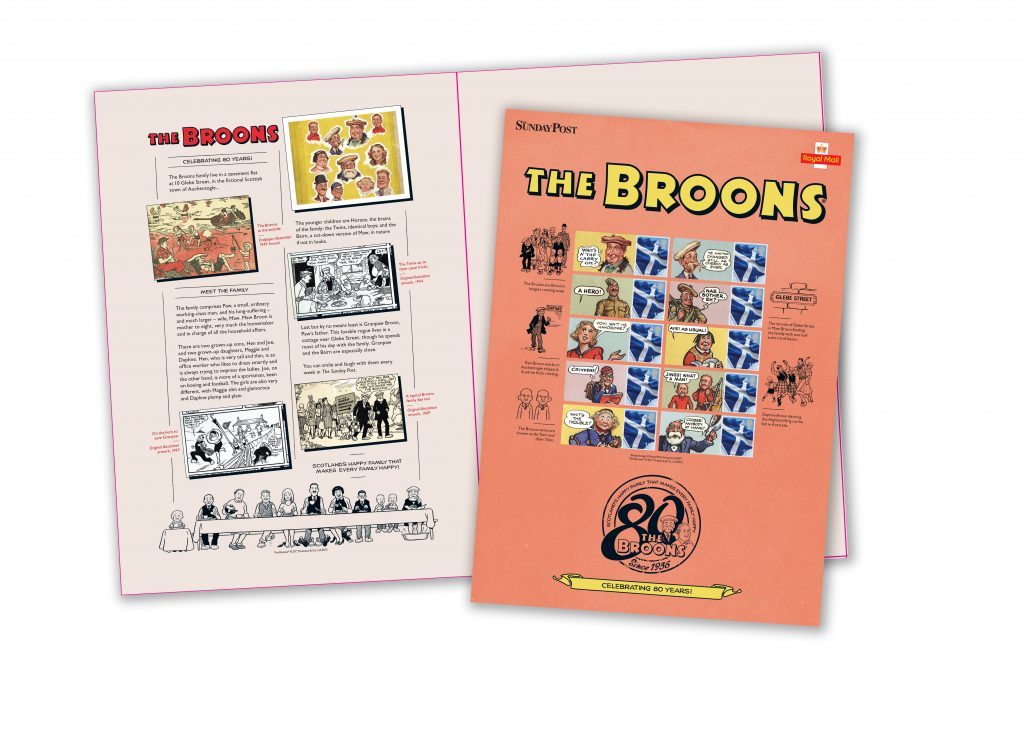 Each sheet is housed in a specially-designed folder bearing the respective tartans of the comic strips and featuring reproductions of original illustrations from throughout the years. You can also read the back story of the two series and each folder contains the first strip to be published in the Sunday Post on March 8, 1936.
Julie Pirone of Royal Mail said: "Ask anyone who spent their childhood in Scotland and they'll tell you how they grew up with Oor Wullie and The Broons. Opening your annual is still a Christmas tradition that's been handed down through generations of Scottish families.
"We are delighted to be celebrating these iconic characters with their own sets of stamps in their 80th anniversary year and hope they will bring back some happy memories for everyone sending and receiving mail with them."
The stamp sets are available from tomorrow at the DC Thomson website or by freephone on 0800 318846. From overseas, call +44 1382 575580.
They will also be on sale at selected Post Offices across Scotland.
---
READ MORE
The Broons are set to go on tour with a stage show later this year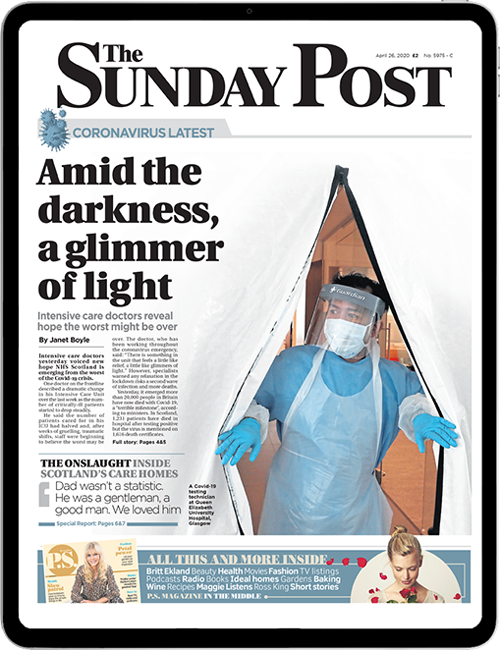 Enjoy the convenience of having The Sunday Post delivered as a digital ePaper straight to your smartphone, tablet or computer.
Subscribe for only £5.49 a month and enjoy all the benefits of the printed paper as a digital replica.
Subscribe