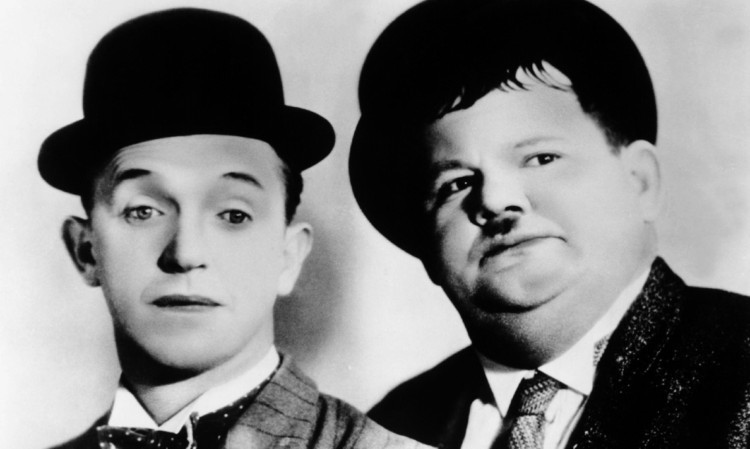 How on Earth did a skinny little man from Lancashire and a tubby fella from Harlem, Georgia, take over the world? It sounds crazy, but it happened!
Laurel and Hardy were THE double act, a comedy duo who looked nothing by themselves, but together made the whole planet roar with laughter. They'd make over 100 films together, but had already made over 300 between them before being turned into a double act.
https://youtube.com/watch?v=LyHIs3r0E5o
Stan Laurel, real name Arthur Stanley Jefferson, was born in Ulverston, which is now in Cumbria, in 1890, and both his parents were involved in theatre. They were so busy, in fact, that the youngster spent most of his time at his granny's before the family moved to Glasgow and he went to school in Rutherglen.
One of his earliest appearances was alongside another young British comedian, Charlie Chaplin. Boy, would these lads become big in their profession. Stan even worked as an understudy to Chaplin, and when the two arrived in America as part of a troupe, work wasn't hard to come by.
Stan, in fact, wanted to write and direct, but his future was sealed when a certain Oliver Hardy hurt himself in a kitchen accident and Stan had to fill in for him.
One early movie they made together was called Duck Soup. Not to be confused with the Marx Brothers' classic of the same name, it was, nevertheless, a special film. In fact, for the best part of half a century, it was lost, and when it finally resurfaced in 1974, it changed history. Many self-appointed experts had claimed it featured only a few scenes with both future stars together, but when it was finally found again, they were a double act throughout, as they would be for years to come.
Norvell Hardy, as Oliver was born, in 1892, had a father who'd been wounded during the Civil War, fighting on the Confederates' side. Hardy had a tough start to life, seeing his father die when he was just a year old, and losing a brother who drowned in a local river. His earliest theatre jobs, unlike Laurel's, were a tad more modest he was the guy who took the tickets, and earned a few more dollars as a janitor.
But Ollie, too, had the showbiz bug, and had run away from school to sing with a group, before his mother gave in and paid for drama lessons. After that kitchen mishap he was burned by a dropped cooked lamb, in a moment where real life became a bit slapstick his appearance alongside Laurel grabbed the eye. Studio bosses noted how crowds would laugh at the unlikely pair, and tried getting them together as often as they could.
The Battle Of The Century, in 1927, featuring the biggest pie fight ever filmed, showed the route they would follow, strictly for laughs and the sillier, the better.
Brats was another early classic, with the pair playing themselves, but also playing their sons. Like The Battle Of The Century, they had cinema audiences sometimes literally rolling in the aisles.
They had such marvellous chemistry that whole new generations would grow up on Laurel and Hardy classics. Even the silly theme tune made you smile.
The trouble was, they didn't look after themselves that well. Both were extremely heavy smokers, even in those days, and Hardy's love life was a tangled mess of divorces and rows and cheating, with his diabetes adding to the misery. If he was a bit too convincing as the angry fat man, irritated by his feckless pal, that was pretty much the way it was in real life.
Sometimes, Laurel and Hardy gave the impression that even they didn't realise how big their fame was. In 1947, when they went on a six-week tour of the United Kingdom, they seemed genuinely taken aback by the attention they received. The star moment was a Royal Command Performance for King George VI and 21-year-old Princess Elizabeth. They'd tour Britain again, and elsewhere in Europe, and eventually it sunk in, that the whole world adored them.
When The Beatles designed their Sergeant Pepper album cover, of course, Laurel and Hardy were among the superstars featured. They would, of course, even have their own hit records, such as Another Fine Mess.
Oliver Hardy, after several serious health scares, would shed 150 pounds in a few months in later life, but couldn't quite shake off his medical problems. He died of cerebral thrombosis officially, at least, in 1957.
His acting buddy had written that he had terminal cancer, but that was never explained, so nobody is quite sure.
What is certain is that Stan Laurel was never the same man after Hardy died, aged 65. Stan would live to be 74, but he went inside his shell after the loss of Oliver.
Laurel himself went through five marriages and four divorces, two of them to the same woman in Burton-and-Taylor style.
But anyone who knew this remarkable man said he was the funniest, nicest person you could meet.
Show your grandchildren The Music Box for the first time, with its famous scenes of our pair trying to get a piano up some stairs, and see if they're able to keep a straight face! You can still find those stairs if you're ever in Los Angeles, though you'll find a queue of Laurel and Hardy fans in front of you most days.
https://youtube.com/watch?v=i4CM1RZgNwA
By themselves, funny men and actors who got plenty of decent work. But together, the funniest pair who ever graced our screens.
The great Buster Keaton said at Stan's funeral: "Charlie Chaplin wasn't the funniest, and I wasn't the funniest this man was the funniest."
We don't think you can say fairer than that, especially when he was alongside his chubby colleague, making the whole world roar with laughter.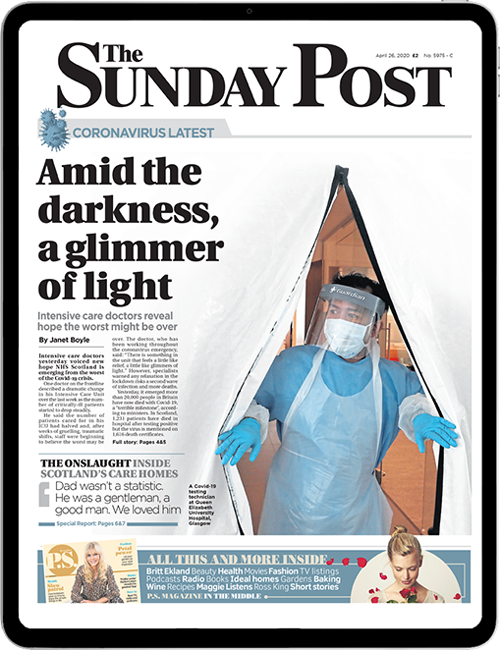 Enjoy the convenience of having The Sunday Post delivered as a digital ePaper straight to your smartphone, tablet or computer.
Subscribe for only £5.49 a month and enjoy all the benefits of the printed paper as a digital replica.
Subscribe