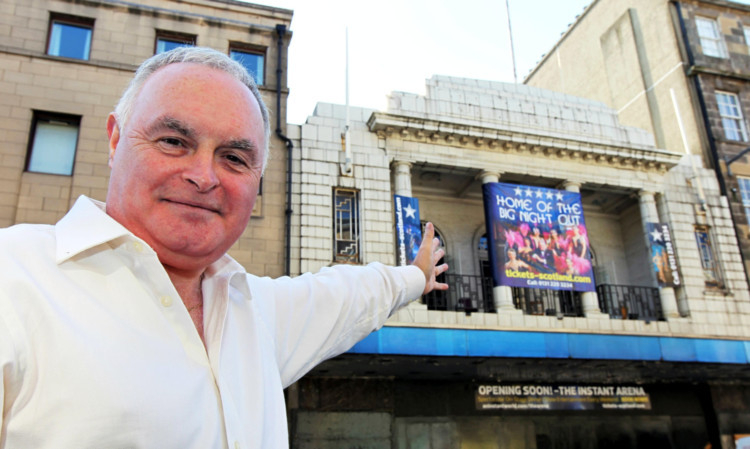 Gerry Boyle's mission to be Scotland's new Mr Showbiz.
Gerry Boyle is standing outside the boarded-up Odeon on Edinburgh's Clerk Street as I pull up.
As he comes over to greet me, a passer-by taps him on the shoulder.
"Gerry Boyle, right?" the man asks. "Mr Boyle, I think you're going to have great success with this. Everyone can't wait until it opens," he says enthusiastically, pointing to the mothballed building.
Later on, Gerry laughs that he'll need to give the chap the £50 he owes him for the well-timed compliment. Just for a second, I wonder if maybe he isn't joking. This is Gerry Boyle after all.
According to the tabloids, he's a publicity-seeking, pie-in-the-sky ideas man who's been accused time and again of riding the coattails of little sister Susan's phenomenal worldwide fame.
But that's just their slant on things, he insists, and I'm willing to give him the benefit of the doubt for the time being.
That brings us to the A-listed former cinema, which has been lying dormant for the best part of a decade.
Gerry and his business associates have a 10-year lease on the 1930s building and have grand plans to make it the showbiz hub of Scotland.
Forget the Hydro in Glasgow, if Gerry's vision becomes a reality the Instant Arena will soon be the place to be. Vegas-style cabaret shows headlined by superstars like Sir Tom Jones, in-house TV and radio stations, restaurant and champagne bar the place will have it all.
Those days still seem a long way off as we step inside, where a handful of workers are painting. A new bar is on the right and a food station has been installed to the left, two of the few signs of progress.
As we step over cans of paint, the 59-year-old, who lives in Musselburgh, East Lothian, takes me into what he envisions will become the media hub. This is where programmes will be made for Gerry's forthcoming online television and radio channels.
His family will interview star guests each morning on a planned show called "Breakfast with the Boyles". But that's not all.
"We're currently in discussions with a major football club about doing an X Factor-type show for aspiring footballers," Gerry reveals.
"And I met with Brian Henson of The Muppets when he was in Edinburgh last week. "We were discussing my idea of The Gulpins, which is a British-style muppets. We already have a range of characters that I ran past Brian, who's put me in touch with one or two people who will be able to help us move it forward." He takes me upstairs to an art-deco room with floor-to-ceiling windows that lead out to a balcony.
This will be a champagne bar. But it was supposed to be Susan Boyle's tearoom. When Gerry revealed his vision for the arena earlier this year, it was his announcement of Susan's tearoom that garnered most attention. "The tearoom was murdered by her manager," he says now. "Susan asked me if she could have the tearoom as a hobby. But her manager said no."
It was also Susan's management that put the brakes on her two-song performance at a variety show in Blackpool this month, which was supposed to be a dry run for similar shows in the Instant Arena. The event was cancelled the day after she pulled out.
Gerry obviously isn't on friendly terms with his sister's representatives.
"It's always disappointing when the public don't get what they want," he says. "I wouldn't say it's a problem dealing with her people, but it is a distraction."
He continues: "You go through the hell of dealing with her manager, and then the public say you're riding her coat-tails. But if I didn't try to include her in projects like this, people would be asking why I'm not.
"I've been living with this for four years people think I'm a blackguard and on the bandwagon.
"But my business partner Robert Innes and I first looked at this building in 2005 with the idea of opening a venue, although it didn't work out then.
"If you look at Companies House you'll see we set up parent company, An Instant World, in 2008." I checked. They did.
Incidentally, also under the Instant World umbrella is a start-up business package for eager entrepreneurs, a record label, car insurance, and believe it or not, even banking facilities. There's also a £14,000 Instant Fame package for aspiring singers. Gerry says a handful of people bought the package when it went on sale a few years ago, and will soon be well known thanks to the arena.
To say he's got his fingers in a few pies is an understatement Little Jack Horner has nothing on Gerry.
"We were busy doing all of this when Susan went on Britain's Got Talent, and then we had to deal with everything that came with that," he tells me.
"Susan was incredibly fortunate and I don't think what happened to her will ever happen again. But thanks to her, doors have opened for us."
Out on the balcony I spot a huge banner on display to the street below.
There's Gerry front and centre, in a tuxedo and looking slightly smug as he's surrounded by a bevy of cabaret-style dancers in full costume.
It's a far cry from his original career, when he trained to become a mechanic in his teens. He moved into retail sales, advertising and marketing in 1971, which proved a better match for his skills.
He says he "stumbled" into TV in the 1990s, pitching programme ideas to producers and working on Through the Keyhole, where he befriended the late David Frost.
Gerry will perform and compere in the Arena, but he insists he's not seeking fame.
"People will expect me to be at the front, but as soon as I can I'll step back and let others take over. Hopefully it will help younger talent to come through. I don't want it to be me, me, me I'm 59 and it's too late for me."
But that isn't stopping him from releasing an album with others in the Boyle clan.
Yule Terrace will be out on October 29, he tells me, although some of the tracks have yet to be recorded.
"I receive emails from people every day saying they know the rest of the Boyle family can sing after seeing Susan's musical, I Dreamed a Dream.
"We didn't go looking for this. We didn't want to jump on the bandwagon in 2009. We stepped back but the calls for us to do something as a family have never gone away," insists the married father-of-one.
"We don't want to look like the von Trapps."
Susan isn't involved, but Gerry believes the album can be successful enough to stage a Boyle Christmas Show at the Instant Arena.
"I've talked to Jimmy Osmond about it and he says they might record a video or even come over for it," Gerry says in passing.
Before that happens the arena will have to be fitted with seats, as the Odeon took them all away when they closed the place, and the stage will need reinforced, as it's currently not sturdy enough to perform on. Gerry says the initial refurbishment of the building will cost £250,000, but much more will continue to be spent on it over the next few years.
So just how is Gerry going to pay for it all?
He makes it sound so easy that you wonder why everyone isn't launching their own entertainment venue.
"We have arms and legs everywhere the financial sector, broadcasting, musicians so many companies are involved," he says.
"Robert and I recognised the easy way to do this was to bring in lots of people interested in being a part of it. We expect to bring in £250,000 every weekend.
"The venue holds 600 people and we'll do two shows a night, so that's 1,200.
"Tickets for dinner and a show will be £75 per person.
"We'll be filming everything and passing it on to our cinema partners to screen our shows worldwide, much like the Royal Opera House and the ballet does just now.
"We could then make £2 million a night from that, so paying Michael Bubl £1 million to perform here is no longer an issue.
"We have contacts with the big agents in London and they've said that once we prove ourselves it'll be no problem securing the likes of Tom Jones, Shirley Bassey and Engelbert Humperdinck.
"Not to sound cruel, but Susan will just be another name we'll be putting on."
There's no denying Gerry believes what he says. Whether that belief is misplaced is another matter.
"I don't think we are setting ourselves up for a fall," he insists. "People have a big appetite for this sort of thing, the old London Palladium-style shows, and we're confident of making a success of it."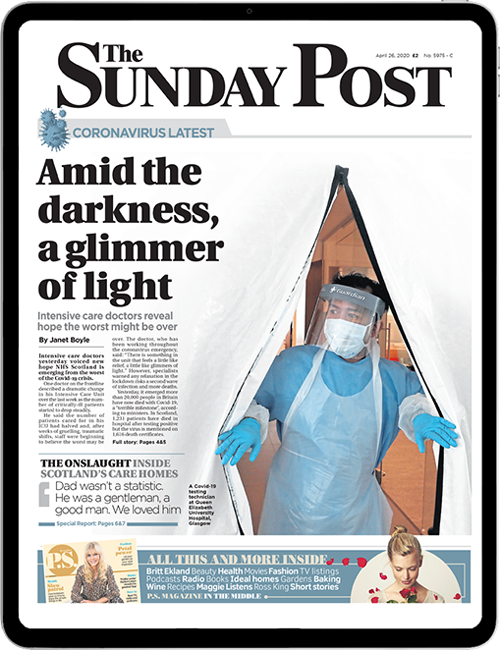 Enjoy the convenience of having The Sunday Post delivered as a digital ePaper straight to your smartphone, tablet or computer.
Subscribe for only £5.49 a month and enjoy all the benefits of the printed paper as a digital replica.
Subscribe