IT'S the wonder drug that experts have hailed as "one of the most exciting and effective" cancer treatments available.
But Kadclya comes at an eye-watering cost. A year's course of the drug, manufactured by Swiss healthcare company Roche, costs £90,000 per person.
That price tag has long been the source of controversy over how it is dispensed and who should pay for it.
In Scotland, the hefty cost of the drug means it is not available on the NHS, with patients expected to cover the expense themselves.
Even in England, where it is dispensed via a stand-alone fund to bankroll such treatments, it has nearly been dropped because of the cost.
Only after Roche allegedly agreed to lower the price was the drug kept on a list of medicines available on the NHS down south.
Caught in the middle of this devastating postcode lottery is Lesley Graham. She has now launched an appeal – backed by her oncologist – to be given the drug.
Last week, she received an email inviting her to a meeting at Glasgow's Beatson Cancer Care to discuss the process.
"I suspect they will want me to pay the costs which we will appeal," she said. "We have no choice unless it's paid for on NHS."
Earlier this year, Welsh breast cancer patient Helen Davies – who had to raise nearly £8000 every three weeks to fund her Kadcyla treatment – made headlines when she was given the drug for nothing.
She was turned down for it twice and called on the Welsh Government to introduce a cancer drugs fund so people with the disease were able to access expensive medication.
Lesley is hoping for a similar experience to that of Helen.
She said: "A Kadcyla breakthrough for the women of Scotland would be a great legacy to leave.
"I'd like to know I fought to the end and secured something that will buy the most precious gift of all for others – time with your family and loved ones."
The process of Lesley getting access to the drug is long and complicated.
But she's optimistic she will be able to pay for a course of treatment while she fights her war.
"If we win the appeal the costs would be refunded," she said.
At present the body in Scotland that assesses and approves drugs for use, the Scottish Medicines Consortium, does not recommend it on cost grounds.
This could be about to change, though, due to a fresh bid by Roche to introduce it to Scotland.
A spokesman for Roche said: "We are submitting Kadcyla to the SMC in August and expect a decision early next year.
We will continue to work with the SMC to ensure patients in Scotland have access to this medicine as they do in England."
Meanwhile, a spokesman for NHS Greater Glasgow and Clyde – the health board Lesley's treatment falls under – said it had a "process for considering medicines not recommended by the SMC".
He said: "This process considers the individual patient and evidence for likely benefit from the medicine in that patient."
In the case of Lesley, "the process is ongoing and the submission is still to be considered".
A change in policy over Kadcyla would be widely welcomed by women with a particular type of breast cancer – HER2-positive.
It is the variant of the disease the drug works best with – lengthening life by, on average, six months.
But Kadcyla also gives breast cancer sufferers a greater quality of extended life, free from some unpleasant side-effects.
Last year, Robert Coleman, professor of medical oncology at Sheffield University, who carried out initial clinical trials of Kadcyla, described it as a wonder drug.
"It is one of the most effective and exciting drugs I have been involved with," he said.
"Something like chemotherapy can leave patients feeling sick, they lose their hair and the entire treatment can be very unpleasant.
"You simply don't get that with Kadcyla."
Last night, a Scottish Government spokeswoman said "like patient groups" it wanted Roche to lower the price it charged for the drug.
She said this would give "people across Scotland the opportunity to benefit from more treatment options that could give them precious extra time with their families".
She added: "The Scottish Government has put significant investment into increasing access to medicines for rare conditions and for treatment at the end of life through our New Medicines Fund.
"We do think that more can be done and there is an independent review on access to new medicines ongoing."
---
READ MORE
I've spent half my life with cancer, but I don't let it worry me
'More evidence of link' between poor children and later cancer risk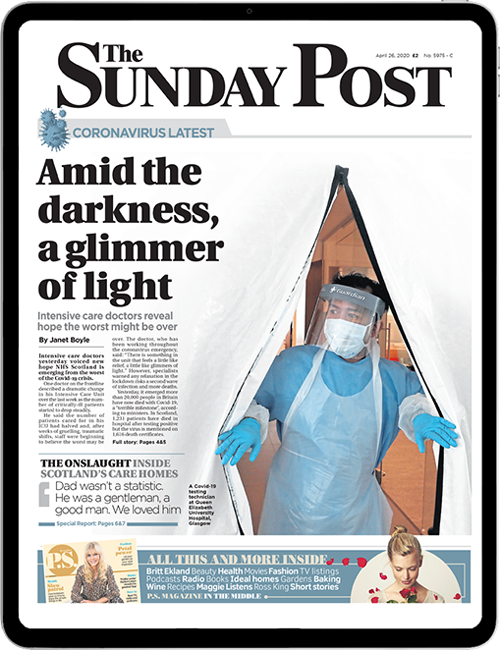 Enjoy the convenience of having The Sunday Post delivered as a digital ePaper straight to your smartphone, tablet or computer.
Subscribe for only £5.49 a month and enjoy all the benefits of the printed paper as a digital replica.
Subscribe