IN December, 1962, our famous Honest Truth page featured a youngster called Gavin McDonald,
Aged 18 and billed as a "Typical Glasgow Teenager" he gave us his views on life, love, work and his hopes for the future.
Last week, 50 years on, we caught up with Gavin, now 68, to see how things turned out.
So this week's Honest Truth is by A Typical Glasgow Pensioner.
You were an apprentice butcher did you always do that for a living?
I had the job three years then got the chance of better pay at Albion Motors. I applied for a machine operator job but was told I was too young at 20 and to come back in a year. So I went to the Singer factory in Clydebank first.
I worked weekends at the butcher's.
After redundancy from Albion, I ran my own minibus before retiring four years ago.
Do you smoke, drink or gamble?
I've never smoked. I like the odd wee dram but I know my limits. And I still enjoy a flutter at the bookies.
What do you discuss now when you're out with the boys?
Golf, golf and more golf! Last time my answer was football, but my interest has waned in recent years.
My pals and I play golf so we'll talk about how well we've played. Or usually how badly.
If we talk about girls these days it's usually to have a moan about our better halves rather than anything else!
Do you help out in the home?
I live alone now, so have to do everything. I've always enjoyed cooking, so that's no chore.
I like trying different things and I even bake I'm a modern man!
Last time, you'd just started courting. How did that turn out?
That was Phyllis, and we married when we were 21.
We had three wonderful children Gary, 42, Debbie, 40, and Fraser, 35 and I now have five beautiful grandkids.
Sadly, Phyllis died of breast cancer in 1990. She was only young. Just 45. One of the last things she said was she wanted the family to stick together. And we have.
We're incredibly close. Fraser lives down south but the other two are local. We all get together whenever we can.
What are your hobbies and interests?
I have a partner, Irene, and we love going to see a show at the Pavilion.
Juke Box Memories, where you get a good sing-a-long, and Mrs Brown's Boys are two of our favourites.
I enjoy pottering about in the garden and I'm mad about golf.
You thought people should marry at 23 has that changed?
I still think marriage is important, but 23 seems young. If you're married you're more likely to try to work through your problems rather than split up.
I think being in love and part of a loving family is more important, though.
Juvenile delinquency was flagged up as a problem last time what do you think now?
Looking back I'm not sure it was a problem no more than it is today.
The older generation just like to moan about youngsters.
Kids get things too easy these days and parents are under pressure to provide the best trainers, games or whatever.
There's a loss of respect between generations and that's a shame.
Do you still go to church?
No, not very often. We did go every week for many years.
I still believe in God I don't have to prove it by going to church.
YOU weren't very interested in politics has that changed?
Yes now I'm very interested. I think it's something that happens with age.
Politicians these days are a right shower more concerned with their image and being celebrities than serving voters.
Once they stood for what they believed in.
Do you read books?
No some things never change! I don't have the patience for it.
I love reading the paper from cover to cover, or a magazine about something I'm interested in, but I've never been bothered about books.
You were proud of your record collection in the 60s what do you think about modern music?
Adele's great and can fairly belt out a tune. Most of the rest just make a racket.
The likes of Simon Cowell and the X Factor have spoiled it it's all about making money, not music.
You criticised pensioners for harping on about the good old days what do you think now?
Now I go on about the good old days!
I was even invited to my granddaughter's class to tell them all about the 1960s.
Now I'm 68, I don't consider it old at all. Mentally, I feel as young as ever.
But 68 definitely isn't as old as it was. We're fitter, healthier, younger in outlook. People had much harder lives then at 68 you were old because you were done.
Ambitions did you fulfil them or did they change?
I wanted to play senior football I got as far as the junior game and had a decent run. I moved back to the amateur ranks at the end of my playing life and won the Glasgow Amateur Cup.
I suppose I was my own boss when I ran the minibus, so I kind of fulfilled my ambitions!
These days, my ambitions are for my family I want them to do well and to be happy.
Where do you spend your holidays?
These days I like going away for a night or two somewhere in Scotland. I'm a homebody there's nowhere like it.
Folk bang on about beaches in Benidorm or wherever, when those up north are the best anywhere.
What's important in life?
Health and family is still my answer all the money in the world can't replace either.
Your hero was Denis Law has he been replaced?
Now it would have to be Barcelona's Lionel Messi if he's not the greatest ever, he's right up there.
It's a shame Scottish football was once among the best on the planet.
We had players like Jim Baxter and Jimmy Johnstone. Now, I'm sad to say, it's pretty awful.
Do you think you've changed?
Not really. My views are much the same. I called a spade and spade and still do.
I'm honest and straight-forward and that's how I like folk to be with me.
What advice would you give your younger self?
To enjoy life it goes in that quick. It certainly doesn't feel like 50 years has passed.
And to spend as much time as you can with the people you love.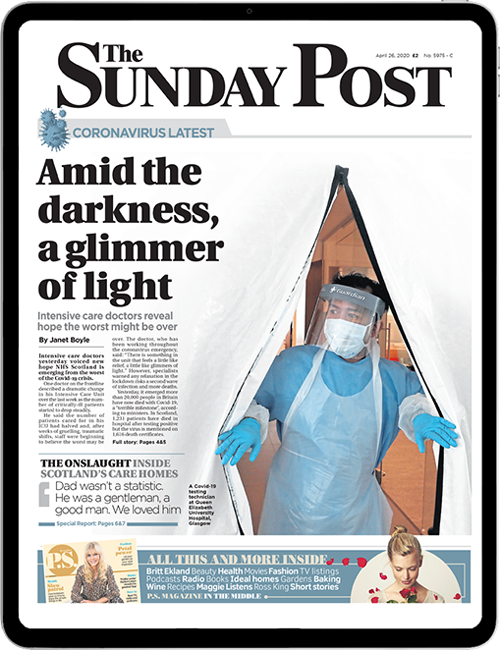 Enjoy the convenience of having The Sunday Post delivered as a digital ePaper straight to your smartphone, tablet or computer.
Subscribe for only £5.49 a month and enjoy all the benefits of the printed paper as a digital replica.
Subscribe