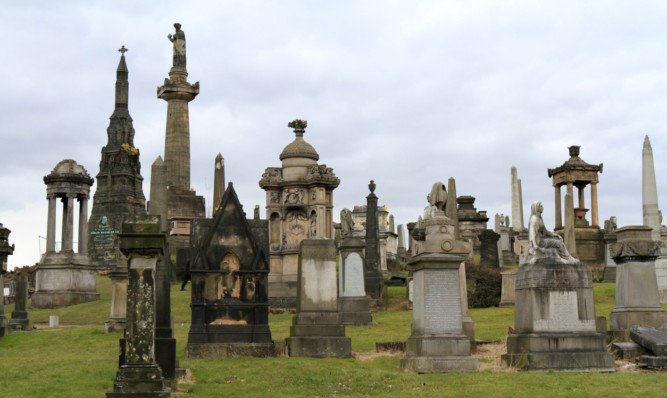 Metal safes, statues, Mausoleums and the sadness of a half Greek column
Along with taxes it's the one other thing you can't avoid death. Robbie Williams has said he's considering being buried in Los Angeles, not Stoke, after being impressed by the sunny cemetery in which his wife Ayda's gran was laid to rest. Peter Stanford has spent years studying graveyards. He's travelled all over Britain and even to Rome to look at the rituals, symbolism and history of final resting places.
He's just published his findings in the surprisingly light and entertaining How To Read A Graveyard. Peter tells Bill Gibb The Honest Truth about graveyards.
WHAT made you start your quest?
I was walking my dog in the Victorian Paddington Old Cemetery, which is at the end of my street. It's a lovely open space in the heart of London but other people said it was morbid and creepy.
It got me wondering about the whole subject when did we start putting bodies in wooden boxes in graves?
WHEN was that?
It was because of public health concerns in Victorian times, where it was felt that open pits caused cholera. There was a growing belief that, rather than a common grave, we should be celebrated separately, it led to the individual grave from the beginning of the 19th Century.
WHAT about previously?
From the remains of the oldest dead body we have, the 26,000-year-old Mungo Lady from Australia, the habit was almost universally that bodies were cremated.
Although the very grand, like the Pharaohs in their tombs, weren't as they had a very clear idea about resurrection.
HOW have graveyards changed over the years?
The most ornate period was the 19th Century, with the Necropolis in Glasgow a good example. Victorians saw graves as a celebration of life and the bigger the monument the better.
They tended to look death in the eye. They wanted cemeteries to become public parks where people would walk round and admire the achievements of the departed.
WHAT about monuments?
If you look at the Necropolis you'll see examples borrowed from history, like obelisks from the Egyptians and mausoleums that go back to ancient Greece.
The Victorians believed you could make money from cemeteries but when they discovered you couldn't they were handed over to local authorities and became a lot simpler.
WHAT about the grave robbing made famous by Burke and Hare?
It was a huge fear in the early 19th Century when medical science was looking for bodies. In Greyfriars kirk yard in Edinburgh you'll see extraordinary mortsafes, locked metal safes, over the graves to stop people breaking in. Cemeteries often had a watchtower which relatives manned at night to protect their loved ones.
SADDEST graves?
I visited war graves in France and found it incredibly moving, row after row of graves of young men who all died on the same day.
WHAT are the current trends?
The most recent change is the eco cemetery. I visited one which used to be Forestry Commission land and it's very beautiful and simple. There's no embalming and coffins have to be biodegradable.
At most you have a wooden plaque that rots away.
IS it always a serious business?
Not at all. In eco graveyards people have cremated remains put in caskets in the shape of Ferraris, guitars and mobile phones.
One chap was addicted to ice cream so they got an ice cream van to play tunes as he was buried.
WHAT about the symbols on gravestones?
A flame symbolises eternity and remembrance. Shells also represent eternity but may be a reference to Jesus the fisherman.
A daisy is often to do with a child and an iris is usually reserved for a woman.
Although we now associate a skull and crossbones with piracy, they were at one stage meant to be a comforting reminder about resurrection. There are lots at Greyfriars.
One of the saddest I suppose is a half Greek column which is designed to mark a life cut short.
WHAT about cremations?
The first crematorium opened in 1885 in Woking and it really took off after the Second World War. Now 75% of people are cremated.
WHAT have you taken from all your travels?
Don't be gloomy, we're all going to die anyway!
aLSO, Graveyards are well worth visiting. They tell fascinating stories, you can see wonderful architecture and choose names for your children.
How To Read A Graveyard by Peter Stanford, Bloomsbury £16.99, is out now.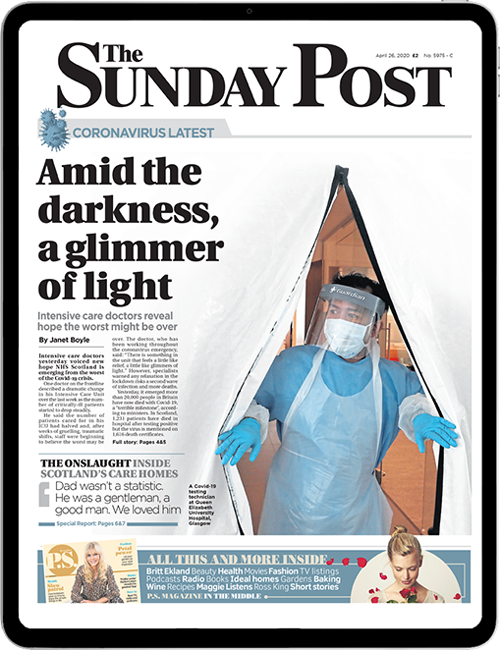 Enjoy the convenience of having The Sunday Post delivered as a digital ePaper straight to your smartphone, tablet or computer.
Subscribe for only £5.49 a month and enjoy all the benefits of the printed paper as a digital replica.
Subscribe