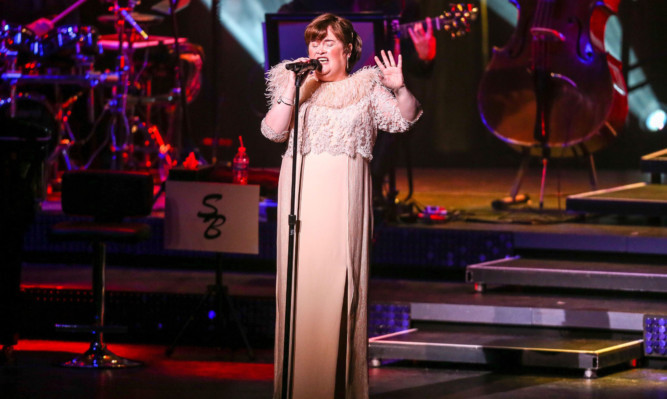 Susan Boyle has become a world famous singing sensation since THAT audition five years ago on Britain's Got Talent.
But the multi-million album selling artist refuses to be swept away by stardom.
When she's not jetting around the globe, down-to-earth Susan still lives in her ex-council flat in Blackburn, West Lothian, with her cat Pebbles and treats the punters in her local pub to a sing-song.
She has just returned from a 20-date tour of America and is gearing up to launch her sixth studio album, Hope.
The record, which includes covers of classics such as John Lennon's Imagine and Simon and Garfunkel's Bridge Over Troubled Water, is out on Monday, November 24.
Here, ahead of the excitement, Susan reveals the Top 10 moments that have shaped her life
1 My earliest childhood memories are of family singsongs, all of us together.
The boys would come in with the guitars and start strumming, making up tunes and stuff and singing. (Susan is the youngest of four brothers and five sisters.) We were all very musical. My dad would sing a song called Scarlet Ribbons and my mother would listen patiently, or join in herself. She had a nice high, soprano voice. My brother Joe was a songwriter. I have two sisters who are very good singers. My dad sang and my mother was quite good at playing piano, but like everything else, it took a secondary role because she had a family. We were a bit like the Von Trapps!
I was just a wee lassie and we'd sit and watch Top Of The Pops and wait for The Beatles or The Rolling Stones to come on. My dad hated that programme so he used to turn it down, I used to turn it up just for devilment!
2 The moment that shaped my life was the Britain's Got Talent audition.
There I was with that frock and the unruly hair and nobody really took me seriously and then I sang I Dreamed A Dream and the rest, as they say, is history!
Everyone who watched my audition was shocked and so was I. It was the moment my life changed for the better and a moment I'll be eternally grateful for. Thank goodness I didn't go on stage in my Celtic strip like I had originally planned!
3 Stepping into the recording studio for the first time was the day my dreams came true.
As a singer, you dream that one day you'll have the opportunity to walk in to a recording studio and make your own album. Until the day I stepped into Steve Mac's studio in the summer of 2009, I still didn't believe it was actually going to happen and then it did and what a magical experience it was. I was in my own little bubble where no one could touch me, singing my heart out, and it was heaven I have never felt such contentment and I still do to this day six albums on I still utterly adore the whole process of recording and the excitement that you have going into the studio on that first day and the exhilaration when you've recorded the tracks.
4 My mum's death was the worst moment of my life.
I've never felt emptiness like it. In fact, to this day, I still feel the hole that was left behind. She was not only my mother, but my best friend and I was incredibly close to her. She was a wonderful mum and a lady who was highly respected in the community. I don't think you ever get over losing your mother. There are still times when I want to talk to her and I feel she is still with me. The wounds from a loss like that will never heal.
5 My first US tour is certainly one of my happiest memories . . . fantastic! I only got back a few days ago so the memories are still vivid.
I had the best time ever. We travelled from California, ending in Florida, and I just loved every moment. The shows were great, the audiences phenomenal, the gifts were overwhelming and I was truly spoilt. It was the best six weeks of my life and I can't wait to do more. Not only were lifelong memories made but lifelong friendships and I truly had the best team of people working on the tour and couldn't have done it without them.
I had the easy part, standing on stage singing. The others were working hard throughout the days and nights to ensure all would run smoothly. As we went from State to State I also got to do some wonderful sightseeing. I saw The Alamo and I sat on a real bull in Fort Worth, visited the Martin Luther King Memorial Centre in Atlanta and had a lovely day of pampering in Safety Harbour, Florida. It was a wonderful experience and I'm so pleased I was fortunate enough to be able to do my first USA tour.
6 Singing with Donny Osmond, who was my childhood idol, was unforgettable.
I was Osmonds crazy, so to be offered the chance to sing with Donny in LA and at his Vegas show was brilliant. There are not enough adjectives to put into words what an experience it was! He also happens to be the most charming man in the world and made me feel so comfortable.
He's one of the kindest men in showbiz and having been in the industry for 50 years, shows fame and success don't have to turn you into a diva. It was a true highlight that and the massaging chairs that we all sat on outside the dressing rooms! I still have my Susan star that was on my dressing room door.
7 The day I was diagnosed with Asperger's Syndrome is one of my saddest memories but it was also a huge relief.
It finally came in 2012, after being told all my life that I had brain damage from birth. I took a year to learn about Asperger's and all that it entails before announcing my diagnosis. I wanted to get to grips with what it meant and how to deal with it without everyone speculating in the press and show others with the same diagnosis that it doesn't hold you back in life and you can achieve anything you set your heart on.
Also, to help people understand who I was instead of conjuring up wild stories. This is a condition I have to live with and, whilst I don't view it as a disability, people should not judge me or be prejudicial just because I function in a different way.
The overarching memory of the day I was given the diagnosis was relief. I was finally able to break free of the chains of the label "brain damage".
8 My biggest celebration memory was my 50th birthday party.
I hit the big 5-0 and decided to embrace it in style, so I hired a hotel and my family, friends and colleagues partied the night away. It was so much fun and we had a great time. But it wouldn't be a party without some Scottish dancing so we got up and taught the non-Scots how to do it properly.
My fondest recollection of is standing in the room surveying everyone and looking at how happy they were and the enjoyment they had and that made my 50th birthday incredibly special. The people I love most in the world were with me and having a wonderful time. Well, that and my incredible Celtic cakethat was brilliant!
9 My favourite holiday memory was visiting US for the first time.
I'd never been on a plane for that length of time or been to America so there was a mixture of fear of the unknown and excitement at going a place I would never otherwise have been able to afford to go to.
Stepping off the plane was surreal. When we went to leave the airport we were surrounded by hundreds of people taking pictures and shouting my name. I couldn't see where I was going as the flashlights were blinding and this mass of people were slowly moving towards the car. It took 15 minutes to walk what should have taken 30 seconds.
The hotel we stayed at was luxury like I had never experienced and I felt a little out of place. I certainly wasn't used to that. We did some wonderful shows but I was very fortunate to be able to see some of the sights and I went to the Hollywood sign and to see the stars on the pavements and to Disney Land. I had to pinch myself it was all really happening because I never thought I would have that amount of fun at work!
Even today I try and make time to see the cities we are visiting because I think it's important. Even if we only have an hour, you have to make the most of the beautiful opportunities life gives you.
10 What are the memories I would most like to make in the future? Well, that's easy. To just keep on doing what I love to do sing.
I want to make more memories on tour, more memories in the studio recording albums and hopefully make future memories with Mr Right . . . I still hold out hope that I will meet "the one".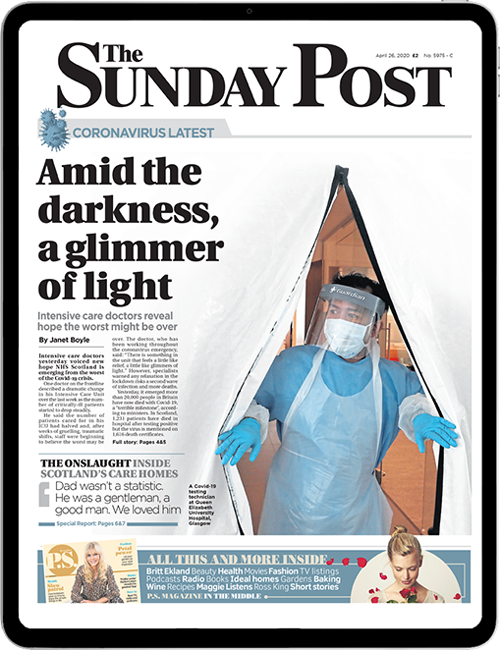 Enjoy the convenience of having The Sunday Post delivered as a digital ePaper straight to your smartphone, tablet or computer.
Subscribe for only £5.49 a month and enjoy all the benefits of the printed paper as a digital replica.
Subscribe