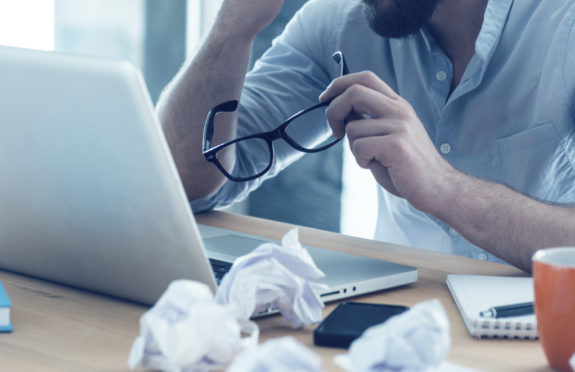 That's the human survival instinct that in times of perceived peril, floods our system with adrenalin and diverts all our energy into escaping.
Now, there's no denying that was pretty handy when our caveman ancestors came face to face with the odd sabre-toothed tiger but, with today's levels of stress, many of us find ourselves in almost constant fight or flight mode.
And that can play havoc with your digestion.
The Brain-Gut axis theory links your emotions to your digestive system, and explains how an imbalance in one can cause problems in the other.
No wonder we say: "I was sick with nerves."
And we've all muttered: "My stomach's in knots" or admitted: "I've got butterflies in my tummy."
Caroline Harmer, an expert nutritionist with Renew Life, explains: "We have so many phrases for how stress affects our gut.
"A classic one is 'exam nerves'.
"If you have them, it can affect your digestive system and you get pupils running to the bathroom.
"This link dates back to our cave-dwelling roots.
"Transforming food into usable energy is a complex procedure and takes a lot of resources.
"Typically, in fight or flight situations our bodies divert a lot of energy from peaceful processes like digestion and instead prepare our bodies for action so we can avoid danger.
"We kick into the fight or flight mode and everything's in overdrive.
"As a result, we're producing lots and lots of cortisol and adrenaline.
"People can get stuck because we're draining a lot of the body's resources in order to do this.
"It's a cycle — if we're not digesting well, we just don't have enough energy to do what we're doing.
"We should sit, chill, eat, rest and digest, because the digestive system works better in a 'rest and digest' state.
"We've all seen how stress can cause someone to lose their appetite.
"We were designed to engage the fight or flight mode just for short periods of time," adds Caroline.
"It was there to get us to safety, then our body would return to the rest and digest mode where normal functions take place.
"But unfortunately for so many people, we're operating more and more in that stressful mode, whether we realise it or not.
"Most people are probably operating on some form of low-level stress and so they feel it — that knot in their stomach, that tightness across the lower part of their ribcage, and even in extreme cases, things like heartburn."
Exposure to toxins such as air pollution can also increase our stress levels.
As Caroline explains: "Up to 90% of serotonin, the 'feel-good' hormone, is produced in the gut.
"Toxic load reduces serotonin levels which can cause low mood and contribute to digestive issues.
"So while we've always known stress can cause the gut to be out of balance, we're now in a vicious loop because we've realised the reverse is also true.
"I've worked with so many people who are on anti-depressants and things like that, and they all have gut problems."
Luckily, there are things we can do to destress, detoxify and help our gut help us.
Caroline says: "If you're working, take time out to eat your lunch away from your desk.
"So many people just grab a sandwich and wolf it down too quickly. I do the same, we're all guilty of it.
"Focusing on your food and chewing it thoroughly allows you to digest your food more effectively, making sure you absorb the maximum amount of nutrients and preventing bloating and digestive issues.
"Eating in a relaxed frame of mind can bring a feeling of contentment and balance.
"So try to clear your mind. Even just going somewhere quiet and spending 30 seconds there taking some deep breaths can help — it's been shown even just 10 deep breaths can reset the nervous system.
"Take the luxury of stepping away from your desk — even if it's only five minutes walking around the block just to change your environment — it will change your breathing and help alter your mood.
"Exercise is also great for the brain as regular exercise elevates serotonin levels.
"However, some exercises can raise levels of cortisol, one of the fight or flight hormones, and put stress on the joints so try swimming which is a fantastic non-weight-bearing exercise that will help you tone up and feel relaxed at the same time."
Caroline is raising awareness about the importance of good digestive health.
Renew Life's CleanseSMART is an all-natural herbal cleansing programme available at selected health stores, or visit www.renewlife.co.uk for more information.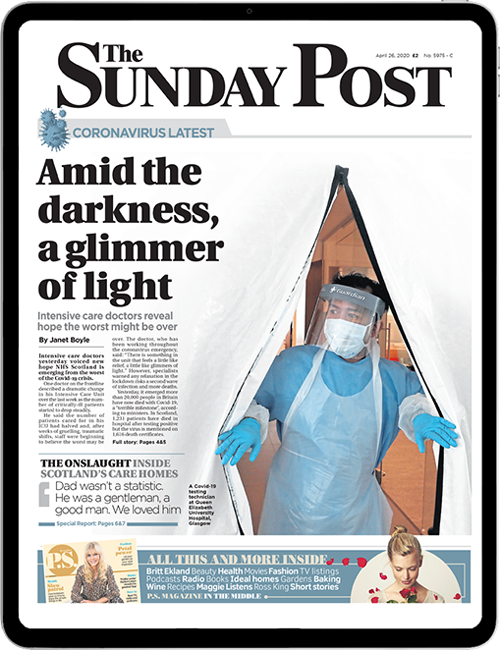 Enjoy the convenience of having The Sunday Post delivered as a digital ePaper straight to your smartphone, tablet or computer.
Subscribe for only £5.49 a month and enjoy all the benefits of the printed paper as a digital replica.
Subscribe