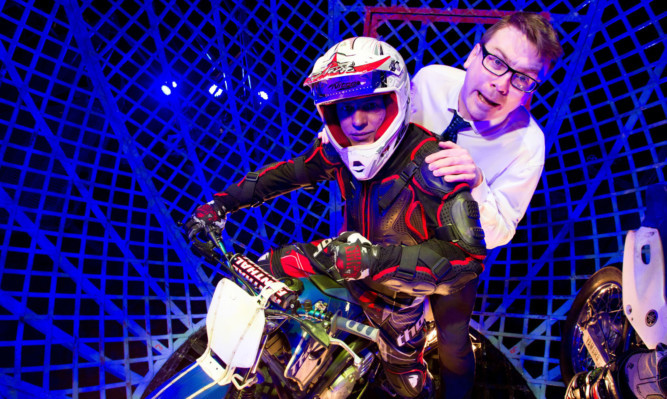 Earlier this week we posted a video of our own Stevie G surrounded by motorbikes in a 'Globe of Terror'. Here he describes the experience.
The smell of petrol is almost as overwhelming as the sound of revving engines.Watch the videoThe sweat begins to drip down my back. Perhaps it's caused by the heat coming from the idling motorbikes, and not panic setting in.
I'm standing in the middle of a two-tonne, globe-shaped steel cage with two loud dirtbikes and what looks like a Rio Carnival girl for company.
In a few seconds they're going to start driving around the tiny cage at 60 miles per hour, in what's described as the most dangerous circus act in the world.
And I'm going to be in the middle.
It's hard to see, because there are at least four bright spotlights trained on us, but I can make out one of the motorcyclists.
"Don't worry," shouts one grinning maniac from behind his helmet. "If one of us die then we all die."
Circuses have changed an awful lot lately, haven't they?
The days of a clown standing in a ring, juggling and making balloon animals have well and truly gone. World-famous Canadian company Cirque du Soleil have reinvigorated circus shows, and the Cirque Berserk are taking the circus a step further.
Old-fashioned circus skills like clowning and trapeze are combined with contemporary thrilling stunt work and stylish, modern fancy dress. It makes for a circus experience that's entirely thrilling.
The undoubted highlight of the show is The Globe of Terror a giant metal orb in which not one but three motorcyclists whizz around, all at the same time.
If you've seen the cult Ryan Gosling movie Place Beyond The Pines you'll know what it looks like a gravity-defying pastime for those who find sky diving a bit too sedate.
It's performed by expert stunt-riders Team Lucius, a Brazilian troupe, and they invited The Sunday Post along to experience the Globe, from the inside.
I was kindly volunteered by my editor and, with scant regard for piddling concerns like health and safety, I joined Cirque Berserk before their show at Glasgow's King's Theatre.
They're in the middle of their first UK tour which is going down a storm with audiences across the country.
These circus folk look nothing like the bright-faced clowns sporting multi-coloured wigs and huge trousers. Frankly, they look like they should be helping The Joker rob Gotham City Bank although this is a family show and it's all in good fun.
I'm led to the Globe of Terror to meet Lucius, the leader of the motorcycle team. He's going to be one of the riders zooming around the cage.
"Don't worry, I've been doing this for 28 years," he reassures me. "Some riders learn from a very young age. Argentina has the best trapeze artists in the world, but Brazil have the best stunt motorcyclists in the world."
I have to ask about accidents. Surely something goes wrong from time to time?
Lucius winces.
"I don't like to talk about the accidents," he says. "Let's focus on the good stuff."
Wait, what?
But it's too late. Paula, a nice Portuguese lady decked in carnival gear leads me to the globe. I've got to follow her instructions to the letter, which I'd be only too happy to do but for the fact her English turns out to be non-existent.
Muttering to me what I imagine is Portuguese for: "I hope you're insured, pal", she signals the Lucius and his partner.
The next 60 seconds or so are like being in the middle of a washing machine which, instead of washing your clothes, might just cause a blunt force trauma to your head. Paula, meanwhile, looks a bit bored. I suppose this is a normal day's work for her and the stunt riders.
Lucius is so cocky he starts to slap me on the side of the head as he orbits it on the wall of the cage. Cheers for that mate.
The bikes come to a halt and I let out the kind of grateful ovation passengers save for heroic airline pilots.
I wouldn't recommend you ever get into the cage with them but catching Team Lucius and the rest of Cirque Berserk with your own eyes is a must.
They'll entertain you like your life depends on it.
Cirque Berzerk are appearing at Dundee, The Gardyne Theatre Jan 29-31, Edinburgh, Playhouse, Feb 1-3.
www.atgtickets.com 0844 8717648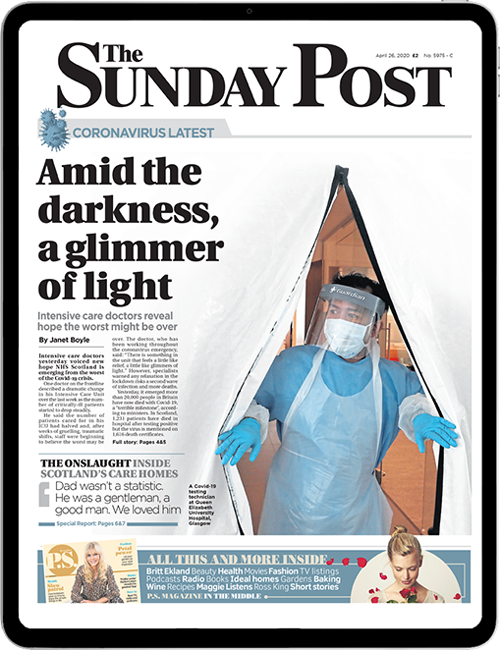 Enjoy the convenience of having The Sunday Post delivered as a digital ePaper straight to your smartphone, tablet or computer.
Subscribe for only £5.49 a month and enjoy all the benefits of the printed paper as a digital replica.
Subscribe