IAIN DONACHIE'S working life saw him travel to just about every part of the globe.
As a chief petty officer on Polaris submarines and then surface vessels, Iain, 61, served from the Mediterranean to the Caribbean to the Persian Gulf.
Even in his free time he was on the move, loving the freedom to explore the UK in his mobile home. And that's when he wasn't on the golf course.
Now, though, Iain's boundaries have changed beyond all recognition.
Just over two years ago he was diagnosed with Motor Neurone Disease and daily life now revolves around his Stranraer home.
His wife Joyce, 58, is his full-time carer and he knows the clock is ticking as MND is a progressive terminal illness with no cure.
But Stirling-born Iain refuses to be bowed.
"I'm a glass half full sort of a guy," he says simply. "If I feel OK when I wake up in the morning I'll do everything I can to try and make the lot of people with MND better."
Iain took early retiral in 2013 and was full of plans for Joyce and himself to revisit favourite holiday places.
But he started noticing the grip on his clubs with his left hand weakening and his golf getting worse, not better.
Medical checks initially thought the problems may be coming from his neck but subsequent scans indicated Multifocal Motor Neuropathy.
Although debilitating and incredibly rare – it affects less than one person in 100,000 – it's not fatal.
When he failed to respond to treatment, though, he was given the hammer blow MND diagnosis in March 2014.
"I've tried to be positive ever since that day, although it can be tough," said Iain. "No one wants to listen to someone being negative all the time, so I've always tried to love life and live it the best I can while I'm still able."
Iain now has a hospital bed at home and a wheelchair sits in the corner of his home office.
"My wife has to do everything for me. It's a team effort – but she is the team. She's there 24/7 and I don't know what I'd do without her.
"I can't dress myself, shave, put my glasses on or even blow my nose.
"I can still get on to my feet but I've fallen a few times and I know I'm on the transition between walking and needing to be in the wheelchair all the time.
"The voice can go quite early for MND patients and I'm lucky I've still got mine."
There are only around 450 people in Scotland living with MND so its profile and funding aren't as high as many other conditions. MND Awareness Week, which begins tomorrow, intends to help change that.
"We want to increase understanding and raise funds to help us find a cure," said Craig Stockton, CEO of MND Scotland.
And Iain, is doing everything he can to help.
"As long as I can get myself in front of my computer I can lobby politicians, speak to patients or generally get the message out there."
For more information, visit www.mndscotland.org.uk
---
READ MORE
MND Scotland helps motor neurone disease patient's son to raise awareness via cycle challenge
Motor neurone disease poll finds long delays in diagnoses and getting right help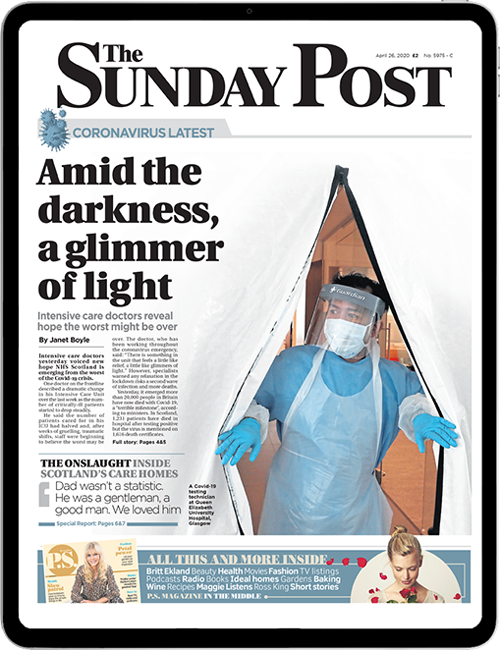 Enjoy the convenience of having The Sunday Post delivered as a digital ePaper straight to your smartphone, tablet or computer.
Subscribe for only £5.49 a month and enjoy all the benefits of the printed paper as a digital replica.
Subscribe