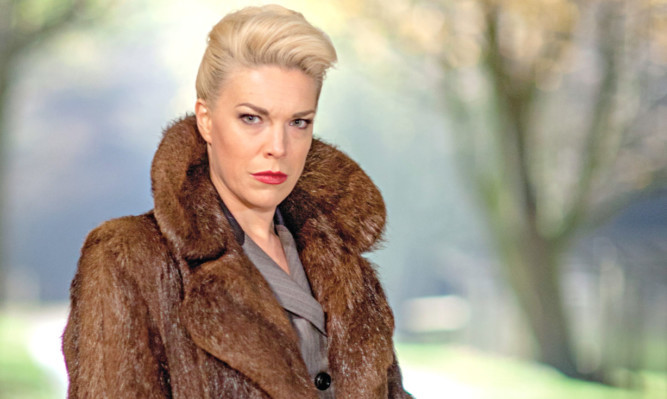 HANNAH WADDINGHAM has swapped brassy for classy.
Benidorm star Hannah couldn't be further away from tacky Tonya as a mysterious blonde assassin in Partners In Crime.
Tonight is the first episode of N Or M? the second three-part investigation for Agatha Christie's sleuths Tommy and Tuppence, played by David Walliams and Jessica Raine.
And Hannah says she jumped at the chance to slip back to the elegant '50s.
"It was so much fun it was ridiculous," Hannah told The Sunday Post.
"You can't believe you're being paid to run around with a mother of pearl-handled revolver and drive beautiful old cars.
"I jumped at the chance. You just felt like you were in something very classy and beautifully realised.
"When I went to my first costume fitting I saw everything was so in keeping with the period. Everything from the type of jewellery to the height of the heels and even the size of the handkerchiefs was right for the time."
And getting the right look saw Hannah step into shoes or at least slip on a coat of a Hollywood legend.
"We were shooting at night in rotten weather and my character needed to look powerful so they asked if I'd be OK wearing a man's coat," explains Hannah.
"I said I'd be fine as long as it was fabulous. They said it had been designed for, of all people, Richard Burton.
"It had been made for the film Wagner and I was thrilled to have anything he might have worn.
"It was fur and when we were filming on freezing Cromer pier at 2am I was wondering why everyone was whinging I was beautifully warm."
Playing a deadly killer who "absolutely takes no prisoners" isn't new for Hannah.
She has just played Septa Unella is global smash Game Of Thrones.
"She was a really nasty, torturing nun," laughs Hannah, 40.
"She thinks she's gently encouraging confessions but I think most people would say she's torturing!
"I had hardly a scrap of make-up on for the part so I'm glad people haven't recognised me from it.
"I'd be pretty offended if they thought I looked so miserable and plain in real life."
Fans of Game Of Thrones are among the most dedicated not to say obsessed around, something Hannah became aware of even before heading for the huge set in Belfast.
"People wanted to know who I was, what I'd done before and would I be continuing.
"They really are the most phenomenal fans. They've taken this thing and eaten it up, it's extraordinary.
"And the scale of the whole production is amazing. It is an enormous beast and you feel you're a tiny cog in a massively successful wheel."
Although she seems to have been packing in the projects, Hannah has actually been dialling down her workload recently as she and partner Gianluca have a baby daughter, Kitty.
"She just turned one last month," beams Hannah.
"Without wanting to sound sloppy, she's by far the greatest achievement of my life.
"Nothing can come anywhere close, she's the joy of my life. I've loved it all and, luckily, she's a very cool chick and we've got a good little system going.
"I take her along with me when I go away to film and she seems to love it."
But there have, intentionally, been fewer jobs to factor in for Hannah, who is also an in-demand West End star of shows such as The Wizard Of Oz and Spamalot.
"I'm staying away from any long runs of theatre at the moment, and I will do for a while," she adds.
"I don't see the point of having a little person in your life unless you're there to tuck them in.
"I'm never going to get that time back."
Partners In Crime, BBC 1, Sunday, 9pm.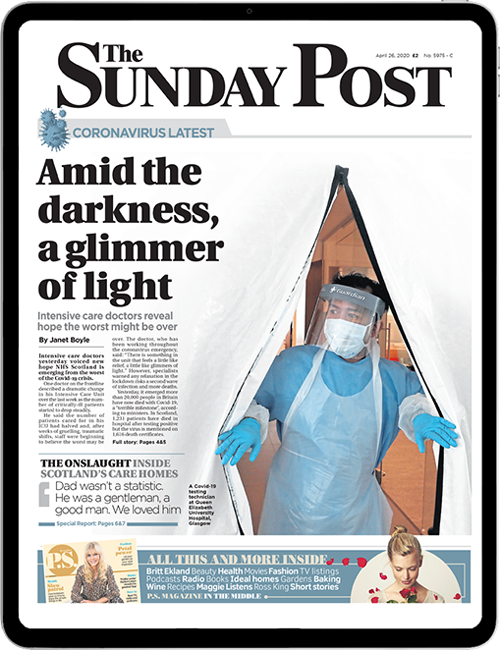 Enjoy the convenience of having The Sunday Post delivered as a digital ePaper straight to your smartphone, tablet or computer.
Subscribe for only £5.49 a month and enjoy all the benefits of the printed paper as a digital replica.
Subscribe