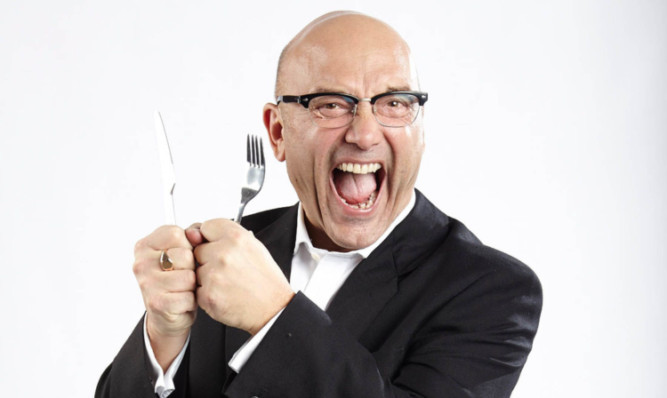 Gregg Wallace is known as the face of the Beeb's hugely popular MasterChef.
Ex-greengrocer Gregg, 50, also works on MasterChef: The Professionals which will crown a new champion next week. Here, three times-married Gregg reveals the ingredients he swears by to cook up a life of happiness.
1. Live your life to a plan.
People spend more time planning their summer holiday than they do their life. I write down where I'd like to be in three years' time and note every step I have to take to get there on Post-It stickers. So, say I want to earn more money I'll think it's probably best if I did less television and more business and I'll investigate how that would work.
Write your own step-by-step guide, it's as simple as that. I do it every three years.
2. Romance is so, so important.
Make time to be together. Go to the theatre or the cinema or for long walks or a meal together. Even though, after three marriages, I haven't been hugely successful, I haven't given up on it! And I never will.
I've met a lovely girl now in Anna and we've been together for two years. Romance fills your life with joy. Somebody thinking you're great just feels so good.
3. Family is everything.
I'm a family man and love that bond. I brought up my children Tom and Libby, who are 20 and 17 now, on my own. I live a 10-minute drive from my mum Mary and I have lunch with her at least once a week. It'll either be at my house or a fish and chip shop. She likes my cooking so if it's at my house it might just be something like a bowl of pasta or something on crostini. I love spending time with my family. Anna's Italian and they understand the importance of family and how good it is to be around people who love you unconditionally. My whole life is becoming Italian. It's where I go on holiday, it's the food I love and now my girlfriend's Italian.
4. Stay fit and healthy.
Healthy body, healthy mind is important, especially if, like me, you're living in a world of image. I'm in the gym between 6am and 6.30am six days a week. You feel good about yourself, the weight stays off and it allows you to indulge if you want to.
5. Cook, cook, cook.
Get in the kitchen, open a bottle of wine and play music. That's what I do to chill. I love doing that with Anna. You eat delicious things, it's cheaper than going out and you make the kitchen fun. I like to pick up recipe books and go through them cover to cover. That's the way to master different cuisines.
6. Meditation and awareness are key and the secret to happiness is in your head.
Things don't make you happy. You can be a manic depressive in a Ferrari and you'll still be a manic depressive. You can have anxiety issues and live in a 12-bedroom mansion. It really isn't about accumulating things. It's fine to be ambitious, but don't get hung up on it. We all have the secret in our heads.
Finding time for a bit of meditation and thinking the right thoughts is what's important. I've realised that after some serious therapy sessions when I was suffering a bit of anxiety. It's not worrying about the future that's the problem, it's trying to control it. We're stronger than we think and can cope with whatever comes our way. And we can do that with a smile on our face if we choose to.
7. Holidays are so important for the brain and the soul.
So, whether you've got a lot of money to spend on them or virtually nothing, go away. Even if it's a cheap little hotel, get away. Check out agricultural tourism in the south of Italy. You stay in farmhouses where they produce their own incredible food and it's as cheap as you like.
8. Make friends with everyone, whether you like them or not.
Being courteous, decent and friendly is simply a nice habit to get into. Plus, if you ever need a favour or want to work with someone, they're more likely to help you. It's worked for me my whole life. I made friends with people in a trade magazine when I was a greengrocer and they did an article that led to Radio 4 interviewing me. They then gave me my own programme, TV came looking and I'm now part of the BBC. I can trace it all back to making those friends.
9. Keep reading.
I think Confucius said to take time in your life to read or surrender yourself to ignorance. At the beginning of every day I put away half-an-hour for reading. And during the day I allow myself another 20-minute gap. At the weekend I make sure I prioritise an hour each day. Read whatever you like. I'm a big history buff and I'm reading about William the Conqueror at the moment. Before that it was Henry II. But it could just as well be fiction. I just love time with a book.
10. Go for walks.
I live in Whitstable on the Kent coast. In the summer it's lovely but gets busy. I particularly like this time of year when there aren't many tourists about. It's such a lovely walk along the beach. It's so desolate and beautiful.
When you look at the great sky and sea, the sheer enormity and space of it all makes you realise that your place in the world is really quite small. So, wherever you have handy, just get out for a walk in the fresh air.
It's a wonderful thing.
MasterChef: the Professionals is on BBC2, Tuesday, Wednesday and Thursday at 8pm.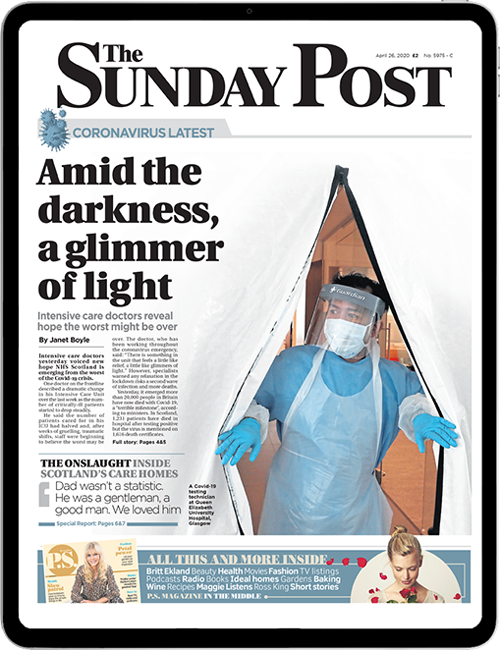 Enjoy the convenience of having The Sunday Post delivered as a digital ePaper straight to your smartphone, tablet or computer.
Subscribe for only £5.49 a month and enjoy all the benefits of the printed paper as a digital replica.
Subscribe