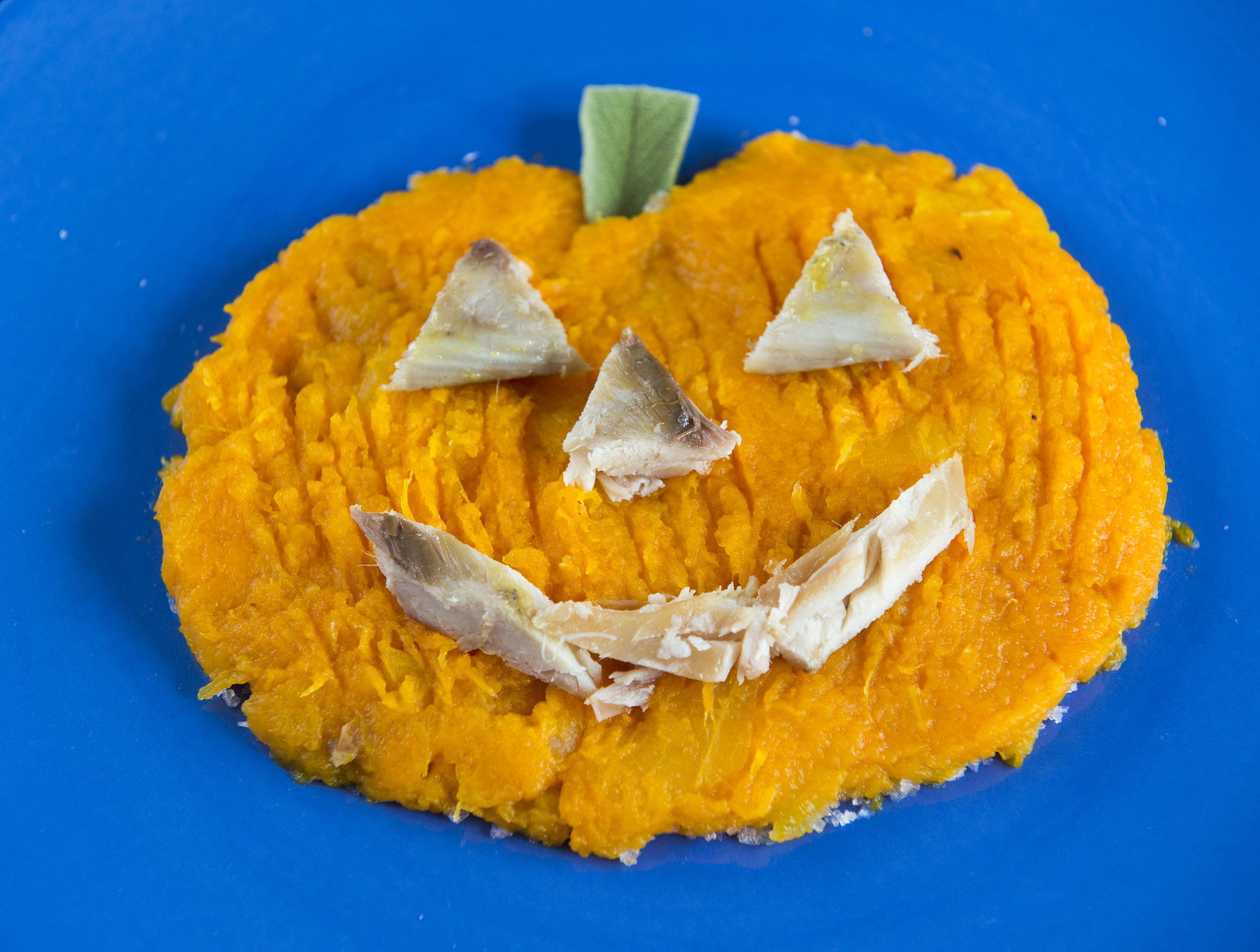 LOOKING for something different this Halloween?
How about some mackerel mummies or a Herman Munster risotto!
Fish is the Dish has created a spooktacular set of seafood recipes – including a spider crab cake, squid ghosts and witch fingers!
All of the recipes are easy to follow and make a great healthy meal to balance out the sugar from the guising haul.
If you see one you like, have a go at making it and send us a picture of how well it turns out (or otherwise…)
Email online@sundaypost.com, Tweet @sunday_post or click here to visit our Facebook page.
---
Scary squid ghosts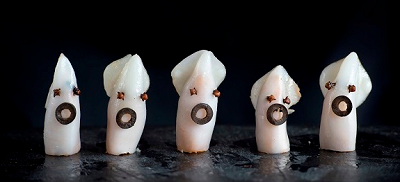 Prep time: 8 minutes
Cooking time: 5 minutes
Serves: 4
Ingredients
1 pack small frozen squid, defrosted (about 12 squid)
4 cooked potatoes, cut into quarters/eighths, depending on size or one pack cooked potato wedges.
12 pieces sliced black olives
24 whole cloves
light oil for frying
Prepare the squid, reserving the tentacles.
Stuff each squid with a piece of cooked potato or potato wedge.
Press in two cloves for eyes.
Fry in a little oil for a couple of minutes on each side.
Put the ghosts on the plate with some pieces of sliced olive for mouths.
---
Spider Crab Cakes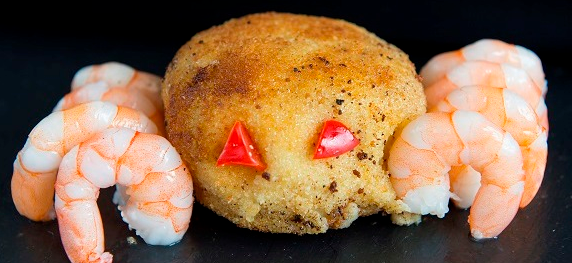 Prep time: 10-12 minutes
Cooking time: 26-30 minutes
Serves: 4
Ingredients
2 packs fresh crab meat, or tinned, drained
300g mashed potato
four spring onions, chopped
1 egg
50g plain flour
100g breadcrumbs
32 prawns
small slice of red pepper
oil (for frying, optional)
Mix the crab meat with the mashed potato and spring onion.
Shape into four roundish shapes.
Whisk the egg.
Cover each crab cake in flour, then egg and then breadcrumbs and bake for 20 minutes or fry for ten, turning regularly.
Place on a plate with some prawns against the body for legs (8 no.) and use some pieces of pepper for the eyes.
---
Witches' brooms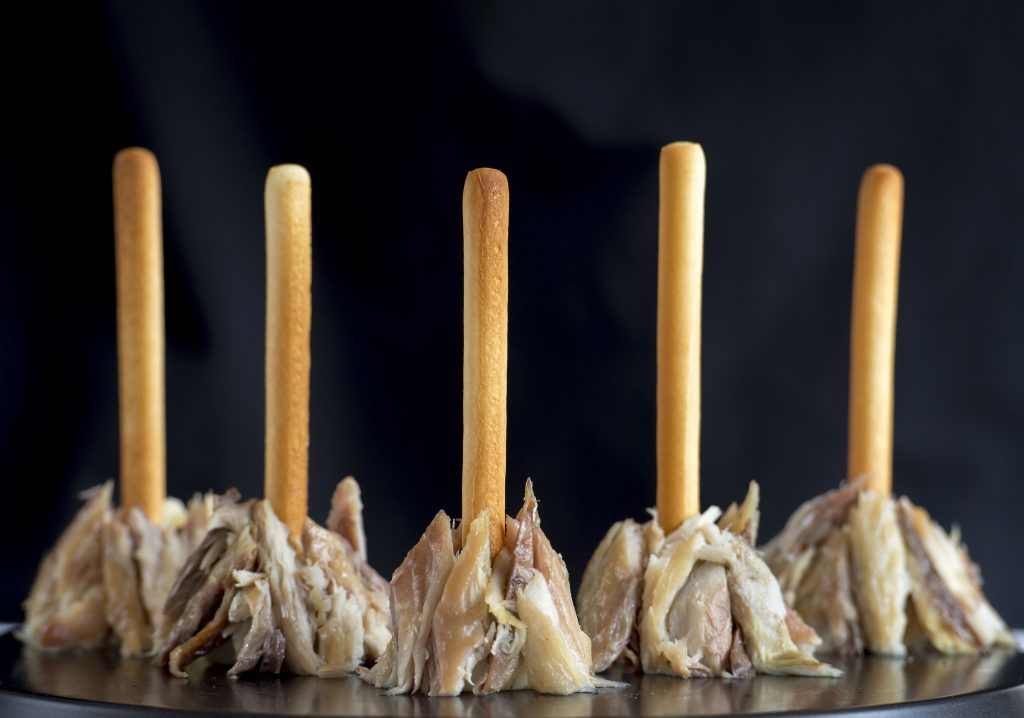 Prep time: 10-12 minutes
Cooking time: 26-30 minutes
Serves: 4
Ingredients
1 pack smoked mackerel
I pack mashed potato
Selection of breadsticks, celery sticks or carrot sticks for the handles
Flake the mackerel, keeping the flakes reasonably long.
Shape a small cylinder of mash potato on a dish.
Place the breadstick, carrot or celery stick upright in the middle.
Arrange the mackerel around the mash as the end of the 'broom'.
Repeat to make more brooms.
---
Witch fingers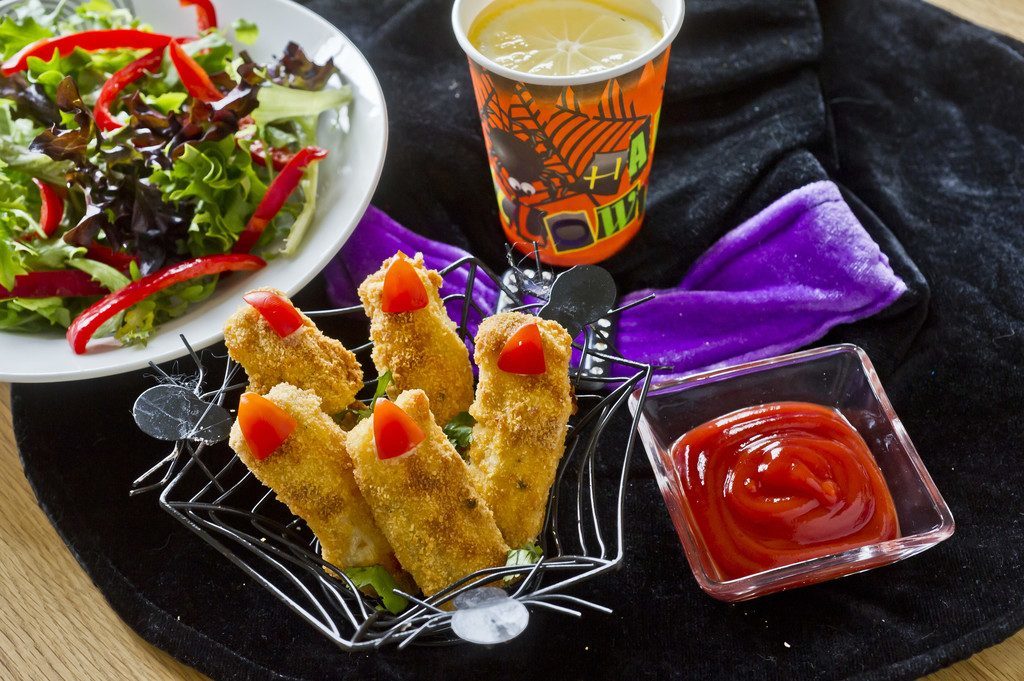 Prep time: 10-12 minutes
Cooking time: 10-12 minutes
Serves: 4
Ingredients
300g white fish (especially WITCH!), cut into finger-sized pieces
1 tbsp rapeseed or vegetable oil plus extra to grease
3 tbsp plain flour
1 large egg, beaten
50g breadcrumbs
Skin from 1 large tomato, cut into finger nail shapes
4tbsp tomato ketchup, to serve
Lettuce leaves, to serve
Preheat oven to 200ºC/fan 180ºC/gas mark 6. Lightly grease a large baking tray with oil.
Season the flour with a little salt and pepper and place in a wide, shallow bowl. Place the egg and breadcrumbs in separate bowls. Working in batches, coat the fish strips in the seasoned flour, then in the beaten egg and finally the breadcrumbs. Arrange the 'fish fingers' in a single layer on the baking tray. Drizzle with the 1 tbsp of oil and bake for about 10 minutes, turning over halfway until the fish is firm and cooked through.
Serve immediately, topped with a piece of tomato skin at the end of each finger to make a nail, and served with the tomato ketchup and the lettuce.
Tip: As an alternative to ketchup, try homemade tomato sauce or salsa. This goes well with oven-baked wedges or mashed potatoes and baked beans or peas.
Alternative Fish: Cod, Coley, Haddock, Hake, Ling, Pollock, Whiting, Witch.
Per serving: 223 kcal; 5.6g fat; 0.8g saturates; 25.9g carbs; 5.1g sugar; 0.9g fibre; 18.7g protein; 0.9g salt.
---
Herman Munster Head Risotto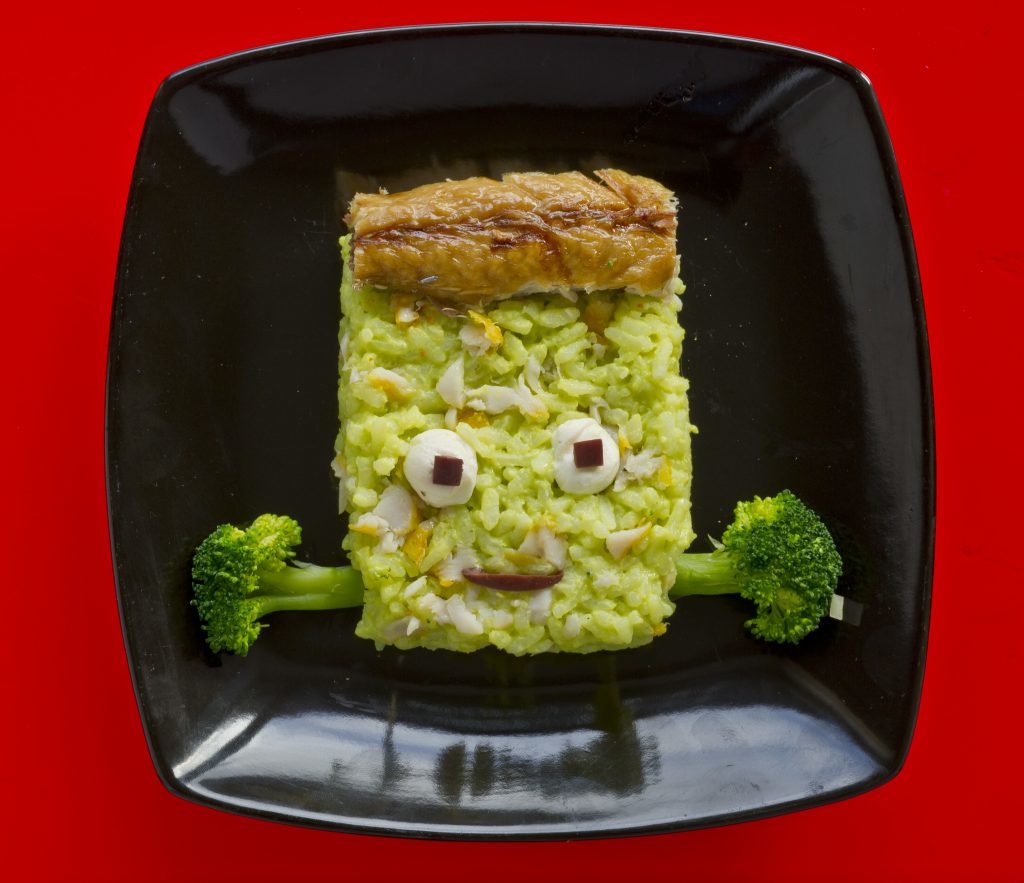 Prep time: 10-12 minutes
Cooking time: 26-30 minutes
Serves: 4
Ingredients
For the risotto
100g skinless smoked mackerel, bones removed and flaked
1tbsp olive oil
1 onion, finely chopped
175g arborio or risotto rice
Approx 600ml hot salt-free vegetable stock
½ x 300g can of mushy peas
For Herman's features
100g skinless smoked mackerel fillets, bones removed and cut into 4 pieces
8 steamed broccoli florets
4 mini mozzarella balls, halved
2 black olives, chopped into small pieces
Make the risotto: heat the oil in a large pan. Tip in the onion and fry gently for five minutes or until softened.
Stir in the rice and mix until it's all coated in the oil and onion.
Pour in a ladle of hot stock. Stir well and leave to gently cook until all the stock is absorbed. Continue adding the stock this way, stirring well and allowing it to absorb before adding more, until the rice is tender. Make the risotto really thick, so it can hold its shape.
Stir the flaked mackerel into the rice with the mushy peas. Cook until heated through.
Take the risotto off the heat and let it cool. Shape the risotto into rectangles for the heads.
Give Herman a mackerel hairdo, mozzarella and black olive eyes and broccoli 'neck bolts'.
Per serving: 418kcal; 18g fat; 4.5g saturates; 47.2g carbs; 4g sugar; 4.6g fibre; 19.8g protein; 1.3g salt; 4.1mcg vitamin D.
---
Mackerel Mummies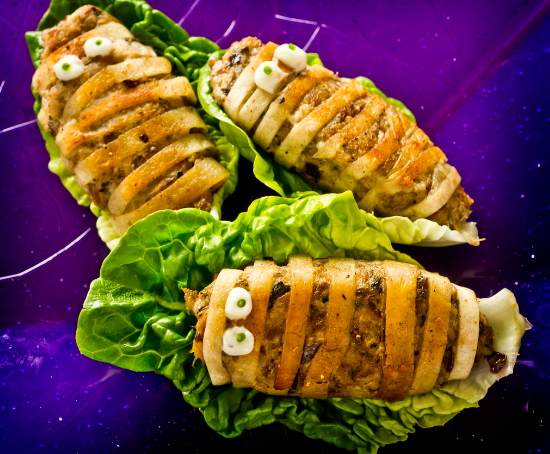 Prep time: 5 minutes
Cooking time: 1 minute

Makes: 4
Ingredients
110g can of smoked mackerel, flaked
1 tortilla wrap
1tsp light mayonnaise
Few snips of chives
4 baby gem lettuce leaves
Slice the tortilla wrap into long, thin strips about 5mm wide.
Mash the mackerel and shape into four 'mummies'. Gently wrap the tortilla strips around each mummy, folding the ends underneath and leaving space for the eyes.
Pipe two small dollops of mayonnaise onto each 'mummy' to make the eyes and top each with a small piece of chive. Serve each on a lettuce leaf.
Tip: Toasting your 'mummies' in a hot, dry frying pan for 20 seconds on each side will firm up the wrap and give them an authentic aged look. As an alternative to mayonnaise, use low-fat soft cheese, soured cream or tomato ketchup.
Alternative Fish: Herring, Sardines / Pilchards.
Per serving: 142kcal; 9.7g fat; 1.9g saturates; 7.9g carbs; 0.5g sugar; 0.6g fibre; 6.2g protein; 0.7g salt.
---
READ MORE
Meals for Under £10: Pot-Roasted Pork with Cider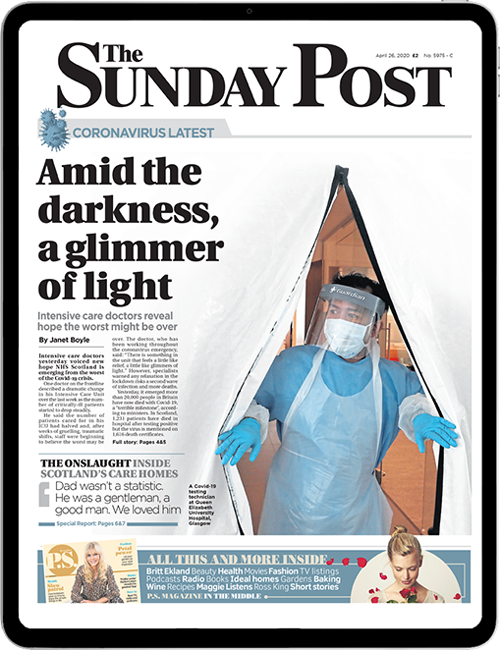 Enjoy the convenience of having The Sunday Post delivered as a digital ePaper straight to your smartphone, tablet or computer.
Subscribe for only £5.49 a month and enjoy all the benefits of the printed paper as a digital replica.
Subscribe