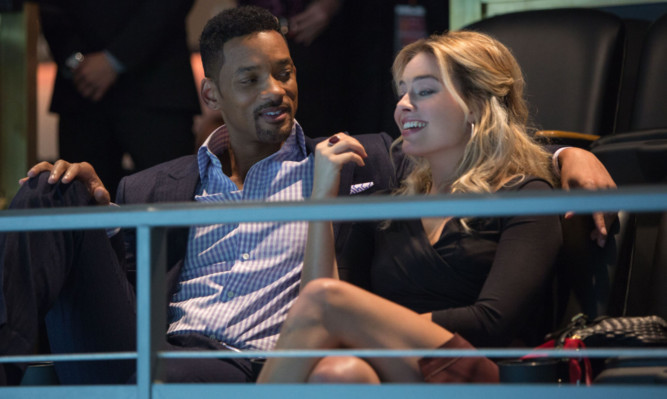 Focus superstar Will Smith is just enjoying life.
Will Smith apologises for being a couple of minutes late.
"It's hard for me to walk in these heels," he says by way of explanation, bringing attention to the silver Doc Marten boots he's wearing.
By the end of the interview, I realise that at this moment I should really have been checking my wallet and keeping an eye on my watch rather than looking at Will's footwear.
We're meeting to talk about Will's new movie, Focus, in which he plays a con artist and thief who gets distracted from his next big payday by a beautiful woman who wants to learn the tricks of his trade (played by former Neighbours star Margot Robbie).
Will spent hours with real-life confidence trickster Apollo Robbins, who taught him the art of misdirection.
"I was interested in the psychological side of it," Will tells me on his visit to London last week.
"You can't imagine that the human brain is that weak and feeble.
"We think that we're aware, and that we're paying attention, but right now you're looking at me, and anything could be going on behind you.
"Apollo taught me about distraction and how you can get someone to look where you want them.
"Then we went to Las Vegas together and he took me to a store and said: 'I want you to go into that store, pick something up, put it into your pocket and walk out.' And what you realise is that it takes such courage to even try it.
"Because I'm like, 'I'm Will Smith that's a pretty good distraction!' but it's terrifying.
"You need ice water in your veins to put your hand in someone's pocket and take something. But, what I also learned from playing the character is that it's such a thrill. It's seriously addictive."
Once known as Mr Box Office after starring in a run of blockbuster hits such as Independence Day, Men in Black and I, Robot, 46-year-old Will took a voluntary leave of absence seven years ago to devote more time to his kids, sons Trey, 22, and Jaden, 16, and daughter Willow, 14.
His return in 2012's Men in Black 3 suggested he'd lost none of his appeal with cinema-goers in his time away, breaking the record for the biggest opening at IMAX cinemas worldwide.
But his next movie, After Earth, in which he co-starred with his youngest son Jaden, was a flop.
Honest Will admits the failure hit him hard and has seen him shift his own focus of what's important.
"I've stopped trying to top what I did last time, it's not healthy," the star confesses.
"I was in a really competitive place for a large part of my career where everything had to be number one and everything must do half a billion at the box office worldwide and it stopped being fun.
"After Earth was emotionally devastating. To realise that, 'Oh shoot, I can lose', was really difficult for me. I had to back up for a second.
"Now I've settled into a place where emotionally I just want to create. I want to work with great people and have fun and not concern myself with the outcome of the movie be less goal orientated and more path orientated."
Will's current path sees him working with Australian actress Margot Robbie again in Suicide Squad, a movie adaptation of DC Comics characters in which Will is set to star as Batman's nemesis Deadshot and Robbie will be his accomplice, Harley Quinn.
The film, which begins shooting in April, will give the effervescent pair an opportunity to further the on-screen chemistry which holds Focus together.
There's a certain amount of irony to them forming a credible relationship as Twilight star Kristen Stewart dropped out of the movie when Will was cast because, at 24, she didn't think the age gap was believable (she's the same age as Robbie).
A laughing Will says age wasn't the only reason the liaison shouldn't have worked like it did.
"She's from Australia, where people are nice to you all the time, and I'm from Philadelphia where you keep $5 in your sock because you know you're going to get robbed."
He also admits that wife Jada had something surprising to say about him working with an actress who was a virtual unknown in Hollywood when she was cast but is now regarded as one of the most beautiful women in the world since her breakout role in The Wolf of Wall Street a year ago.
"When we found out that Margot was going to do the movie, Jada and I went on the internet to look her up.
"When we saw a picture of her Jada said, 'You'd better get in the gym and get yourself together. Do not embarrass me on screen with that girl.'"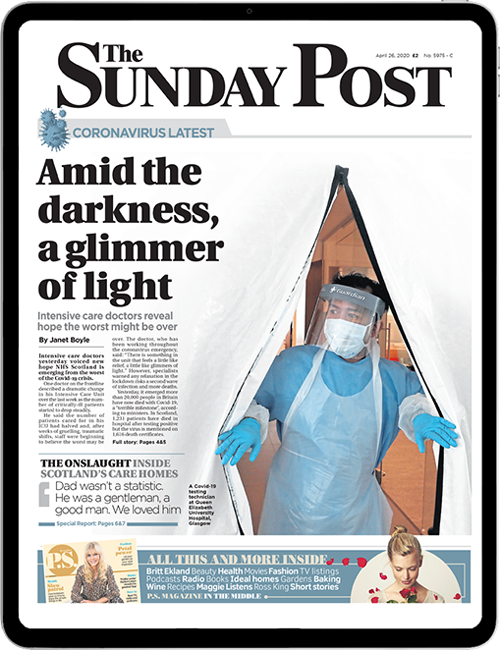 Enjoy the convenience of having The Sunday Post delivered as a digital ePaper straight to your smartphone, tablet or computer.
Subscribe for only £5.49 a month and enjoy all the benefits of the printed paper as a digital replica.
Subscribe