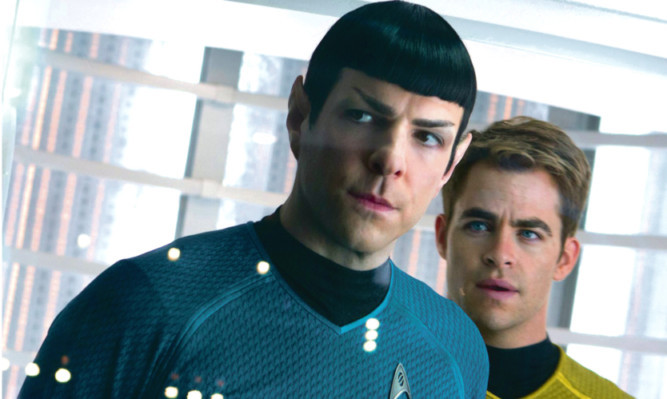 Bulked-up Benedict steps boldly into role for Star Trek Into Darkness
'To boldly go where no man has gone before' were the words that signalled the start of every episode of Star Trek in the late 1960s.
They were also the words used by Benedict Cumberbatch when he climbed aboard the new blockbuster movie, Star Trek Into Darkness.
The Harrow-educated actor joins the cast as enigmatic villain John Harrison in the new film, the second in J.J. Abrams' imaginative rebooting of the franchise depicting the original characters before the TV series began.
Stepping into a sequel, and one with such a huge fan base for the franchise already in place, could be a daunting prospect but Benedict used the same technique he'd first employed when playing Sherlock Holmes.
"I try to imagine that I'm the only person who has played the part," the 36-year-old told me when me met up in the unlikely surroundings of London's City Hall, home of Mayor Boris Johnson, on Thursday.
"And I avoid going on the internet!
"It's best to start with a blank canvas if you can and trust the expert hands that you're working with.
"So whether it's Mark (Gatiss) and Steven (Moffat) rebooting Sherlock and giving it a modern twist which sounds like a cheesy spin-off idea yet in those hands it's done with such authenticity and respect or what J.J. has done with Star Trek, I try to fulfil their expectations of the character rather than those of everyone else, which would quickly overwhelm you."
Naturally tall and slender, with a disarming sense of humour that is quite unexpected given some of the uptight characters he often plays, Benedict had to bulk up for his role in the film. He consumed 4,000 calories a day and employed the services of fitness trainer Patrick "P-Nut" Monroe, who did a similar body transforming job on another British actor, Tom Hardy, for the last Batman movie.
"I'd never been asked to do anything like that before but it was integral to the character to have a strong physical presence.
"You do turn into a creature from Hell because all the fuel that you normally rely on is turned into muscle and although you are eating a lot, you have to eat the right kinds of food. So I found myself eating an incredible amount of chicken, potatoes and broccoli. I have a lot of sympathy for women as a result. Diets are awful."
Such has been the secrecy surrounding the film, at the behest of director Abrams, that Benedict's status as the film's villain wasn't confirmed to audiences when he was initially cast. Instead he was listed as a secret agent working for Starfleet.
As Benedict is now allowed to admit, there's a little more to him than that.
"One man's terrorist is another man's freedom fighter and while his methods are pretty brutal and abhorrent (he blows up Starfleet's headquarters in a futuristic London at the start of the film) there's a lot of motivation and
reasoning behind what he does."
As an actor best known for historical and period roles, ranging from War Horse and Atonement to Tinker Tailor Soldier Spy and Parade's End, Star Trek marks Benedict's introduction to big budget science-fiction movies.
But the audition process was definitely of this world.
"It was just before Christmas in 2011 and most people were involved in that, including the families and casting directors I was asking to help me.
"I had to do it with my best friend Adam, in his kitchen, with his wife videoing it on top of two chairs, crouched down, a table lamp for a little bit of 'direct light', as we call it in the trade. And I literally was like that for the whole of the three scenes we did. Two versions of each. And I ended up having to film it on an iPhone, which was very weird.
"And they record to a large file, so it took me a day to figure out how to compress it and send it and by the time I'd managed that I got the bounce back message saying "J.J. is on holiday."
"But thank God he came back from holiday and was happy with what I'd done and I got the news either on the first or the second of January.
"It was a hell of a way to begin 2012 and has been a whirlwind ever since."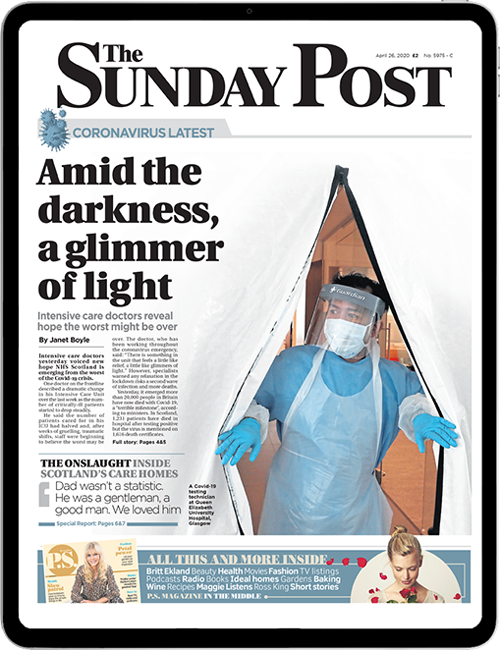 Enjoy the convenience of having The Sunday Post delivered as a digital ePaper straight to your smartphone, tablet or computer.
Subscribe for only £5.49 a month and enjoy all the benefits of the printed paper as a digital replica.
Subscribe