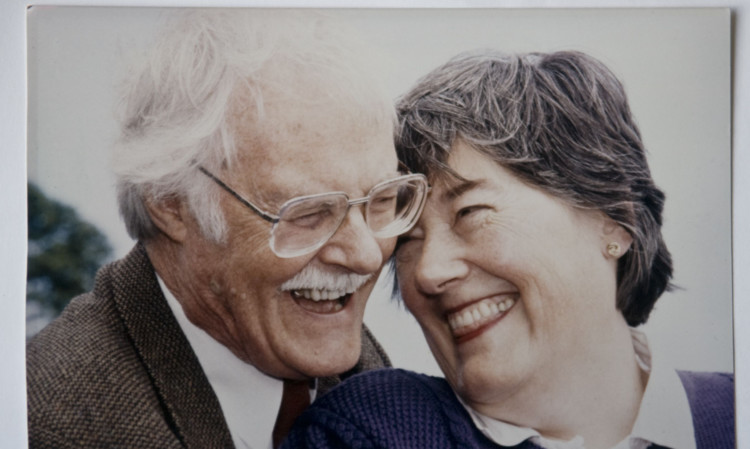 Wife of WWII hero pays tribute to her husband's extraordinary powers of forgiveness.
Patti Lomax didn't know why I wanted to interview her. "I'm just an ordinary wife living in a small market town in the north of England," she told me almost apologetically as we sat on the sofa.
But it's not just me who finds the story of Patti and her husband, Edinburgh-born Eric Lomax, extraordinary.
Their loving marriage, and how it enabled Eric to face up to the demons of being tortured as a prisoner of the Japanese during the Second World War and to eventually meet and forgive his captor, has attracted the attention of movie moguls.
The resulting film, The Railway Man, is released at cinemas this week. Patti is played by Nicole Kidman.
"I just loved my husband and wanted the best for him," continues Patti, playing down her role. "He's the real hero."
Eric sadly died, aged 93, in October 2012 but not before he and Patti had the film's stars Nicole, Colin Firth and Jeremy Irvine (who play the older and younger version of Eric in the film) over for tea at their Berwick-upon-Tweed home.
"My husband had been ill for some time, so we weren't as up to date with movie stars as we should have been. I had heard of Colin because of that scene in Pride & Prejudice, it reminded me of one of my sons falling in a pond!"
Patti and Eric's journey began on a West Coast Line train travelling from Somerset to Glasgow in 1980. Fate, and Eric's keen knowledge of timetables, conspired to seat the pair next to one another. Eric's train home to Edinburgh was running late but he knew he could catch the Glasgow service and change at Crewe. "I was carrying a book of railway maps," recalled Patti, who was home from living in Canada at the time and on her way to Glasgow to catch up with some friends. "He often joked that it was that which first attracted him to me."
The pair, who both have children from previous marriages, enjoyed a three-year courtship and wed in 1983. It was on their honeymoon night that Patti first realised Eric had a problem.
"He never spoke about it," Patti said of Eric's wartime experiences. "I knew he'd been in the Far East and in Singapore at the time of the surrender and I suppose I should have thought more about it but it never occurred to me that he would have worked on the `Death Railway'."
In 1942 Eric was a Royal Signals officer serving as a lieutenant in the 5th Field Regiment, Royal Artillery. He was taken prisoner by the Japanese after the fall of Singapore in February 1942 a defeat Churchill described as "the greatest disaster ever to have befallen the British Empire" and forced to march to Kanchanaburi camp in Thailand. Over the next three and a half years, until the capitulation of the Japanese in August 1945, Eric was forced to work on the building of the Burma-Siam (now Myanamar-Thailand) railway, including the bridge over the River Kwai and the infamous Hellfire Pass. Almost half of the prisoners working on the project died from disease, maltreatment and accidents.
After the Japanese found a radio receiver he'd contructed and a map he'd made of the railway line, Eric was subjected to a brutal ordeal, having his arms broken and his ribs cracked with pickaxe handles, made to stand for hours on end in the burning sun and being waterboarded, with his head covered and water pumped into his nose and mouth to make him feel as if he was drowning.
During his torture, Eric's English-speaking interpreter, Takashi Nagase, repeatedly demanded he confess to espionage. Knowing that such an admission would see him executed, Eric remained steadfast.
After being released, Eric was briefly sent to India to recuperate and then returned to work at the Post Office in Edinburgh. "He went back to the same desk and the same file that he'd been working on when he left for war," said Patti. "He was even told off for being a day late."
But while his broken bones and bruises had healed, the mental scars remained and were apparent to Patti nearly 40 years later when Eric woke up from a nightmare on their first night together after their wedding.
"The black was very black," she said of the depressive states that he could slip into. "It was almost as if he was two people, the one he'd learnt to project to other people in his outward life and have quite a successful career as a university lecturer, and the inner turmoil he was going through that was only apparent when you lived with him.
"All sorts of things could act as triggers. There was one occasion he went to open a bank account and the questions gave him a flashback to being interrogated under torture.
"He was a very funny man but he didn't recognise humour in others, so you could say something as a joke and he'd take it seriously and the shutters would come down and he wouldn't talk to you for two or three days.
"He also liked to know what everybody's itinerary was to the minute and even the slightest change would send him into himself. At one time, he didn't know whether he was going to live from one minute to the next, so is it any wonder he should end up like this?
"Eventually he realised there must be something wrong with him and if he didn't tackle his demons he would lose me, which he never would have done but that was what he was beginning to feel."
With Patti at his side, Eric visited the Medical Foundation for the Care of Victims of Torture. Over a period of two years he gradually opened up about what he had been through during the war and was encouraged by his psychiatrist to write it all down as a cathartic exercise. "To our surprise, Eric said `I already have'," remembered Patti. "After the Japanese surrender he had written down his experience on scraps of paper while still in prison and continued through his convalescence in India and the voyage back home. Then put the manuscript away and forgot about it."
The forgotten about text became a bestseller when Eric published The Railway Man in 1995, one of the few contemporary accounts written by a prisoner of war. At the same time Eric returned to Thailand to meet Takashi Nagase, one of the men who had done so much to destroy him.
"Eric didn't forgive Mr Nagase straight away," said Patti, who accompanied him on the trip and met with his wife. "He wanted to make quite sure that he was genuine in seeking his forgiveness." But Eric did reach a rapprochement with his captor, who financed a Buddhist temple close to the River Kwai site to atone for his actions during the war, and the pair stayed in touch until Nagase's death in June 2011. "As Eric said, `Sometimes the hating has to stop'.".
While they're the three protagonists of the film, Patti was keen to stress that the film is not only about her, Eric or Mr Nagase and is still distressingly relevant to our modern world with its depiction of torture and battle stress.
"It's not just for us oldies, it's about the boys and girls coming back from Afghanistan," she said passionately. "I feel so angry because there's just one charity that specialises in battle stress (Combat Stress) and they get no help from the government that I know of. Quite frankly, I think that's disgraceful. Battle stress untreated doesn't go away. It causes terrible harm to the person and to the people that love them."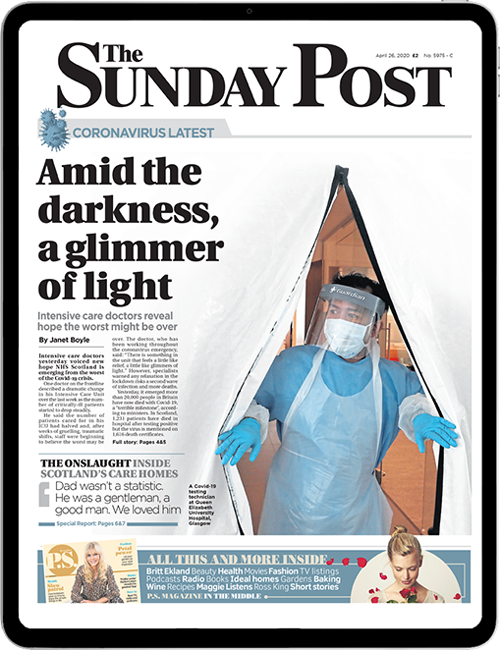 Enjoy the convenience of having The Sunday Post delivered as a digital ePaper straight to your smartphone, tablet or computer.
Subscribe for only £5.49 a month and enjoy all the benefits of the printed paper as a digital replica.
Subscribe