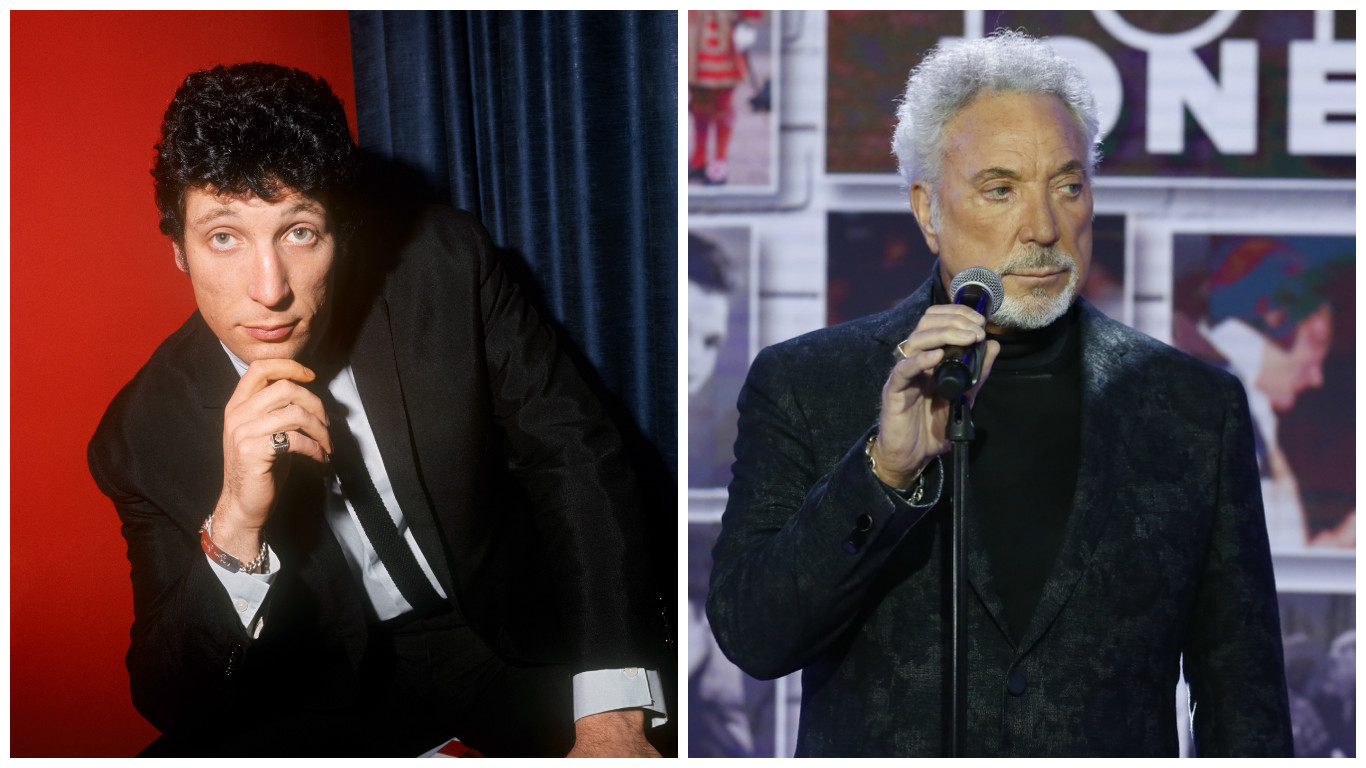 He was right there when The Beatles were around, and kept them off the top of the charts at times.
And he was first man they called if they wanted a Bond theme, or a country hit, or a disco one, or to rival his close buddy Elvis Presley in the Las Vegas days.
More recently, he has been a highly-respected judge on The Voice, still performs, and has had hits with all kinds of singers, of each new generation.
It's fair to say this wise old man of pop is respected by two-year-olds to centenarians.
This week, we highlight 10 of the greatest songs from a man who has sold more than 100 million records, is said to be worth the best part of £200 million, and just keeps on keeping on!
IT'S NOT UNUSUAL (1965)
https://www.youtube.com/watch?v=QNj9aVmYR_w
TOM had three British No 1s in the 60s, this being his first, and its success had a lot to do with the kindness of Sandie Shaw.
He sang it as a demo to let her hear it, and the writers intended the Barefoot Pop Princess to then sing her own vocals and enjoy a hit.
Sandie, however, was so gobsmacked at Tom's brilliant rendition that she felt he deserved it.
Pleasantly surprised, Mr Jones thanked her kindly and proceeded to sing it himself, right to the top of the charts.
Joe Moretti, the brilliant Glasgow guitarist you can also hear on Shakin' All Over and Brand New Cadillac, provided the licks and riffs on this one, too.
WHAT'S NEW, PUSSYCAT? (1965)
https://www.youtube.com/watch?v=VBdSqk78nHw
FIRST time Burt Bacharach let Tom hear this one, the Welshman thought it was a joke and roared with laughter.
His opinion of it today is that "It's just not me!" but it was a big hit nevertheless.
Many years later, our hero was thrilled to get a call from the makers of US TV smash hit The Simpsons.
The storyline involved Marge Simpson getting a job at the local power station and asking them to have the song played over the Tannoy.
Tom loved being involved, proving the song really could make folk laugh.
GREEN, GREEN GRASS OF HOME (1965)
https://www.youtube.com/watch?v=WN3ME-rgpws
AH, the Welsh valleys.
Except it was about a fella from the American countryside, who winds up behind prison walls.
Tom was in America when he asked if the record company had the latest country-flavoured album by Jerry Lee Lewis.
Giving it a listen, he was impressed by this song, and did his own version.
It stormed to No 1 and stayed there for seven weeks, while the Stones, Beatles, Kinks and everyone else plotted how to knock it off.
In 2006, 41 years later, he did it as a duet with Jerry Lee Lewis, a special moment.
DELILAH (1968)
https://www.youtube.com/watch?v=CQIK3Te9Coo
WRITTEN for PJ Proby, he hated it and so Tom got a chance. He didn't waste it, and you must wonder what PJP thinks now.
It was just as well, really — has there ever been a song better-suited to Tom's style?
Known as a "murder ballad", the story in the lyrics is dark and dramatic, the music equally so, and if you listen closely, you might just hear something surprising.
According to music biz insiders, 20-year-old Elton John was one of the folks drafted in to supply backing vocals!
Many have done their own versions, but Tom Jones "owns" this one.
SHE'S A LADY (1971)
https://www.youtube.com/watch?v=TMXehqqR8J8
THIS brought Jones top spot in America, his best-ever sales there, well into seven figures.
Written by the great Paul Anka, they'd pair up to do a duet of it in years to come, and it seemed just right for those times.
Today, of course, you wouldn't get away with lines such as: "She always knows her place, she's got style, she's got grace"!
Paul Anka also wrote the rather impressive B-side, a certain My Way.
This was Tom at his most American-sounding, with massive gigs over there and an American backing group.
THE YOUNG NEW MEXICAN PUPPETEER (1972)
https://www.youtube.com/watch?v=IHip77SVmvM
FOR the Tom Jones die-hards, this is quite a special little ditty.
Although it got far up the British charts — No 6 — it only reached No 80 in America, but it's an interesting song.
Based around the New Mexico guy who uses his puppets to encourage social change, you can see that Tom was trying to remain hip when the young 'uns were singing about political issues.
If you hear it and recognise the main melody, it was inspired by the score of Disney's 1940 movie Pinocchio.
A real Tom Jones oddity, and all the more interesting because of that.
SAY YOU'LL STAY UNTIL TOMORROW (1977)
https://www.youtube.com/watch?v=3bE-tYoHoHg
WHAT was Tom Jones doing while Britain was being invaded by noisy punk rockers?
Enjoying massive country music hits in the USA!
Always a fan of country, despite his pop and rock background, Jones got his biggest-ever hit in that style with this number.
Slim Whitman also recorded it the same year, and if we tell you Tom's is better, you'll realise it was pretty darned good.
It's intriguing to imagine if Tom had completely gone down this path — a Welshman dominating the world of Nashville and the Grand Ol' Opry.
We bet he'd have done brilliantly, though!
SEX BOMB (2000)
https://www.youtube.com/watch?v=l1AiypRfTfc
QUITE a quantum leap from good ol' boys country style to this!
Recorded with house music producer Mousse T  this was a hint that Tom Jones fancied working with much, much younger musicians and styles.
Boy, did it work out well!
Over the years, he's had great success with songs written by the new kids.
And, as a chap pursued by the ladies his whole career, it's fair to say many of them reckon he really is a bit of a sex bomb . . .
MY YIDDISHE MOMME (2005)
AND another quantum leap to this incredible song!
Tom has actually recorded this number three times, his fans adore it, and it's another strange, intriguing part of his set list.
Also known as The Jewish Mother, it was penned by Jack Yellen and Lew Pollack.
It was first a hit 90 years ago, and is a nostalgic Yiddish song.
Some artists have sung it in memory of their late mother, others have sang it about the world that has changed and been forgotten, as in Mother Earth.
Tom, in his three attempts, has sung it from the heart, and there is never a dry eye in the house when he does.
STONED IN LOVE (2006)
WHO else would dare try a modern dance track at the age of 66?
Chicane, a British songwriter whose real name is Nicholas Bracegirdle, wanted to find a singer who could reach a high pitch without going into full, flowery falsetto.
Tom Jones, who can also go 'way down to deep, deep baritone, was just the fellow!
Chicane tried it with three singers, all Welshmen, and the others were 29 and 34 years younger . . . and promptly plumped for Tom.
It's because of modern hits like this that today's kids know who Tom Jones is on shows such as The Voice, which he presented up until this year.
And it's because he's brave enough to tackle songs like this that he has kept his youth and energy even after all these years.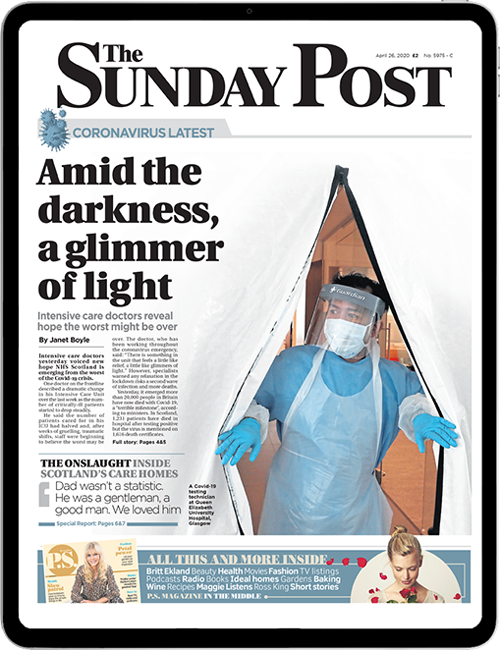 Enjoy the convenience of having The Sunday Post delivered as a digital ePaper straight to your smartphone, tablet or computer.
Subscribe for only £5.49 a month and enjoy all the benefits of the printed paper as a digital replica.
Subscribe