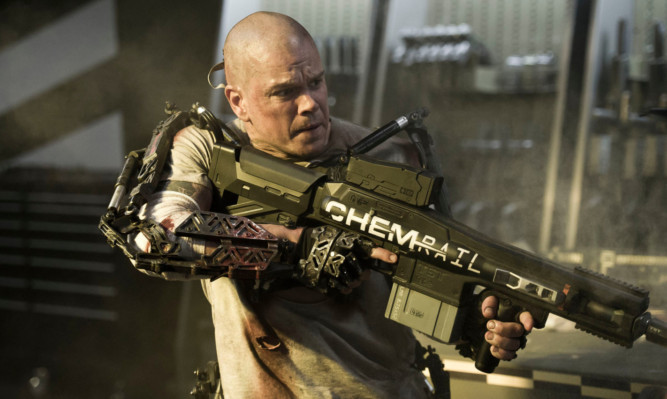 It's not all Hollywood glamour as Damon talks to us about his new sci-fi epic.
While filming science-fiction thriller Elysium, Matt and his fellow cast members spent several weeks on a toxic rubbish dump in Mexico City.
"One of the locations was called Poo River," he says, recoiling at the memory. "Literally, it was, 'OK, can we get everybody down to Poo River for Scene 36?' And only after we'd started filming did they tell us that all the dust in the air is really faecal matter!"
https://youtube.com/watch?v=vSAS79fBVxs%3Frel%3D0
Little wonder, then, that Matt's wife Luciana and their four daughters, opted to stay at home during the Mexican leg of the film.
Ask the 42-year-old how he juggles family life with a career as one of Hollywood's biggest box-office stars and he says: "It depends on the movie.
"Before we went to Mexico, we shot some of Elysium in Vancouver during the school holidays, so the family were together in Vancouver for the whole summer. I still had some filming to do when the holidays ended so I'd fly back home whenever I could.
"We have a 'two-week rule' so after two weeks in Mexico I went back home for three days and then I came back and finished filming.
"When I did True Grit, which was a much smaller commitment time-wise for me, I think I shot a total of 25 days over the course of a 70-day movie. I literally said to the directors, 'My only stipulation for doing the movie is that at least every two weeks I can get home,' and they took it a whole step further where I was working three days on and then I'd have three days off. I was commuting to Texas and the kids didn't feel my absence."
Set in the year 2154, Elysium unfolds as a high-stakes sci-fi adventure where two classes exist.
There are the very wealthy, who live on a pristine man-made space station, Elysium, and then there are the rest, who are left to scratch a living on the overpopulated, resource-drained planet below.
Most are desperate to escape the crime and poverty into which the world has sunk. The only man capable of redressing the balance is Matt's character Max. Max takes on a dangerous mission one that pits him against Elysium's hard-nosed Secretary Delacourt (Jodie Foster) and her hard-line forces. The film is the hotly-anticipated second feature from District 9 writer-director Neill Blomkamp.
"Neill doesn't want to make political movies, he really doesn't," says Matt. "But there is stuff that resonates, where we can all go 'Yes, there is incredible inequality in the world'. This film is a more intense reflection of that.
"In 150 years that chasm has grown even wider," he continues.
"We have gone from being in gated communities for the ultra-rich to them just going off to a space station and literally just leaving everyone else behind.
"And that is interesting and will resonate with people, certainly in the last year with Occupy Wall Street and all that stuff. But the movie doesn't have an agenda. That is the point."
Matt's character is required to undergo a metamorphosis to have his body enhanced by a mechanical exoskeleton that makes him as nimble and powerful as the droids that safeguard Elysium. The reality of wearing the 25lb "hulk suit" was rather different.
"On the first day," Matt confides, "we had to shoot something where I was running in the hulk suit and I came back to look at the monitor after we had done a take.
"Neill wasn't impressed. He said, 'Man, can you run any faster?' I watched the footage and, because of the suit, it looked as if I was jogging.
"But I was sprinting as fast as I could go!"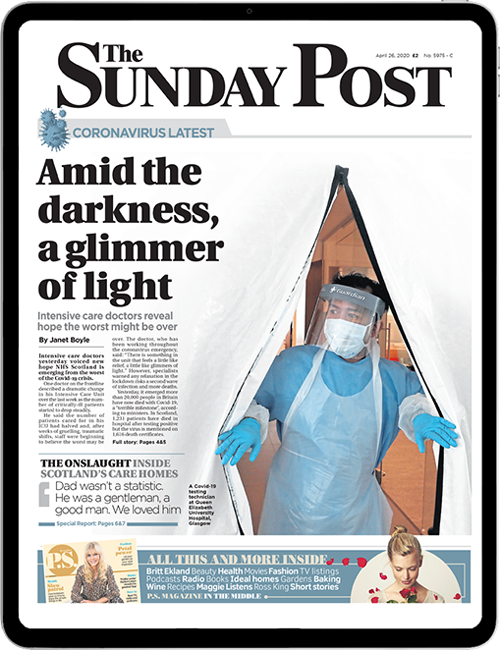 Enjoy the convenience of having The Sunday Post delivered as a digital ePaper straight to your smartphone, tablet or computer.
Subscribe for only £5.49 a month and enjoy all the benefits of the printed paper as a digital replica.
Subscribe