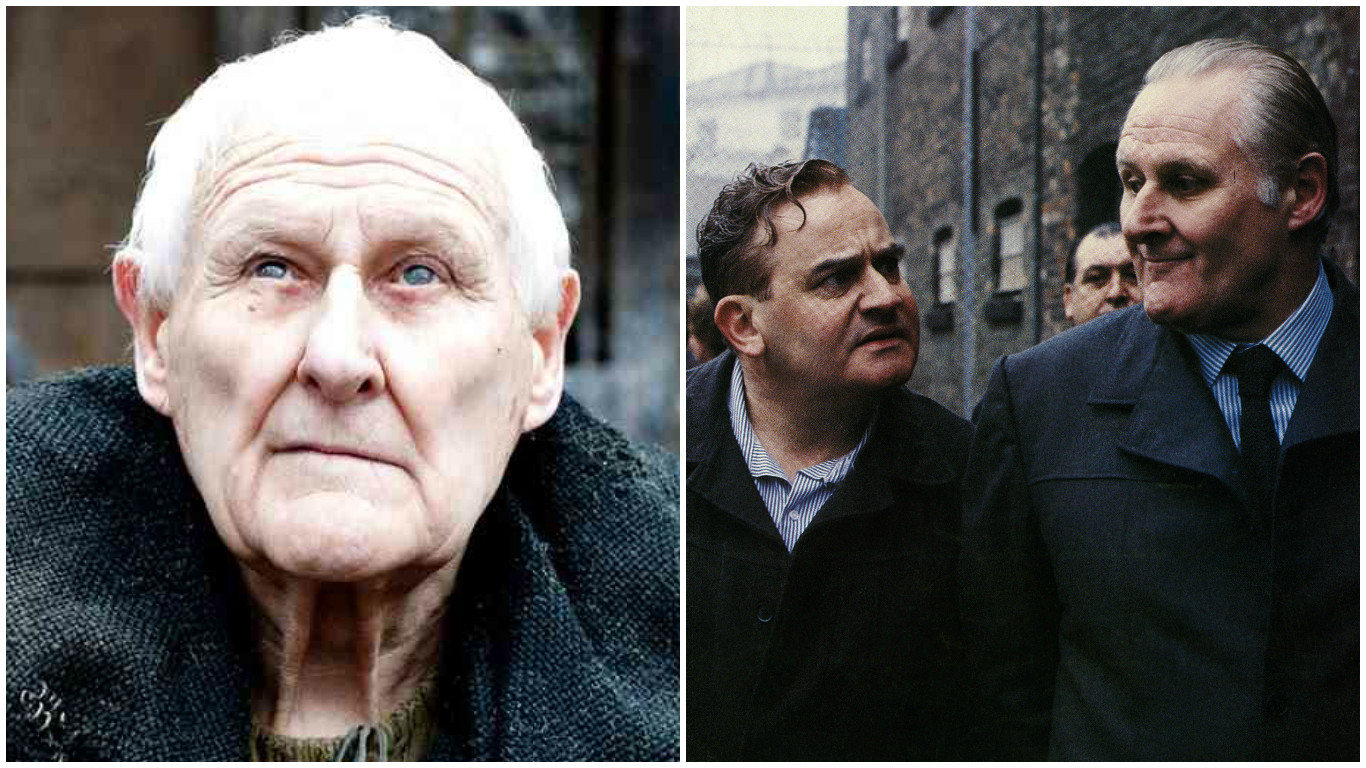 PETER VAUGHAN starred in the biggest TV show in the world.
Game Of Thrones is a global phenomenon, and for five seasons, he played Maester Targaryen in a show that's become the most-talked-about drama in the history of TV.
But in Britain, he's still best known as a character that appeared in just three episodes of a sitcom that first aired 40 years ago.
"I still get people saying: 'Let you out, have they, Grouty?,'" laughs Peter, who played "Genial" Harry Grout, the villain who ran HMP Slade in the classic sitcom Porridge and shared his cell with his budgerigar, Seymour.
"Until I ate him!
"I was in just three episodes and, of course, the feature film, so I have to thank the writers Dick Clement and Ian La Frenais for the fact I'm one of the characters people always remember when they talk about Porridge because Grouty is so prominent — even though I'm not there.
"Everybody's frightened to death of him, so they talked about him a lot and so it was a huge character but I didn't have to be there."
But, as Peter admits: "I more or less accidentally turned up in something special.
"I was in a play and they asked me to do Porridge, and it was very nice to be able to do something in the daytime and then go back and do the play at night.
"Had I not been in the play, I wouldn't have done it as there weren't enough episodes to make it financially worthwhile and it would have clashed with more lucrative work.
"But the scripts were brilliant and I loved the part.
"It was an unlikely setting for a sitcom, a bunch of men in prison, but more power to it and I think it's a classic and it will be remembered for a very long time.
"The whole cast, from the lead characters down to the smallest part, was spot-on, absolutely.
"Of course, Ronnie Barker and Richard Beckinsale were superb working together.
"And Fulton Mackay was a great mate of mine, a lovely man and an absolutely-brilliant performance."
Peter, now 93, also appeared in Citizen Smith around this time, but he says: "I've not only worked in comedy, I have also done a great deal in television, films and so on of a more serious nature.
"And my greatest TV experience was the wonderful Our Friends In The North.
"Chris Eccleston, who played my son, and I just hit it off perfectly and we still are great buddies.
"But the great thing about it from my point of view was being able to show people the terrible Alzheimer's Disease.
"As Felix, over the course of four decades, I was able to go from a hard nut right the way through the various stages of that illness and it was really the first time it had been brought seriously to notice.
"It was a great privilege to play that part, it blazed the trail.
"And, my God, what a cast! Chris, Daniel Craig, Mark Strong, Gina McKee — it would cost quite a few bob to assemble that cast now.
"Apart from me, of course, I'm very cheap!"
Peter started out aged 16 in rep in Wolverhampton, and recalls: "I'd only acted at my grammar school before.
"However, there was a drama coach in the county who must have seen something in me because she coached me and then got me across for an interview and I got the part of Smith the pie boy in Sweeney Todd!
"But after a couple of years, I was called up into the Royal Signals for the war.
"I was a signalman to begin with but eventually ended up an officer.
"And after those five years, they brought me back again to Wolverhampton and one thing led to another and I went into the West End in a play.
"And we take it from there, television started, then into films and so on.
"Why? I was lucky.
"Being in the right place at the right time and being wanted.
"I was lucky, all the way through my career."
That 75-year career has included roles in such classic films as Straw Dogs, The French Lieutenant's Woman and The Remains Of The Day.
He also appeared with Rudolph Nureyev, the greatest dancer in the world, in the Ken Russell film Valentino.
"He'd come over from Russia, just defected, and he was absolutely superb as a dancer and I can honestly say that, in the Tower Ballroom in Blackpool, we danced together," adds Peter.
"In other words, he held me up!"
Ahead of the Game with a Thrones role
GAME OF THRONES is in the Guinness Book of Records for having the biggest cast of any TV drama, including one Peter Vaughan.
"It's been an absolute privilege to have worked on it for the past five years at my time of life because it's absolutely first-class," says Peter, who played Maester Aemon Targaryen.
"And people talk about Grouty but, good heavens, the fan mail I get from all over the world because of Game of Thrones is enormous.
"It's just grown and grown and once you're hooked, that's it.
"People like the fact no character is ever totally safe — you never know who's going to have their head chopped off next!
"As far as anything as complex as that goes, if you're playing a part in it, the best thing to do is to concentrate on your own aspect of it, which for me was as Custodian of the Wall.
"So I really concentrated on all that and kept away from some of the other storylines — if you tried to keep abreast of everything that's going on, you'd drive yourself mad and not be quite so effective in your own performance.
"In my case, anyway, that's the way I've always worked."
Why Peter had to stand up to Frank Sinatra
PETER VAUGHAN doesn't seem to have a bad word for many folk.
He describes most of his many film and TV appearances as enjoyable, but surely the troubled production of 1967 spy thriller The Naked Runner, starring the notoriously-difficult Frank Sinatra, wasn't all fun and games?
"Well, Frank was Frank!" laughs Peter, who played second lead to the singing star as a British agent.
"At that time, he was the No 1 highest-paid professional entertainer of all, and it was great for me to have that part. The two of us were the two leading roles.
"The film was made by a company called Artanis. Read that backwards — Sinatra. He was the guv'nor, he was the boss.
"But the great thing about Frank was that you had to stand up to him very quickly. If you did that, he respected you, otherwise he'd walk all over you.
"And early on, I told him he couldn't cut a line in one of our scenes or it wouldn't make sense, and he agreed.
"Frank didn't suffer fools — or anyone — gladly.
"He'd turned up with his new wife Mia Farrow and fell out with the paparazzi, and said: 'OK, if that's the way it is, I'm off' and he went home.
"We hadn't finished the film. So Sid Furie, the director, and I rewrote the last scene to give my character Frank's lines, played it and that's how The Naked Runner ends — Frank did a runner!
"And my wife never has forgiven me for not introducing her to Frank!"
Peter Vaughan's autobiography, Once A Villain, is published by Fantom Films.
---
READ MORE
BBC set to revisit classic sitcoms including Till Death Us Do Part, Steptoe and Son and Porridge
Memory Walks: Game of Thrones star Kate Dickie shares details of her mum's dementia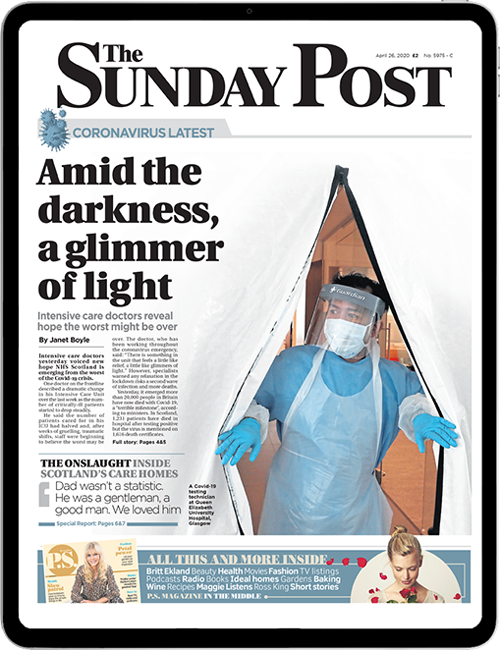 Enjoy the convenience of having The Sunday Post delivered as a digital ePaper straight to your smartphone, tablet or computer.
Subscribe for only £5.49 a month and enjoy all the benefits of the printed paper as a digital replica.
Subscribe